Two Oakland engine companies may be taken off the streets on a rotating basis for about six months to save the city money, according to fire officials.

The changes at the Fire Department, which were scheduled to begin Thursday and last through June, would save about $4 million, but firefighters are opposed to the changes and have filed a dispute over them.
In addition, an engine company in the Oakland hills may become a two-person medical squad as Oakland works to close a $62 million fiscal year 2020-21 general fund year-end deficit.

"We feel this is incredibly unsafe for our citizens and our firefighters and it's a violation of our contract," Zac Unger, president of International Association of Fire Fighters Local 55, said Tuesday. Local 55 represents at least some Oakland firefighters. "Our members are incredibly incensed," he said. "This has been done purely administratively."

If two engines are removed from the streets, it will likely affect response times.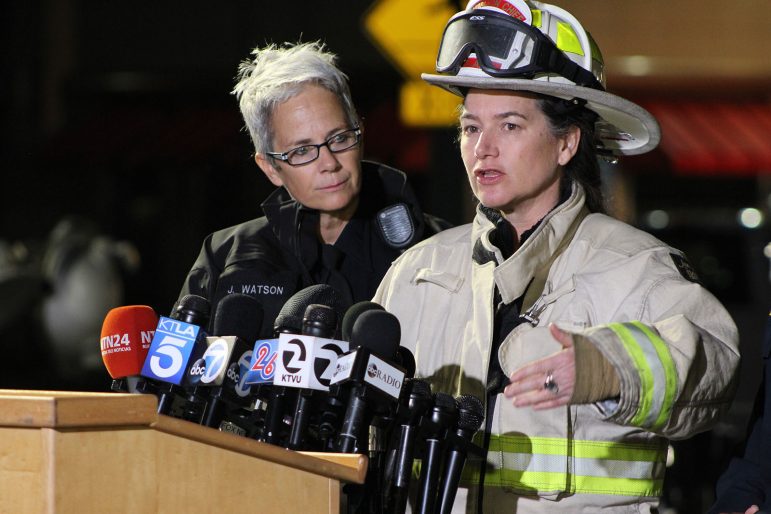 In a Jan. 15 letter to all department staff, interim Fire Chief Melinda Drayton said, "This plan on a temporary rotating basis is likely to have an impact on emergency response." That includes slower response times, she said. It may jeopardize the department's ability to meet the National Fire Protection Association response time standard of four minutes for 90 percent of medical calls, Drayton said in her letter.

Mayor Libby Schaaf, in a comment on Twitter Tuesday, said, "No (one) wants to make budget cuts. And we hope a Biden-Harris stimulus will help. Yet we can't be shortsighted about our financial reality. The modest moves we make now can ensure our public safety + fire safety is healthier for the long term," she said.
"If we can not make hard choices right now we will be forced to make heartbreaking ones later. We've succeeded at adversity before. We will succeed again," Schaaf said.

Unger said late Tuesday that the union had filed an immediate dispute resolution with the city to stop it from making the planned changes. Discussions between the two parties were expected to occur Thursday.
An engine company is a truck that puts water on fires and they also respond to medical calls. Seventy-five percent of fire department calls are medical calls and engine companies respond to 75 percent of those.

Oakland has 25 stations, and none will close, according to the plans laid out earlier this week. But every six days, two different stations in the city would be down an engine company. The airport station will not be affected. Nearby stations will respond to calls that the offline companies would have responded to.
Two engine companies currently providing basic life support services in East Oakland will start providing advanced life support. Providing advanced life support requires medical care providers such as paramedics to have a higher level of training to allow them to use needles, provide medicine and, among other things, break the skin on patients with life-threatening injuries or illnesses.
Fire Department Chief of Staff Michael Hunt said the department's higher call volume is in East Oakland and city officials want to be sure the city's most vulnerable residents are protected.
The cut to the Fire Department budget could be offset by money Oakland is expecting from the Oakland-Alameda County Coliseum Authority, also known as the Joint Powers Authority. The JPA is expected to give $10 million to the city following the resolution of a lawsuit with the Golden State Warriors.
"To the extent the funds are returned to the City by the JPA, the City could use it to help close the current FY shortfall, with a finding that circumstances require a deviation from the City's fiscal policies of not using one-time revenue to address ongoing expenses," city spokeswoman Karen Boyd said. "The City has not to date accounted for these revenues."

The $5 million in reductions to the Fire Department presented to the City Council in late December were made under the City Administrator's administrative authority to control expenditures, Boyd said when asked if the City Council had to vote on the budget cuts.