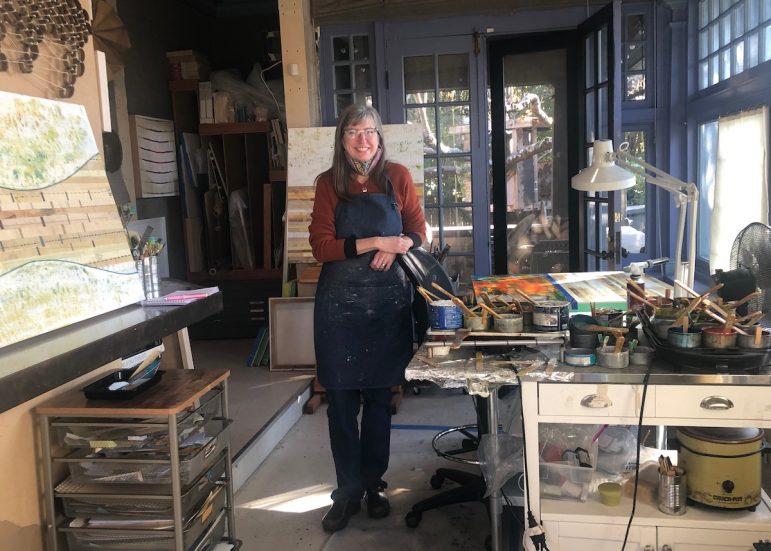 For the artist, the making of art has always implied the prioritization of time allotted to carry out the actions necessary to express the abstract ideas that materialize as art. Larraine Seiden is an artist whose work is a literal expression of that time as she explores its various effects in her paintings and sculpture.
Seiden, a professional studio artist who has exhibited widely throughout the San Francisco Bay Area and across the United States for the past decade, is also a dedicated elementary school art teacher at Piedmont's Wildwood Elementary School. And with enviable time-bending skill, Seiden managed to fit co-founding Piedmont Makers, a K-12 STEAM program into her schedule — all of this while also raising her family.
Minding the Gap (Collection of Sutter Health Corporation)

Passages #26

Grand Tower #82
As Seiden sees it, time has always been something that can work for or against the completion of a project. Taking inspiration from the women quilters in her Pennsylvania cultural heritage, Seiden decided years ago not to let interruptions to her work get in the way of making her art. Just as the quilters had to put down their work in order to handle other tasks, Seiden thinks of her many roles as part of the rhythm of creation — as she terms it, a 'rhythm of interruption.'
Her preferred mediums of collage and encaustic painting perfectly embody Seiden's philosophical take on the value of completing something, even if small, day after day, in order to accomplish the bigger project. Encaustic painting is the method of using melted wax pigments to create an image. The colored wax is melted on a special palette heated to 170 degrees. While the pigment is liquified, it can be brushed in layers on the surface. After it cools, the hardened material can be further manipulated by carving or scratching through the layers to reveal what's underneath.
New encaustic painting

Seiden's sketchbook

Sketchbook, detail
It is here that Seiden reveals her foundation of precisely cut, richly colored and carefully chosen layers of paper collage. Drawing upon the many aspects of her life experiences and interests, Seiden uses vintage architectural blueprint papers, handwritten letters and her children's homework, materials which she describes as 'domestically sourced,' to build a surface that refers to her act of remembering. The process of both collage and encaustic fit perfectly into what Seiden describes as the way women's creative work has historically been accomplished; 'in parts through fragmented time.'
As a child Seiden spent creative time making latch hook rugs, but it was after her move to California as a young adult that she was inspired to take her first serious step in the direction of becoming an artist. On nothing more than intuition and a VW Bus, Seiden travelled to Oaxaca, Mexico to study art in the state-run studios there. After studying printmaking and drawing there, Seiden returned to the United States to further her studies by earning a B.A. in Studio Art at Cal State Hayward, followed by an M.S. in Art & Design Education at Pratt Institute in Brooklyn.
Briefly, Seiden considered a career in Urban Planning, working for a time at an Oakland architecture firm, before deciding on what became her dual career as working artist and arts educator.
Scenes from Seiden's studio; work in progress

Tools of the trade
During the COVID-19 health crisis and Shelter-In-Place, Seiden has gotten creative with both her art instruction and her art practice. Her elementary school students look forward to "Tours of Ms. Seiden's Studio" on Zoom, as well as the opportunity to make art using art tool kits Seiden arranged for them to have at home.
In her own art, Seiden has been exploring the idea of safety during these challenging times. Pushing the boundaries of collage and wax, Seiden has been building 3 dimensional sculptures she calls 'safety nets', using cut paper rolls which she joins with twine and dips in wax. Seiden will no doubt continue to show us ever evolving glimpses of the many ways our pasts form the foundation of the futures we create.
Safety net sculptures in Seiden's studio

Materials in Seiden's Studio
Seiden's work can be seen in many Piedmont and greater Bay Area homes as well as in the corporate collections of Cushman/Wakefield, Sutter Health's Cathedral Hill Hospital in San Francisco and North Berkeley Investment Services. Seiden works with art reps, interior designers and directly with art collectors.