PEF's Education Speaker Series has three amazing speakers lined up for the Spring series – all via Zoom. To purchase a ticket to all 3 speakers, or just one of the events, please click HERE.

Positive Body Esteem and Healthy Relationships with Food | Dr. Ariel Trost | Tuesday, Jan. 26, 7:30 – 9 p.m.
Based on her 20+ years treating eating disorders and the scientific evidence to date, psychologist and Piedmont mom Dr. Ariel Trost, will offer parents practical strategies to nurture their children's positive relationships with food, movement, and their bodies. The talk will focus on how to create a healthful home environment, how and when to assert boundaries around food and exercise, when to be concerned, and how to discuss all of these topics in age appropriate ways.

Many parents express concerns about how to talk about food choices and changing bodies – fearing "causing an eating disorder." Dr Trost will address the ways parents should and should not discuss these topics – with specific emphasis on avoiding language that inadvertently invokes diet culture or the notion that there are good and bad bodies and instead focusing on fostering lifelong positive behaviors that fit every body.

ESS | Upcoming Events:
Boys & Sex: Young Men on Hookup Culture, Love, Porn, Consent and Becoming a Better Man | Peggy Orenstein | Tuesday, Feb. 9 from 7:30 – 9 p.m.
How to Raise Successful People: Helping Kids Find Their Own Path | Esther Wojicki | Tuesday, March 23, 7:30 -9 p.m.*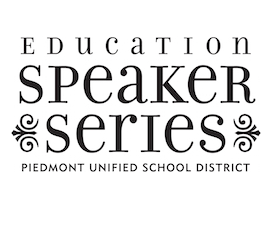 Learn More
To learn more about all the Events or purchase a ticket or subscription, please visit: https://piedmontstore.org/products/education-speaker-series-ess-topics-related-to-raising-healthy-children-young-adults. A single event is $25 or all 3 events for $70.

*Note – if you were a subscriber during the 19/20 season you can attend the Esther Wojcicki event at no additional cost as her event was postponed from March 2020. You will receive a Zoom link approximately one week prior to the event.