According to the most recent update from the Alameda County Office of Public Health on Dec. 22, total coronavirus cases in Piedmont as of today stood at 93, up from 85 on Dec. 18. This is the highest four-day increase we've tracked since first reporting Piedmont case numbers this summer, reflecting regional trends.
According to the SF Chronicle on Tuesday, "more than 3,700 people were in intensive care with COVID-19 in California, including 435 in the Bay Area. Intensive care availability for the entire state fell to 1.4% on Tuesday. But availability held steady in the Bay Area at 13.4%."
(Note: The county database is updated daily, but counts for a particular past date can change as records are adjusted, per a caveat on the county's data dashboard.)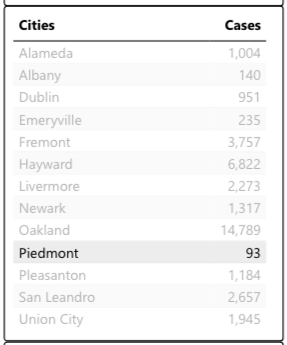 View the complete Alameda County Health dashboard HERE.