With this year's pandemic guidelines setting strict capacity limits, SIP and social distance recommendations dramatically reducing the number of shoppers on the avenue, the in-person experience becomes a surprisingly intimate and friendly activity.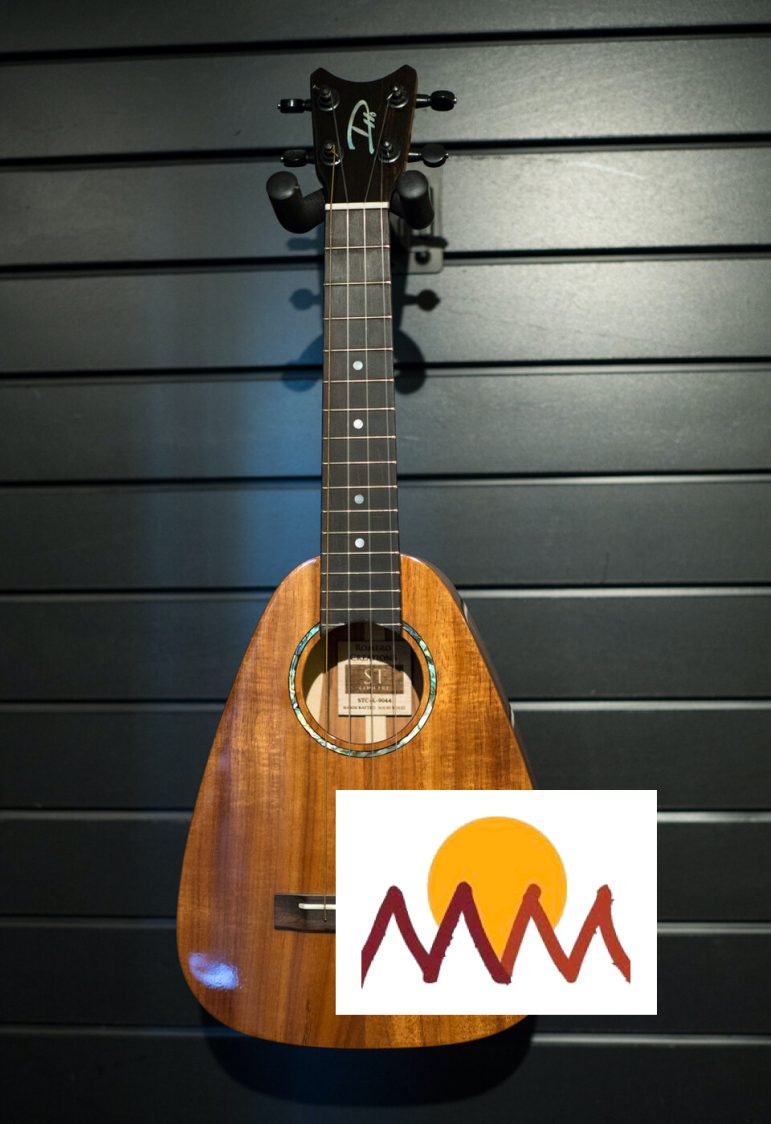 The intimacy arrives with shop owners and staff who, with only four to six customers permitted in stores at one time, have time to chat. The personal touch was evident at Mountain Music, where new owner Adam Lipansky often greets customers at the door with a "Come on in; we're glad you're here."
Responding to questions about taking ownership of the longtime business in March, just days before the area's first lockdown began, Lipansky says he made the most of the time. "Everything here had just started, but I used the slowdown to add an acoustic room and a synth storage room we'll use for teaching classes when we can have teachers and students in here again."
The shop's impressive collection ranges from top-end guitars to turntables to bobblehead musician dolls and every pic an acoustic string instrumentalist might ever desire.
Lipansky says an uptick in sales during recent days has been welcome and online sales are steady.
Not far away, Crimson Horticultural Rarities magnifies another noticeable trend in 2020: an emphasis on gifts and products that offer aesthetic beauty, practicality and sensory stimulation. Portable Christmas trees; gardener sets with plant clipper, hand soap and plant food; house or garden plants including easy-care succulents, self care kits and gorgeous custom flower arrangements and bouquets provide multiple pleasures.
Maple Street Denim applies the same rich variety of textures, colors, gift sizes and sensory rewards to upscale, casual fashion. Hi-end Denim in all shades is expected, but customers can also find cozy wool blankets, colorful Keith Haring or Andy Warhol "Happy Socks," belts, sweaters, jackets and wool beanies. Owner Julie Harleman in notes on the website explains the boutique's current Covid 19 protocols and recommends making appointments for fitting services.
At Arjan Flower and Herbs, seasonal arrangements may include substitutions but follow the color palettes and compositional themes displayed online. Wreaths, gift baskets, rustic vases, herbs in jars and other items make gift selection easy and adaptable to almost any budget. Owner Mina Bolouri's childhood, growing up amid roses and honeysuckle trees in her mother's garden, result in floral arrangements reminiscent of Persian rugs that incorporate floral blooms in bold jewel tones with leaves, vines, branches and berry-laden stems.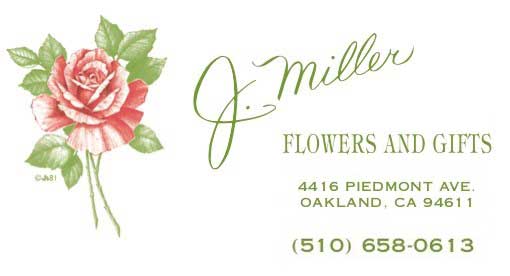 Up the street and just across Pleasant Valley, J. Miller Flowers is another excellent place to shop for all things floral, offering professionally designed flower arrangements and floral gifts to fit any occasion. Open 7 days a week until 3:00 pm, you can also order by phone or through their website (www.jmillerflowers.com | 510-658-0613) for curbside pickup and contactless delivery.
The merger of Good Stock and Neighbor in the months prior to the pandemic formed Good Neighbor and integrated the two shops' blend of self-care, jewelry, earth-friendly products and backyard spaces for conducting small business or team meetings. Reservations to use the outdoor venue, with masks and Covid distancing following County of Alameda guidelines, are available online. In the store, customers can select gifts from among a curated display that includes fine jewelry, eyeglasses, body care products, candles, scented mists and baseball caps bearing embroidered names of East Bay cities—Lafayette, Walnut Creek, El Cerrito, and others.
Mercy Vintage has plenty of merchandise displayed online and in the store. New arrivals include elegant dresses, designer brand jackets, shoes and boots, kimonos, jeans and more. Emphasis is on high quality second-hand, local designer/artist, sustainable clothing. The shop continues to buy items and offers curbside drop off and pick up to customers during specific hours.
Stop nearby at Black Swan Books for your literary order — vintage books, art, collectibles from around the world — can be ordered online or selected from the window display). Your purchase will be delivered to your vehicle by a personal shopper.

To round out the in-person shopping expedition, or for take home some food, beverages and a book from a local purveyor. Timeless Coffee has cakes, specialty candy, Shepherds Pies, delectable Double Down Twinkies (all vegan!) and of course, fine coffee. La Farine extends the baked goods and coffee scene with breads, pastries, cookies, tarts, private label coffee beans and more. Fentons, as venerable as ever, lives up to its go-to reputation with curbside pick ups of the Black & Tan and other ice cream concoctions, sodas and sweet beverages, salads and sides, burgers, and a list of all-time favorite hot or cold sandwiches.
---
SEE RELATED