When Andy Melian started playing football in seventh grade, he was an undersized lineman who got pushed around a lot. He said he took a bit of a beating.
Now, the Piedmont High School senior is 6-foot-4, 265 pounds. It is now he who administers the beatings on the field.
Melian, like his Highlanders teammates, is working out, hoping his senior season gets played sometime after the new year. But his football career is continuing either way, as he has committed to play at Kenyon College in Gambier, Ohio.
"Basically I found schools that met my criteria: smaller towns, high academics, had football teams," Melian said. "I'm just not a big city person. I've never really liked big cities."
"I reached out (to the Kenyon coaches) and they said, 'Yeah you're definitely a player we would like to have.' Me and my parents had Zoom calls with the coaches once or twice a week."
With the COVID-19 pandemic still raging, recruiting has been a little different this year. Melian will be heading to college sight unseen.
"I've never seen Kenyon in person," he said. "It's a little bit of a shot in the dark."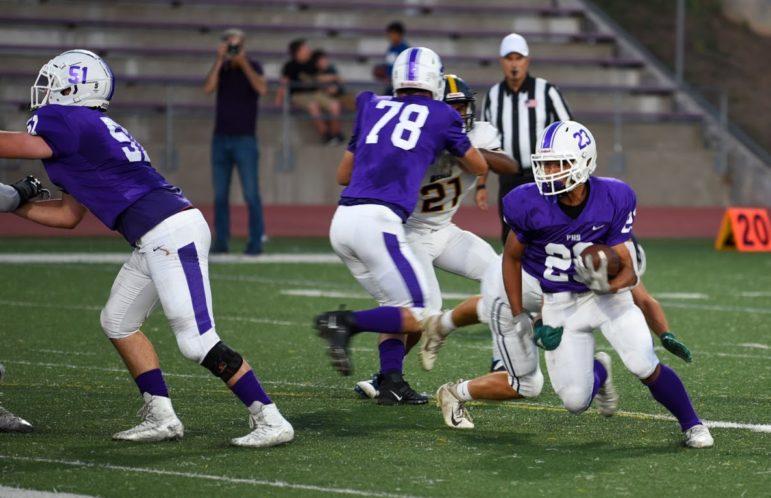 Melian played soccer as a kid and joined Pop Warner in seventh grade. He said he was put on the line because he was too slow to play a skill position. It proved to be prescient as he grew into the role. He liked watching football on television, but as he has continued to play the sport, it has grown into something different.
"When I was younger, it was just a sport I liked," Melian said. "As I got through high school playing it, it's really more than the sport part of it. I know it's a cliché, but it's a brotherhood. You get to know the people. You put more into it, you have more of an emotional connection to it."
Melian and his teammates are still in limbo as far as the 2020-21 high school season goes. COVID-19 knocked out the fall season. Plans were made to play football in the winter with practices starting in December and games starting in January. However, as cases have surged around the Bay Area, high school sports have been delayed again. State guidelines released this month say contact sports like football should be conducted only when the county drops into the Orange Tier, the next to lowest under the state's four-tier system. Alameda County is currently in the highest Purple Tier and under a stay-at-home order at least into January.
While they wait, the Highlanders are working on playbooks and conditioning. Melian has been starting on the offensive and defensive lines since he was a sophomore, and is a captain this year.
At Kenyon, he expects to play defensive tackle.
"My quickness gives more advantages to defense than to offense," he said. "I think my speed, my strength and awareness has helped me. I'm able to overpower and just be faster than people sometimes."
As for improvements to play at the next level, "I definitely need to work on my hands. My feet are quick but my hands are a little slow."
Melian plans to study economics and psychology at Kenyon with a goal of going into marketing.