Piedmont cases continue to tick up as the Bay Area enters a new shutdown phase related to the rapid increase of COVID-19 cases and hospitalizations across the region.
According to the most recent update from the Alameda County Office of Public Health on Dec. 8, total coronavirus cases in Piedmont as of today stood at 71, up from 68 on Dec. 4.
Under the new order, businesses like restaurants, wineries, hair and nail salons, card rooms, and fitness centers will be required to temporarily stop all indoor and outdoor activities, while retail stores must limit indoor capacity to 20 percent. Residents are also being asked to avoid socializing with anyone outside of their immediate households.
(Note: The county database is updated daily, but counts for a particular past date can change as records are adjusted, per a caveat on the county's data dashboard.)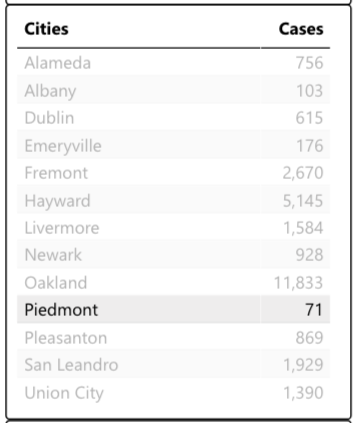 View the complete Alameda County Health dashboard HERE.