The legendary museum hosts juried show for Bay Area artists
The de Young Open was a response to the first shutdown last spring. It opened to the public in early October — and like many activities and venues in the Bay Area has had to close again due to the recent orders from Governor Gavin Newsom.

NOTE: The article was updated on Dec. 11 to include the work of Beatie Moe and Hadley Williams.
Just before this last public health order, I managed to speak with Timothy Anglin Burgard, Senior Director of American Art at San Francisco's de Young Museum. Burgard described for Piedmont Exedra the excitement he and all the staff at the museum have felt about the recent de Young Open.
When faced with a shutdown last March — something which brought enormous changes to planned exhibits — Burgard had led the Museum's nimble response in the form of an announcement of an open call juried show for Bay Area Artists.
Word spread quickly across the nine-county Bay Area arts community and by the June 1-14 submission date, the jury panel had a jaw dropping 11,514 works to consider from 6,188 artists.
Blockbuster traveling exhibits have been bread and butter for museums such as the de Young for decades. So it was especially gratifying for everyone in the Bay Area arts community, which Burgard takes care to mention includes museum staff, many of whom consider their work a calling rather than a career, to be part of a historically democratic exhibition model. As a family museum and integral part of the city, the de Young, as Burgard describes, "wants to move forward with a new commitment to local artists." The de Young Open proved to be an inspirational and gratifying event for both artists and museum staff.
The exhibit hung floor to ceiling, known as 'salon style' in the grand tradition of centuries past.
All 877 artworks were organized into themed groups that spread across the 12,000 square feet of the 9 Herbst Galleries. Burgard along with Museum staff unanimously agreed that the first gallery visitors entered would showcase art acknowledging the pain and issues surrounding the murder of George Floyd on May 25, 2020 as well as other political and social movements including Black Lives Matter.
Artists had obviously not been taking time off during the recent crises; paintings with these subjects and other up to the minute topics such as responses to COVID-19 were accepted in outdoor tents set up in the Culture Garden on take-in day, some still with wet paint.
All of the 877 artworks are for sale [learn more HERE], with 100% of the proceeds going to the artist — another way in which the Museum is working to become a leader as a model museum of the future.
The Museum was able to open its doors to visitors for a few weeks in October and November before a rise in virus cases caused another closure on November 29, 2020. During Artist Days, artists spoke to Burgard of their appreciation for this opportunity to share their art with the Bay Area, especially during this trying time; emphasizing the sense of acceptance and validation the Museum had provided.
"Oakland Is Still Proud," Beatie Moe

"050920," Hadley Williams
Artwork by several Piedmonters were represented in the show, including work by Beatie Moe and Hadley Williams (above).
Several artists who have been featured in this column, Jennifer Perlmutter, Bibby Gignilliat in collaboration with Marc Oberfelder, and Sharon Paster were accepted into the show. Two Piedmont artists, Irene Nelson and Chris Harvey were also included. Nelson describes the show as "huge, and filled with skilled and diverse work." She shares the thrill she felt when visiting the show to find a museum visitor taking photos of her work. A painting by PHS Alumnus Natalie Jeng (Class of 2019) is also part of the exhibit.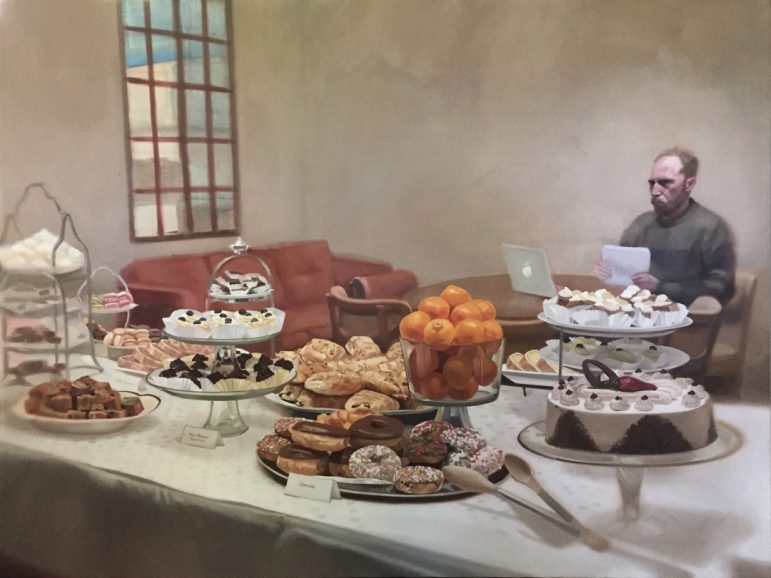 Perlmutter appreciates the supportive role the Museum has played for artists by including so much work and listing the works for sale with pricing and photos on its website. Paster, Gignilliat and Perlmutter all agree that having work accepted and hanging on the walls of a famous museum is a huge career highlight, especially exciting when considering the diversity of work in the show.
"Word," Jennifer Perlmutter

"Eight Ball," Sharon Paster

"Red Improv," Irene Nelson

"Comfort Zone," Bibby Gignilliat and Marc Oberfelder
Gignilliat whose collaborative work with master woodworker Marc Oberfelder is called "Comfort Zone," mentions the risk of submitting work that took both artists out of their own comfort zones; a sentiment that was shared by Perlmutter with regard to her submissions and which could also describe the Museum's own situation.
Burgard confirms that the public response to the show has been positive, stating that sales for artists have been strong and that the museum plans to acquire work from the show for its permanent collection.
While he remains excited about a resumption of planned exhibits, Burgard is hopeful that the de Young Open will be repeated sometime in the future.
The de Young Open will be up through Jan. 3, 2021 for online viewing and a possible reopening of doors to visitors if COVID health conditions allow.