With New Year's Eve dinner just a few days away, there are at least three solid reasons to leave the heavy lifting to a local restaurant. One: If you've mastered the art of preparing fine cuisine at home during the last nine months of pandemic restrictions, you deserve a respite. Two: if you didn't even try given 270-plus days of sheltering-in-place to make the perfect truffled egg brioche, braised short ribs, sourdough baguettes or praline mousse, it's not going to happen in the next 48 hours. Three: if you recognize that food purveyors have been among some of the hardest hit by the economic fallout of the coronavirus and want to support the restaurant industry, ordering a New Year's Eve meal and beverage provides a golden opportunity to do a good deed while eating great food.
We put together a quick list of eight local East Bay restaurants offering special menus for celebrating the end of 2020.
But hurry: some establishments have 2-day advance ordering schedules, which means getting your online or phone order in by end of day on Dec. 29 for pickup or delivery on New Year's Eve is required at some locations. Restaurants are updating social media and their websites as best they can. Call first to make sure holiday specials still apply!
---
The folks at Homestead are thinking ahead, with a deluxe take-home New Year's Eve meal (pre order window closes: December 29th — quick, order now!) and a morning-after/2021 menu: bacon-spinach quiche and apple spice coffee cake. Minimal prep is required and a video plate-up on Instagram offers either inspiration or participation to show off your presentation. Meal kits include three bottles of wine: a Champagne, a white and a red. Meal kits to serve two adults are paired with two bottles of wine: a Champagne and a red. The menu includes caviar & charcuterie picnic spread, braised short rib & Maine lobster, petite fours, wine and the aforementioned morning-after meal. Learn more at homesteadoakland.com/
---
Bellanico serves up four-course or a la carte meals paired with a bottle of wine or Prosecco. Cicchetti selections include trout flatbread with horseradish cream, pickled red onion, fried capers, chervil and trout roe. Among the antipasti are Sweet Potato Gnocchi Chanterelles. Secondi feature a grilled 16-oz T-Bone steak with broccolini, grilled red onion, red wine sauce and fried sun chokes. Top it off with a Chocolate Polenta Souffle topped with fruit and whipped cream or a Coconut Cookie, pistachio brittle and persimmon jam, among other choices. Learn more by visiting www.bellanico.net.
---
Perle Wine Bar
Perle — no surprise — places cocktails and spirits front and center, from an Elderflower Liqueur to Angostura Bitters to drinks featuring vodka, whisky, port and brandy. The food menu offers starters such as a deviled egg chicken salad, or oysters, brioche, black truffle caviar and more. First courses include shrimp bisque and other selections, followed by roasted duck confit and a main dishes with mussels and shrimp or chicken, sausage and on. A Citron Citrus Supreme dessert tart and Kumquats Laurent Perrier Champagne complete the festivities. Visit Perle's website at www.perlewinebar.com/ to explore the options.
---
Commis
Commis launches the end of year celebration with an extravagant, hi-brow menu that reads like a culinary fairy tale: Gulf Shrimp Cocktail & Crudite with Shirodashi Cocktail Sauce with Yuzu as a starter. Follow the crunch and splash of that with Little Gem Lettuces & Radish Salads with Fines Herbes, all laced with Buttermilk Dressing with Sea Lettuce & Green Garlic. Sturdy Commis Levain Bread with Green Garlic Butter and a Slow Poached Egg Yolk with Smoked Dates, Alliums & Malt lead the way to a Seared Ribeye Steak in Sauce Diane with Tre Kors Cognac, Truffled Duchess Potatoes with Gruyère and Creamed Brassicas with Grilled Beech Mushrooms. Add on available for an extra $20: Shaved Black Perigord Truffles. Make it a sweet happy ever after ending with Golden Milk Entremet, Champagne truffles and a favorite beverage. Visit commisrestaurant.com/ to learn more.

---
Grand Lake Kitchen
Simpler fare is on tap at Grand Lake Kitchen. Turn your New Year's Eve into an all-day indulgence by starting with donuts at breakfast. At lunchtime, branch into sandwiches including the Obama Llama (with hummus, avocado, lettuce, tomatoes, pickled red onions on an Acme roll) and go full bore at dinner with a full rack of Dave's Pork Ribs and choice of two hot and two cold deli sides. Cocktails can be ordered by bottle or jar, and there's plenty of choices when it comes to champagne, wine, and artisan craft beers including selections from Almanac, Faction Brewing, and other Bay Area brewers. For dessert, try the PBJ: soft serve vanilla ice cream with strawberry jelly, peanut butter, and graham crackers. And of course, there is every iteration of pizza made possible from Carbona Pizza for a midnight snack or for breakfast on the first morning of 2021. Learn more at www.grandlakekitchen.com.
The Wolf
In tough times like the pandemic, Wolf of Oakland aims for sustainability by offering the same meal all week long. For 2020's last hurrah this week, dinner for two features truffled Riverdog Farm egg on brioche (Mt Lassen trout roe, chives); dungeness crab & gulf prawn salad (baby lettuces, fennel, radish, charred avocado green goddess, meyer lemon, fines herbes); ½ roasted Sonoma duck confit (duck leg, candied kumquats, duck demi-glace), with Lundberg Farms wild rice pilaf (chanterelle mushrooms, chestnuts, dried cherries), and fried brussels sprouts with sweet & spicy calabrian chili sauce.
Finish the meal with an assortment of artisanal cheeses K&J orchards pears, spiced nuts, honey, cranberry mostarda, baguette, Valrhona chocolate roulade hazelnut praline mousse (candied cocoa nibs, pomegranate) and splurge with an add on for $65: a bottle of Brut (Champagne Tassin, Loches-sur-Ource). Learn more at www.thewolfoakland.com.
---
Belotti Ristorante e Bottega
The restaurant and bottega (on College Ave and Piedmont Ave respectively) offer pick up meals that start with salads and selections that include Vitello Tonnato (slow roasted Piedmontese beef eye of round, Sicilian yellow thin tuna sauce, caper essence, lemon zest).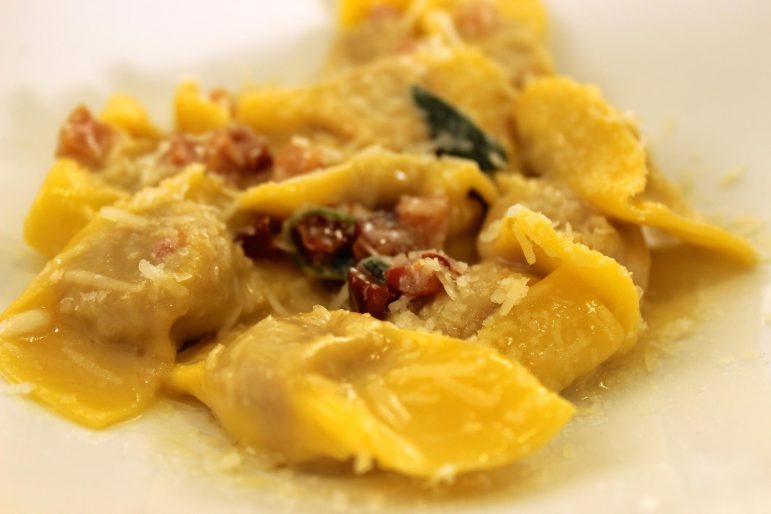 Next course, choose Tortelli Di Polenta Timo E Coniglio or Ravioli di Zucca or Spaghetti Popodoro e Burrata. Fish or seafood options for the main course are available, but use the special occasion to choose a dish most people are unlikely to prepare at home such as Brasato (5-hour braised Piedmontese flat iron, polenta organic mushroom and more).
Add a sides of broccoli piccanti graced with Calabrian chili and allow plenty of time to peruse Belotti's extensive but well-curated wine list with bottles primarily from different regions of California and Italy. Visit belottirb.com to learn more.
---
Rocky's Market
Oakmore's family owned independent market (now also in Brooklyn Basin) with its locally sourced organic goods, features a New Year's Eve menu from Two Local Girls, the in-house caterer. Indulge with starters like a local charcuterie spread; or caviar, creme fraiche & blinis. Follow that with an entree of lobster tail; wild salmon with beurre blanc; or braised pomegranate short ribs. Full menu HERE.