The Cancer League members have not let the COVID pandemic stop them from gathering remotely over Zoom to continue the fight against cancer. With the 47th annual Holly Ball event slated for December 4th, Jenna Caldwell, Holly Ball Chair had to rethink the traditional in-person event that she had been planning all year.
"To say this has been a year unlike any other is an understatement. Life has changed for everyone", said Caldwell. For the health and safety of the community, the initial instinct was to cancel this tradition, now in its 47th year. However, Caldwell was committed to continuing The Cancer League's fundraising tradition and thought that it could be done; it would just need to look a little different.
"My father was diagnosed with cancer during all of this and that's when it came to me – we can't stop the fight against cancer." She added, "So many people are avoiding their doctor's offices and are putting off the early detection screenings that make them even more at risk for poor outcomes. So while the world has changed, our commitment to fighting cancer can't,' said Caldwell. The theme this year: ​Don't Stop the Fight Against Cancer, Holly Ball 2020 virtual.
A few members recently met socially distanced at the home of Jenna Caldwell to finish assembling the announcements to the Virtual Holly Ball Fundraiser.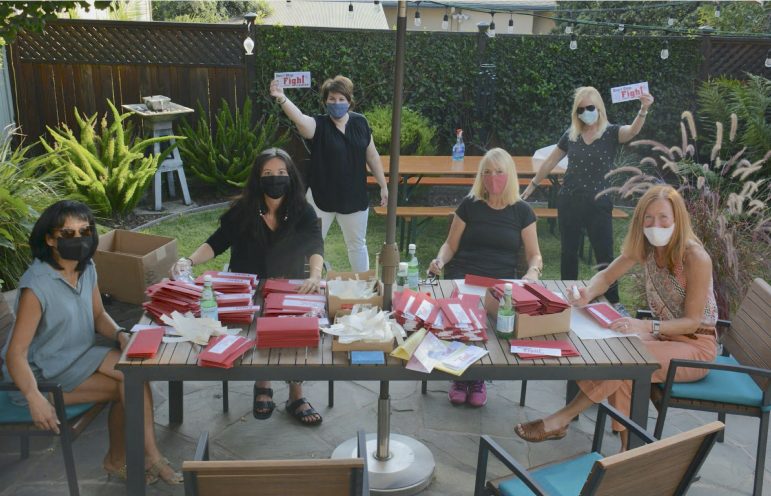 The virtual event kicks off on Friday, December 4th at 7:00pm with a welcome from President, Lucy Ridgway followed by featured speakers Alan Ashworth, PhD, President of UCSF Helen Diller Family Comprehensive Cancer Center and Dr. Mekhail Anwar, recipient of the NIH New Innovator Award and recipient of seed funding from The Cancer League.
Additionally, Hanna Malak, Board of Directors at Camp Okizu, will speak. Camp Okizu is a camp that helps children affected by cancer heal through a welcoming recreational outdoor camp program. Sadly, the camp sustained significant fire damage and devastation caused by the North Complex fires.
To continue the festivity of the evening, The Cancer League teamed up with the Claremont Country Club to be able to offer to-go meals and signature cocktails prepared by the Club's Executive Chef, Hans Wiegand for purchase.

The Cancer League welcomes all guests to join this special event. Please proceed to thecancerleagueinc.org/hb2020​ to make a donation of any level and to purchase to-go meals. Thank you in advance for supporting the fight!
About the Cancer League
The Cancer League is a San Francisco Bay Area nonprofit that funds groundbreaking cancer research at its early stages. Since its inception in 1973, the organization has raised and donated over $5 million toward the fight against cancer. The average yearly allocations budget is over $300,000 and the average grant size is between $10,000-50,000. The work of this organization takes on a special significance given that each of the members has coped with cancer either personally, within their family or in their circle of friends. The Cancer League is a charitable nonprofit 501(c)(3) organization.