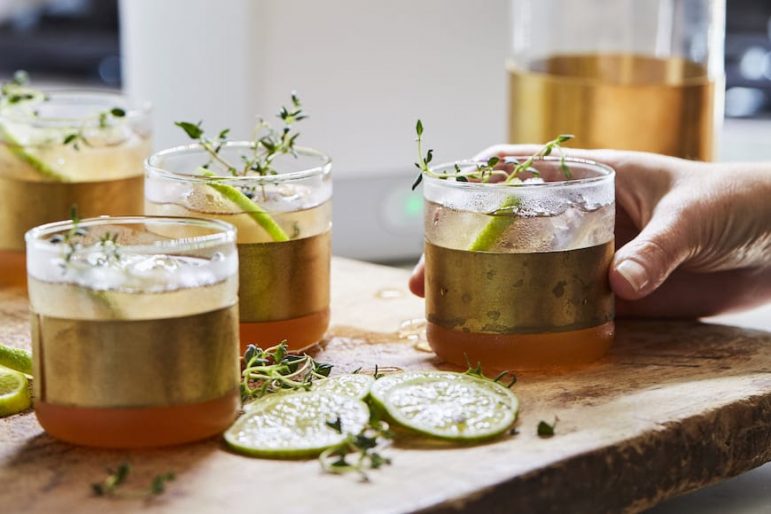 This year our holidays will probably be smaller in number and tailored to recommended precautions. But that doesn't mean we can't be festive and celebrate! Even a modest gathering deserves a celebratory libation, and this Thyme-Apple Cider Spritz captures fall flavors while savory Autumn Snack Mix makes a terrific accompaniment. Compulsively snack-able, the mix is easy to make ahead — and ideal to serve to a small, socially-distanced group as everyone gets their own dish.
INGREDIENTS | Cider Spritz
Makes 4 cocktails (can also be made as a mocktail)
For the Thyme Syrup:
1/3 cup sugar
1/3 cup water
8 sprigs of thyme
For the Thyme Apple Cider Spritz:
2 cups apple cider
1 ½ cups dark rum (remove if making a mocktail)
¾ cup fresh lime juice
1 tsp Angostura bitters
Club Soda
8 sprigs of thyme
8 lime slices
DIRECTIONS | Cider Spritz
Bring the equal amounts of sugar and water to boil in a small saucepan, stirring to dissolve the sugar. Remove from the heat, add thyme sprigs, and cover. Let stand 10 minutes. The strain into a small jar and cool completely.
Mix thyme syrup, apple cider, rum (if using), lime juice and bitters in a large pitcher. Divide among glasses filled with ice and top with a splash of club soda. Garnish with thyme sprigs and lime slices. Cheers!!!!
Courtesy of Gaby Dalkin
---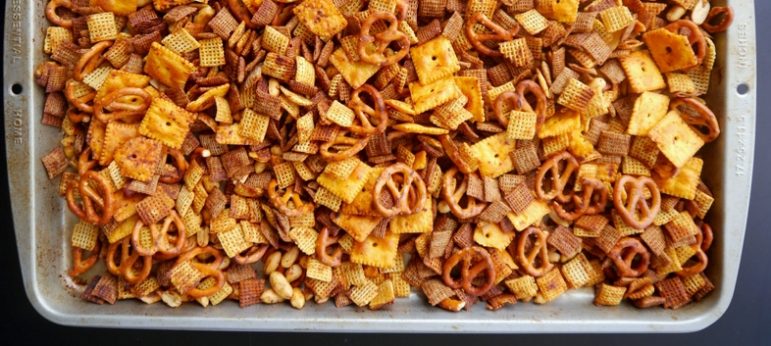 INGREDIENTS | Snack Mix
2 tsp chives, dried
1 tsp dill, dried
1 ½ tsp garlic powder
1 ½ tsp onion powder
2 tsp parsley dried
3 cups Cheez-its and gold fish mixed
3 cups pretzels salted mini-twists
2 cups Rice Chex cereal
Feel free to add any nuts if you would like
1 Tbsp Worcestershire sauce
1 tsp kosher salt
1 Tbsp poppy seeds
2 Tbsp sesame seeds
6 Tbsp butter salted, and melted
DIRECTIONS | Snack Mix
Preheat oven to 300 degrees F.
In a large bowl, combine the butter, Worcestershire, sesame seeds, poppy seeds, parsley, chives, dill, garlic powder, onion powder, salt, and pepper. Add the pretzels, cheese crackers, and Chex, tossing well for 3-5 minutes or until the mixture is evenly coated. Spread the mix evenly over a rimmed baking sheet.
Transfer to the oven and bake 30-35 minutes. Toss 1-2 times throughout cooking.
Serve or store in an airtight container for 1 week.