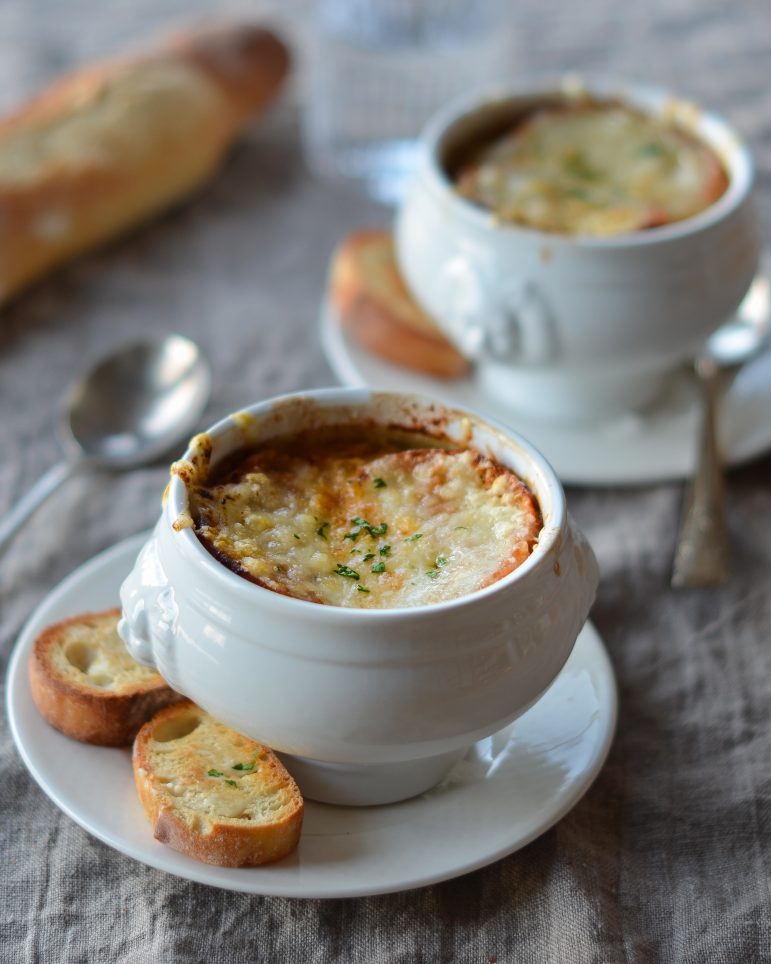 Don't know what to do with your leftover turkey? This soup is a great way to use it up! A great winter night meal with a big green salad. You can do it ahead of time and just bake the bread and cheese on top right before you are going to serve.
INGREDIENTS:
1/4 cup olive oil
4 Tbsp. butter
5 pounds sliced yellow onions (about 14 cups)
3 Tbsps. minced fresh thyme
1 cup white wine
1/2 cup sherry
3 Tbsp. flour
Turkey meat from the carcass no skin – shredded
7-8 cups chicken stock
salt/pepper to taste
Sourdough bread slices
1 cup shredded gruyere cheese
DIRECTIONS:
Heat oil and butter in a large pot or dutch oven. Add onions and saute 8-10 minutes.
Stir in thyme, wine, sherry and flour, salt and pepper and cook another 10 minutes until onions are browned.
Add the turkey meat, the chicken stock, and more salt and pepper and simmer uncovered for about 45 minutes to an hour.
Preheat oven to 375. Put soup in oven safe bowls, place the sliced sourdough on soup and top with cheese. Bake on cookie sheet for about 10-12 minutes or until cheese has melted and is bubbling.