Multidisciplinary artist Deirdre Weinberg isn't originally from California, but she left her heart in San Francisco. More specifically, she left it in Kurt M. Schwartzmann's garage on Ortega Street — he and his husband, Bruce, have to move it aside before they can park. Also, it weighs 400 pounds.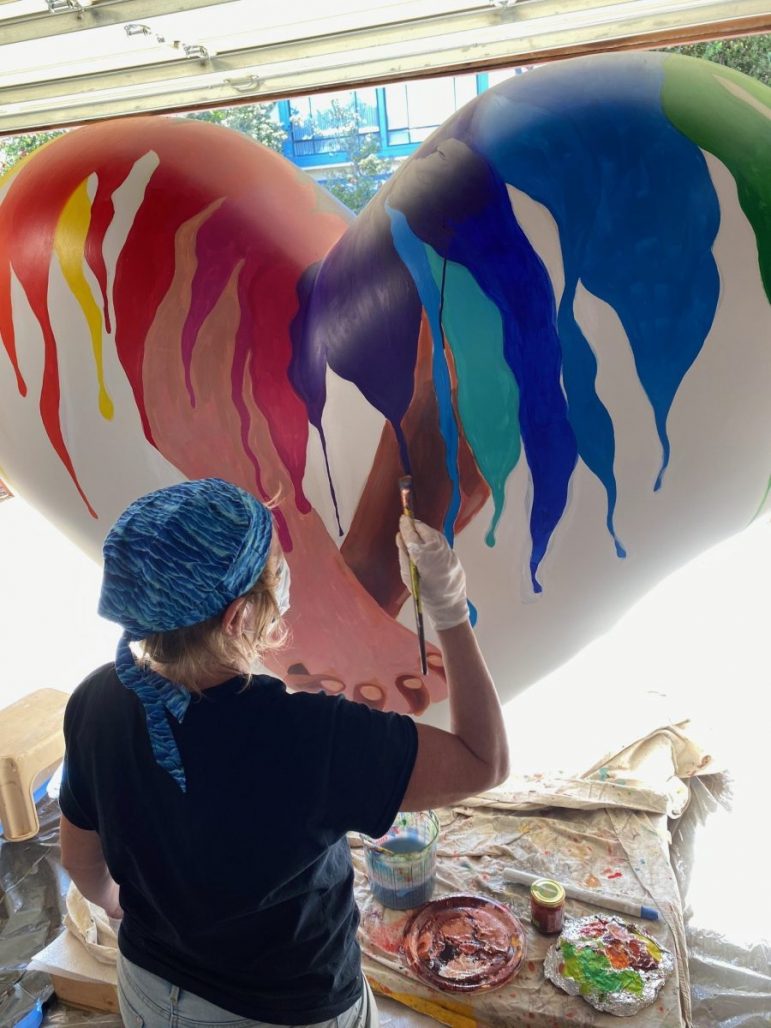 Thankfully, Weinberg does not suffer from a rare cardiac disease. Her heart is one of the notorious three-dimensional sculptures that have popped up online and around the city since 2004, when Zuckerberg San Francisco General Hospital's philanthropic foundation began the project, called Hearts in San Francisco, to raise money for equipment, services and grants to address community health-care needs.
Kim Meredith, who was appointed as the foundation's CEO in June, says the project to date has produced more than 400 hearts and generated $32 million to support the hospital's tech and innovative practices.
Philanthropy is Meredith's legacy. Her father was an immigrant from South America, who, once he completed medical school at UC Berkeley and USC, opted to take his practice to the underserved migrant farm workers of Southern California. He only just retired at 88 in March, because of the pandemic. Meredith worked for AT&T for years after graduating from Stanford, but spent a decade leading Planned Parenthood as COO, and later served as the inaugural executive director of the Stanford Center on Philanthropy and Civil Society before joining the San Francisco General Hospital Foundation.
"There's no other place I want to be than the vortex of public health," she says. "We are only as well-off as our worse-off neighbor."
Deirdre Weinberg paints her "A Colorfall of Hope" design for 2021 Hearts in SF fundraiser in Kurt M. Schwartzmann's Ortega Street garage. (Courtesy Kurt M. Schwartzmann)

San Francisco artist Kurt M. Schwartzmann helps his friend, Deirdre Weinberg paint her design for the 2021 Hearts in SF fundraiser in his Ortega Street garage. (Courtesy Kurt M. Schwartzmann)
For 2021, 22 artists were chosen to create six of the big, 5-foot-tall hearts, six sized for a tabletop display, and 10 minis. For years, the hearts have been displayed all over the city, from Union Square to the Marina to the lobbies of Bank of America and Twitter. Longtime SF resident and 2020 artist Sam Flores was hoping his big heart, depicting an anthropomorphic dragon woman, would get installed by the gates of Chinatown, but given the pandemic constraints, he hasn't gotten the chance to check.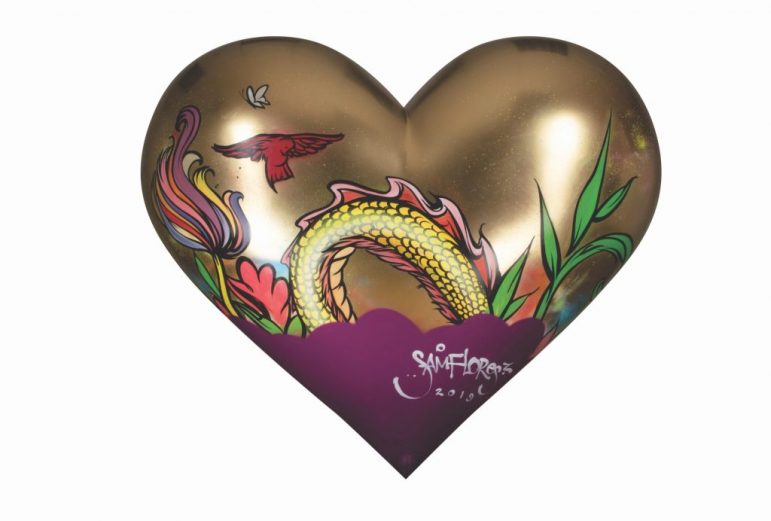 "I wanted it to be somewhere where people could see, like, a photo op to bring a little color wherever you are," says Flores, who was inspired by his longtime friend and renown artist Jeremy Fish to apply. He also painted it in Fish's studio in North Beach. "I've loved SF ever since the first time I came here. To be part of this is a huge honor, and it being a heart is the perfect symbol to bridge medicine and love of the city."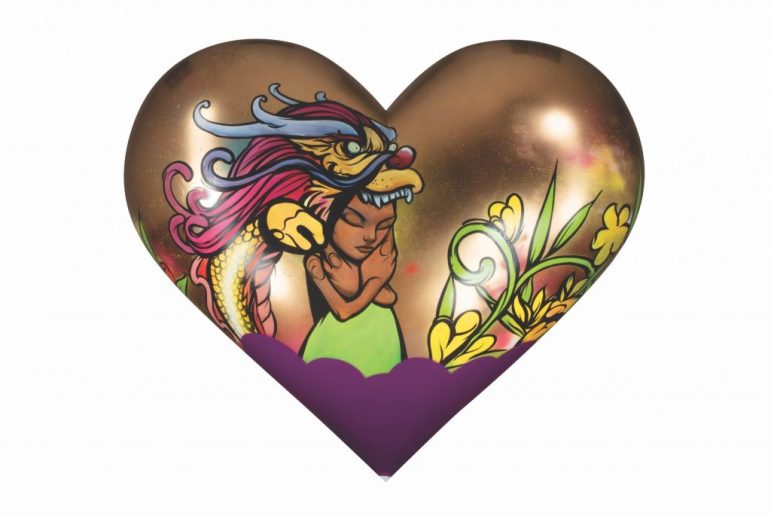 In addition to paying for new hospital equipment, the funds raised by Hearts in SF also go to Heart Grants to fund specialized health-care projects and initiatives. Some of this year's recipients include training and resources for remote diabetes self-management, prenatal and breastfeeding support for communities of color, and an equity education task force to address racial disparities in cancer treatment. Meredith believes philanthropy is the key to "strategic risk capital" that maintains the hospital's reputation for care.
Another 2020 heart artist, Laine Wiesemann, would have to agree. She has loved art since childhood, filling commissions by the time she was in high school, and has even worked as the sign artist for Trader Joe's in Chico.
When she moved to San Francisco in 2008, she would see the hearts while walking around the city. In 2017, Wiesemann was diagnosed with non-Hodgkin's lymphoma, and doctors discovered a "grapefruit-sized tumor" around her heart. She began a six-month treatment plan at the hospital, spending almost a straight week onsite every 21 days.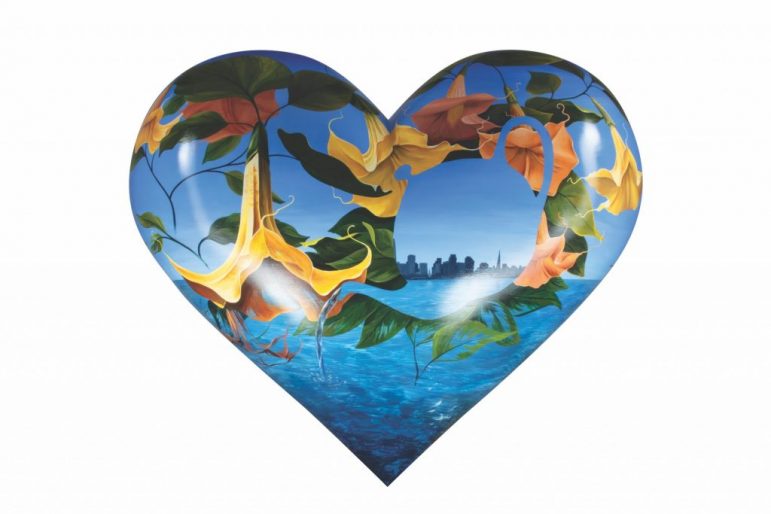 "I'm all better now! My situation was scary and terrible, but I was so grateful for the hospital, the updates, how well it ran," says Wiesemann, who didn't know before she applied that she would be working with the same hospital. "I looked at the [application] guidelines, and I'm sure I cried. It was a way for me to say, 'Thank you for saving my life.'"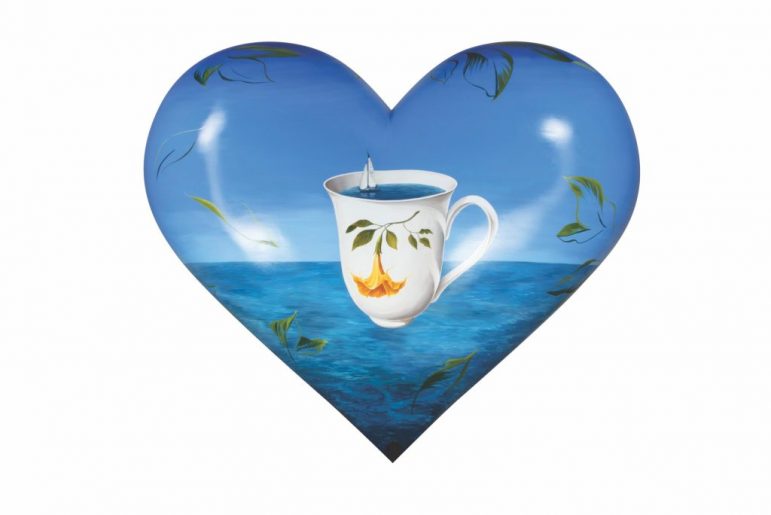 Her heart has a "dreamy" quality, steeped in shades of blue and trumpet flowers, with a teacup on one side and a teapot-shaped skyline of the city. Tea has become a primary theme in Wiesemann's personal work ever since her oncologist recommended green tea during her recovery.
Weinberg, on the other hand, had applied to paint a heart for years without hearing back.
"I didn't think I was ever going to get it. Last minute, I found a drawing I thought I could adapt," says Weinberg, which would go on to be a winning design. "When I got it, I panicked because I don't have a garage! Kurt [Schwartzmann] and I had just worked at the Buena Vista Cafe, and this was a great continuation of his project. We spent a lot more time than we needed to because we didn't want it to end."
Her heart design, called "A Colorfall of Hope," was inspired by a watercolor she had done of a dripping rainbow washing over two entwined hands. For the heart, she opted to use acrylic, and the hands had to be much bigger.
Schwartzmann and his husband, Bruce, the hosts, were the hand models.
"During the day, neighbors walked by and asked what we're doing. I loved her idea and she's so selfless. I think I will [apply] next year now that I've got a taste for it," Schwartzmann says.
For André Campbell, Jr., a 2021 artist, the heart was his first post-college project. An SF native raised by a nurse and trauma surgeon, both at SF General, Campbell found art as a grounding personal outlet while in high school at Urban School. He went on to minor in fine art at Oberlin in addition to his anthropology degree, with plans to pursue a graduate degree in the United Kingdom and play professional basketball overseas.
The pandemic effectively stalled both plans, so after graduating, he came back home as George Floyd, Breonna Taylor and Ahmad Arbery's murders catalyzed a new chapter in #BlackLivesMatter activism across the country. His heart depicts what he perceives are the "generational differences" between the racial justice activism of this generation and in the time of Martin Luther King Jr. and other leaders who, for example, marched in Selma.
"With the current political climate, there's a lot of divide in the country. I wanted to take something iconic and use themes of unity and leadership," says Campbell, whose parents had encouraged him to apply. "They were overwhelmed with joy, very happy for me. This is a new experience for me."
Back on Ortega Street, friends and passerby file out of the garage, each now accessorized with a heart necklace Weinberg made from the heart's paint chips peeled off the sculpture. In the sky above, the first raindrops after fire season begin to fall.
* The San Francisco General Foundation's annual fundraiser for Hearts in SF is going virtual for 2021. Register here for the Feb. 11 event that will feature a virtual tour of the newly installed hearts and interviews with artists. The hearts themselves will start going on public display in January, and will be up for an online auction Feb. 1–12.