Bret Black hasn't been on a vacation in about six months. But he's going to sneak a short one in starting on Thanksgiving Day, as he and his wife Nimai will head up north, with an eventual destination of Port Townsend, Wash. They found themselves there on their last trip, too.
"We're going to take our time driving up; we're going to look at things, explore a little, isolating as much as possible," Black said.
It will be a one-way trip this time, though, as the 50-year-old Black will settle in the Port Townsend area to become the new chief of the East Jefferson Fire and Rescue, based in that Olympic Peninsula town.
Black had been chief of the Piedmont Fire Department for two years, and in that short time had earned the respect of city leaders, especially during a time when the danger of an all-consuming wildfire has added a new sense of urgency to fire protection in this tree-lined little city. And he did it in a way that endeared himself to townfolk.
"Bret's enthusiasm could make even the most mundane (things) feel important and exciting," City Administrator Sara Lillevand said of Black.
He started in Piedmont Oct. 1, 2018, fresh off 18 years with the Clovis Fire Department in the Central Valley. He succeeded the retiring Bud McClaren as Piedmont's chief.
The disaster preparedness aspect of his new job presented itself immediately, as a crew of Piedmont firefighters was dispatched to Paradise in November to help fight the disastrous Camp Fire, and to help with search-and-rescue efforts there. Such dangers exist around Piedmont, too — the devastating 1991 fires in the Oakland hills were a stark reminder of that — and Black worked to educate Piedmont residents on how to best protect their homes from such ravages.
Black, and other members of the city's executive team, worked with the Alameda County Emergency Operations Center to be ready for responding to fires, near home and beyond.
"The lasting impacts of Bret's short stay in Piedmont are disaster preparedness, emergency operations and developing collaborative relationships with other agencies," Lillevand said.
Black also got a fond farewell at the Nov. 16 Piedmont City Council meeting. Mayor Robert McBain praised Black's professionalism, and his personality, particularly his level of engagement with Piedmonters.
"That is a great combination," McBain said.
Vice Mayor Teddy Gray King said Black provided one of the best job interview answers she ever heard. "We said, 'Here in Piedmont, we really value top-level customer service … Can you show us your approach to dealing with the community?'" King said. "His response: 'I worked retail in Marin County.' And we all knew what he meant."
Black said he learned of the Port Townsend opportunity when he, his wife and two of his three grown sons visited that area on a vacation trip last spring. His whole family fell in love with the area, one Black said is a perfect place for an outdoors person like himself. He said the move will be a "lifestyle change" for him and Nimai in that respect.
He wanted to make one point clear — "I'm definitely not running from something; I'm running to something."
He'll be in a place that's a lot greener than the Bay Area (much more rain), a ferry boat ride away from downtown Seattle and not far from Olympic National Park. His new department provides fire protection for an 80-square-mile area, as opposed to the 1.7 square miles of Piedmont. And where the Piedmont Fire Department is made up exclusively of "career" firefighters, East Jefferson Fire and Rescue is bolstered by a contingent of volunteers. And as Councilwoman Betsy Smegal Andersen reminded Black on Nov. 16, the East Jefferson department has its own firefighting boat.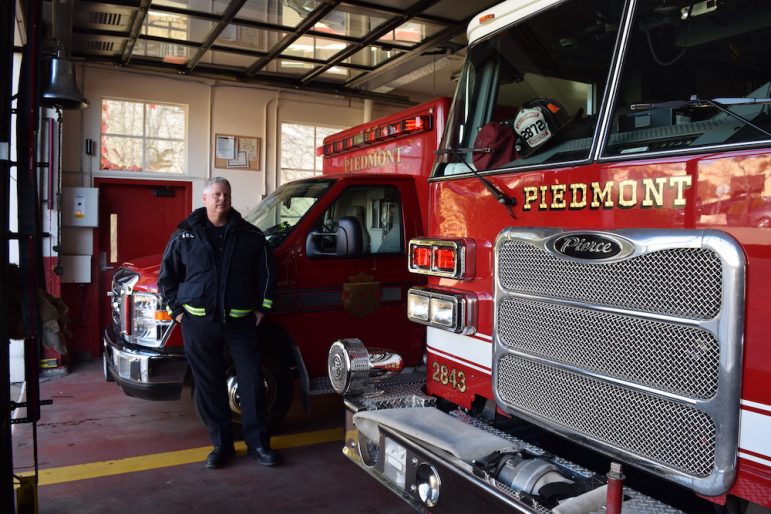 What Black will miss most about Piedmont, he said, are those aforementioned relationships with the community. He said one of his most important jobs in Port Townsend will be trying to replicate that as best he can there.
For the moment, Black leaves newly appointed Interim Fire Chief Michael Despain in charge of the Piedmont Fire Department. Black describes Despain as a "mentor."
As for the next long-term chief, Black said the successful candidate will demonstrate not only the usual fire-related knowledge and skill.
"It's important that the new chief makes connections with all the local groups, gets to know the community," he said. "That counts for a lot here."

Photos by Sam Richards | Contact Sam Richards at sam.richards4344@gmail.com