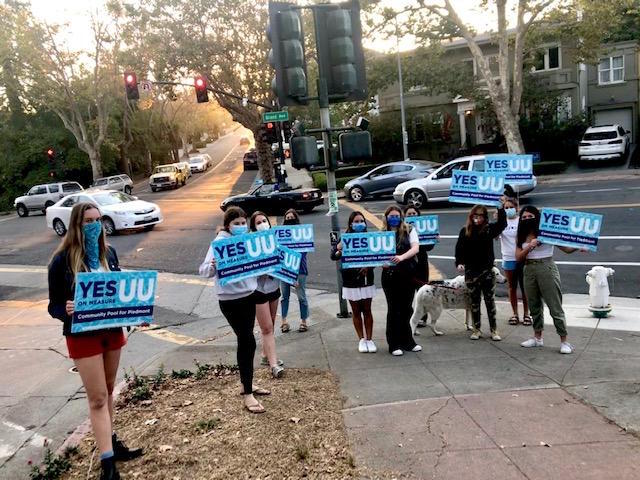 On Wednesday, October 28, 2020 at rush hour, members of the Piedmont Swim Team and Piedmont High School water polo and swim teams joined forces at the corner of Grand and Oakland Avenues in support of Measure UU. Despite having no formal voice in the matter, Piedmont kids continue to lead the campaign to rebuild the failing Piedmont Pool. Except for a few high school seniors, the vast majority of Piedmont students are too young to vote for Measure UU. Instead they're campaigning on the streets, on the phone, and online urging the adults in town to put kids first.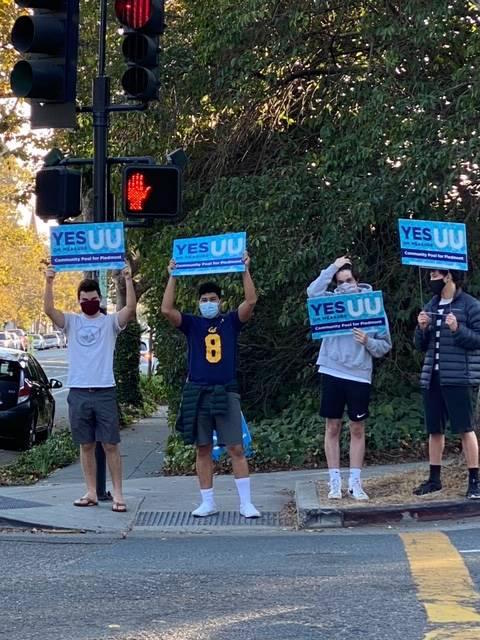 The teams understand that unless Measure UU passes, it's highly unlikely the Piedmont Pool will reopen. The result? No kid in Piedmont will be able to learn to swim, compete, or even splash in the water on a hot day at a public pool in town for years, if not forever. Without public financing, the City has no way to rebuild the crumbling pool facility.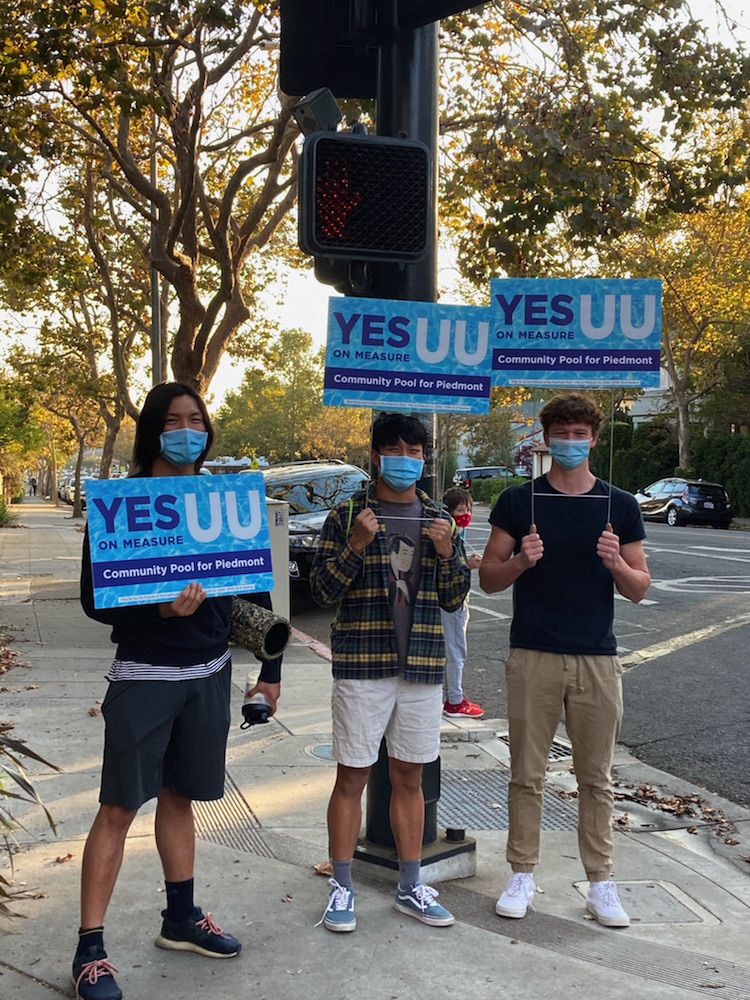 "We're out here again for Measure UU because we know what's at stake. If Measure UU fails, city's voters will have failed Piedmont kids. We lose the most without a pool. We see how every other city around us supports their kids' physical health and education with a pool. Piedmont should do the same," said Grant Fisher Piedmont High senior and member of the water polo and swim teams.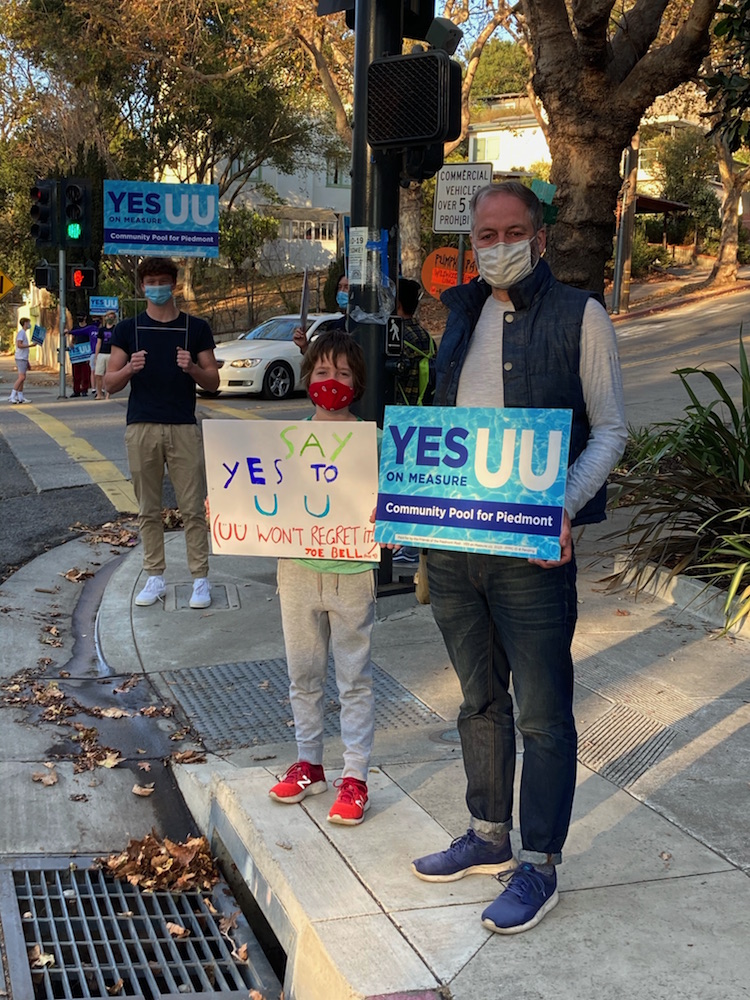 The Piedmont Pool is on track to be permanently for health, safety, and mechanical reasons, including leaking 3,000 gallons of water a day. If Measure UU fails, Piedmont will be the only city in Alameda County that doesn't provide a pool for its residents and schools. Here is a list of the pools in neighboring cities and cities which homebuyers consider when evaluating Piedmont. This list is not exhaustive and is included for informational purposes only. This list does not include private swim clubs or country clubs with aquatics facilities.
Alameda
Alameda – Two city pools shared with the Alameda school district. The Emma Hood Swim Center is being shut down due to age in two years. The city and school district are finalizing plans and lining up financing for a $27 million aquatics center.
Albany – Albany Aquatics Center – two pools owned by the Albany school district, but used jointly with the city. Rebuilt in 2009 with a local bond measure passed by 72% of Albany voters.
Berkeley – Two city swimming pools – King and West Campus. Berkeley High has a pool of its own.
El Cerrito – El Cerrito Swim Center owned by the city.
Oakland – Five city pools – deFremery, East Oakland Sports Center, Fremont, Lions, and Temescal – which the high schools use for swim team, etc.
Contra Costa County
Lafayette, Moraga, Orinda – Each of the four high schools – Acalanes, Campolindo, Lamorinda, and Miramonte – has an aquatic center also used by the city's residents.
San Ramon/Danville – San Ramon Olympic Pool and Dougherty Valley Aquatic Center, plus multiple high school pools for San Ramon Valley Unified.
Marin County
Mill Valley – Mill Valley has a city pool – Mill Valley Community Pool.
The two high schools – Mount Tamalpais and Sir Francis Drake – both have swimming pools used by the local cities.
San Rafael – San Rafael has a city pool – Terra Linda Community Center and Pool. San Rafael High School has a pool of its own.
San Mateo/Santa Clara Counties
Atherton/Menlo Park – Atherton Menlo High School has a pool.
Menlo Park – Menlo Park has two city pools.
San Mateo – San Mateo has two city pools, and each of the four high schools in San Mateo Unified have a pool.
Los Altos – Los Altos doesn't have a pool of its own, but uses the Los Altos High pool.
Los Gatos – Los Gatos doesn't have a pool of its own, but uses the Los Gatos High pool.
Mountain View – Mountain View has two municipal pool facilities, one of which is in the process of being completely rebuilt.
Palo Alto – Palo Alto's two high schools and three middle schools each have a pool.