A four-person crew from the Piedmont Fire Department is part of the mutual fighting the Glass Incident fire in the North Bay.
PFD chief Bret Black said the Engine 2841 crew was near St. Helena on October 2. The crew is made up of Captain Mike Carlisle, Engineer Alan Grace, Firefighter Sandor Legyel and Firefigher/paramedic Brian Gidney.
"Their task is to mop up and protect structures and lives as necessary," Black said.
Black said, "They are all healthy but the (air quality index) is very high as you can imagine. It's above 400 in that area. The work is so arduous that they cannot always wear masks. The fundamental point of any wildfire is remaining effective in operations without affecting the crews safety and wellness. Thats a balance in any wildfire."
He added that the crew traveled with a brand new, state-of-the-art fire engine with an air filtration system.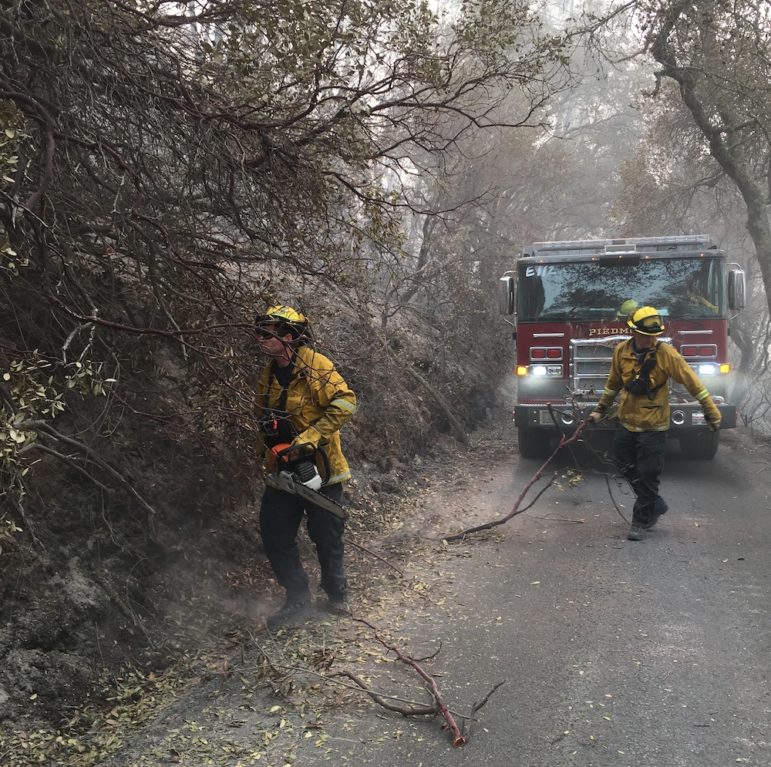 One problem the firefighters have run into once again is residents not evacuating. Chief Black reiterated the importance, noting that emergency alerts are apparently not being received or followed in many cases.
"A lot of people waited too long or ignored the orders," he said. "We're seeing that more and more lately on these big fires. People are starting to rely on digital devices to tell them when to leave and what they are forgetting are these digital devices are not effective when cell towers are burnt up. I have heard reports that people have been woken up by neighbors."
Other residents have ignored orders.
"In a wildfire, if you can see or smell the smoke or fire, you should be immediately ready to evacuate," Chief Black said. "If you feel threatened by a wildfire, do not wait for an evacuation alert or notice, Leave!"
The crew went up to the area on September 28. Calfire said that 17,000 firefighters are fighting 23 major wildfires across the state. Crews responded to 29 new wildfires on October 1, bringing full containment to all, according to Calfire. Since the beginning of the year, over 3.9 million acres have burned in California. Thirty-one people have been confirmed dead from the fires.