When it became clear that Halloween activities would be curtailed this year, Piedmont parent Liz Mosbaugh went to work. She combined two of her passions — creativity and fundraising for Piedmont schools — to launch PiedmontBOO!, a socially-distanced, reverse trick-or-treat game.

Starting on Saturday, October 17, Liz invited everyone in the community to sign up and purchase either a starter BOO! kit of a lawn sign, three BOO! count stickers, and access to the address list of other participants in the game, or the full BOO! kit which included the same supplies plus three complete BOO! bags filled with treats. Liz safely distributed the kits from her front yard with the help of her husband, Scott, and son, Chris.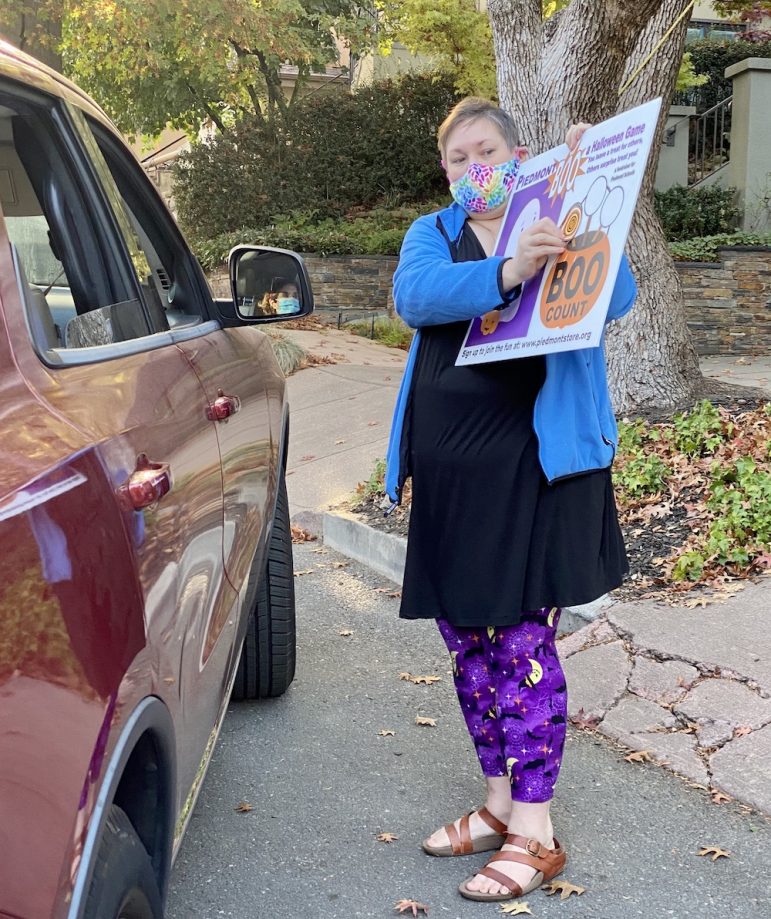 Participants would then "give a BOO!" by dropping a treat bag at the door of a participating home. When you received a surprise BOO!, you would place a round pumpkin sticker provided by Liz onto your colorful lawn sign. Once you received three BOO!s, you were done! Liz kept track of which homes still needed BOO!s on a handy map.

Piedmont BOO! was a hit and Liz sold out of the lawn signs by October 28. All told, she put together 144 treat bags for 87 participating families, which raised more than $2,300 for the Piedmont Education Foundation and Piedmont schools! And, she bought supplies in bulk so she's already set for another Piedmont BOO! fundraiser in 2021.

We are inspired by volunteers like Liz who see an opportunity to enrich the lives of our community's kids while at the same time raising much-needed funds for our schools. Kudos, Liz! Halloween in Piedmont is sweeter this year because of you.

Learn more about the Piedmont Education Foundation and why community support for Piedmont schools is essential at https://www.piedmontedfoundation.org.