Over the last few weeks the topic of housing equity in Piedmont has been the subject of community conversations, most notably via the information forum entitled, "Racial Segregation and Housing in Piedmont: How Did We Get Here? What Can We Do About It?" In my review of recent articles, the discussion of the current housing realities included links and references to the history of Sidney Dearing, dubbed the first Black man to live in Piedmont.
I first learned of Sidney Dearing on June 12th during a gathering in Piedmont Park when a number of people marched from the Wildwood Avenue area to the park to hear from a few speakers, most notably, young student speakers.  It was at that event, I happened to be standing next to a woman who had material and signage with Sidney Dearing's name and information.  I was curious so I introduced myself and asked the woman to tell me about Sidney Dearing.
The woman was Meghan Bennett and the history she recounted that day intrigued me and led to further review of her informative website that is dedicated to the Dearing/Piedmont history.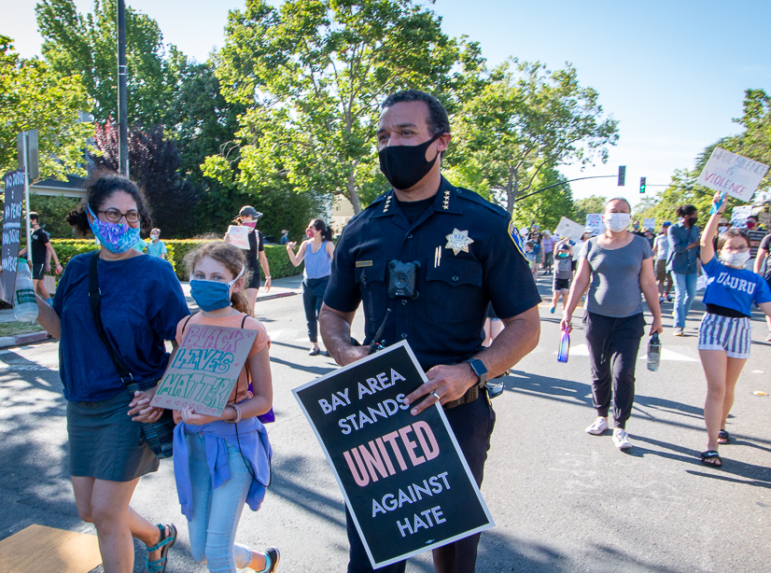 I learned that the Department I lead had been on the wrong side of history.
Others in the community have recently written about this history and I encourage people to read about it and visit the website. As a person of African descent, the information unfortunately was not surprising to me. As the Chief of Police of the Piedmont Police Department, it was ironic.
As a professional law enforcement organization it is this current-day Piedmont Police Department's duty to understand this history, own it, and ensure we demonstrate an aptitude to be on the right side of history as we move forward. After learning of Ms. Bennett's website, each member of the Piedmont Police Department had a conversation with me to review the site and discuss it. The conversations were interesting, introspective and cathartic. The power of the history of Sidney Dearing, from my perspective, is the specificity and tangible nature it attaches to what can sometimes seem abstract to some.
This City, this police department, and members of this community did specific reprehensible things to this man to run him out of town because he was Black.
To sit with current-day staff from the police department and for us to look at each other and talk about this history was impactful.
This begs the questions, "So what?" and "What is the Department going to do that is different or impactful?"
A number of years ago, President Barack Obama established the President's Task Force on 21st Century Policing which developed guidance pertaining to progressive policing practices focused on building trust and legitimacy with the public, training, technology, policy formation, and officer wellness.
Though our Piedmont Police Department already implements much of what is prescribed, we can do more to ingrain the best practices into the fabric of our Department and communicate with the public on how we are doing it.
Later this month, a number of our police officers will be taking a sergeant's promotional examination. A significant amount of the exam will focus on concepts and material from the President's Task Force on 21st Century Policing. Our officers will have to demonstrate their knowledge of these areas to be considered for promotion.
There is certainly much to do and we are engaged in efforts to identify and organize much of this work in the development of our strategic plan update currently underway.
Public participation and feedback has been an essential part of our planning process. As the Piedmont Police Department moves forward in this work we will continue to seek opportunities to communicate with and involve the public in these efforts.
This strategic plan will ultimately aid in our continued efforts to provide professional police services to all who live, visit and work in our community to ensure we stay on the right side of history.
---
SEE RELATED