A Fire Weather Watch will be in effect beginning Wednesday morning for the East Bay Hills, which will likely increase to a Red Flag Warning in the next 24 hours, wrote Piedmont Fire Chief Bret Black in an email on Monday afternoon.
"We are expecting dangerously low humidity and some significant winds for Wednesday through Friday.
"These types of weather events can trigger a PSPS event; residents should stay informed by visiting PG&E's website where they can update their emergency contact information for PG&E's alerting system."
Do you know what a Fire Weather Watch means in the forecast? Or a Red Flag Warning? A Fire Weather Watch most often precipitates a Red Flag Warning and tells you that critical fire weather is on the way. Gusty winds and low humidity are the most common reason for issuing the watches and warnings. Click here to learn more about this and what CAL FIRE does to prepare.
Black reassured residents: "Piedmont Fire Department is currently fully staffed; all of our mutual aid resources have returned. PFD intends to increase staffing for the elevated wildfire risk beginning Wednesday."
In October and November, "above normal" wildfire potential will persist until significant and sustained rain arrives. Residents are reminded to prepare for wildfire evacuation and have a GO BAG ready! Learn more at www.readyforwildfire.org.
---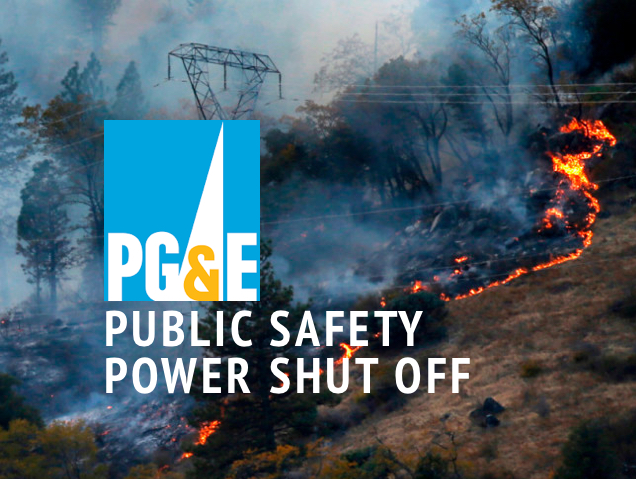 Preparing for a potential shut-off (PSPS event)
To ready for a potential shut-off, the City recommends residents take the following steps:
Make sure PG&E has your current contact information. Update your contact information with PG&E online at pge.com/mywildfirealerts or call (866) 743-6589.
Check and update your emergency kit (HERE) and supplies (include hard copies of critical information and life-saving prescriptions).
Identify a place you can go to cool off, if necessary
Have a back-up charging system for cell phones and keep devices fully charged at all times.
Learn how to manually open your garage door.
Keep cash on hand (credit/debit stations, and ATMs may be without power).
Learn more about Public Safety Power Shutoffs in your area (HERE) and work with your neighbors to make sure everyone is ready.
Stay informed during disasters and sign up for alerts HERE.
Additionally, PG&E suggests that customers can better prepare for PSPS by:

Plan for medical needs like medications that require refrigeration or devices that need power.
Identify backup charging methods for phones and keep hard copies of emergency numbers.
Keep in mind family members who are elderly, younger children and pets. Information and tips including a safety plan checklist are available at pge.com/wildfiresafety.
To find out if you will be impacted, enter your address in the PSPS service impact map. PG&E will be updating information regarding the service impact areas here.