A Piedmont resident on Moraga Avenue had his Black Lives Matter signs vandalized multiple times during the late summer. Other signs in area were also attacked by a masked male who spray painted over the "Black" on the signs with what appears to be a can of spraypaint.
Black Lives Matter sign vandalized, Pt 1 from Piedmont Exedra on Vimeo.
Black Lives Matter sign vandalized, Pt 2 from Piedmont Exedra on Vimeo.
The vandal hasn't struck since September 9 when he was caught on camera, according to Mike Cvet. He said he responded by buying a big box of signs and some spray-on water proofing.
"I don't expect that everybody in Piedmont uniformly completely understands everything that the Black Lives Matter protests promotes. I am surprised that someone was so motivated to deface that message. Not only trespassing on multiple occasions, but that they would commit property damage and they would let it take them that far."
On August 23, a report came in from Ronada Avenue to the Piedmont Police Department. According to PPD Captain Chris Monahan, the poster "got vandalized by an unknown suspect. The suspect spray painted over the poster with black colored spray paint." That exactly what happened at Cvet's property the same night. Other incidents at Cvet's house came September 2 and 9. Cvet said he went on Nextdoor and several neighbors reported similar incidents. Also, a sign hanging on a fence up the street was cut down.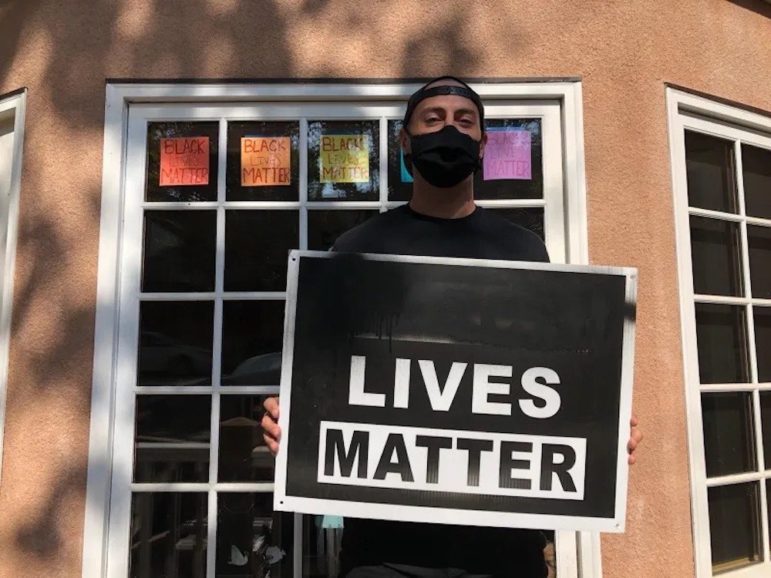 After the second incident, Cvet moved the location of his sign on the front yard and repositioned his security cameras. He got a clear shot of a middle-aged male wearing a mask carrying a spray can spraying over his sign.
Captain Monahan said the PPD has messaged "our law enforcement partners" with the video. No suspect has been identified.
Earlier this summer a homeowner in upper Piedmont near the reservoir reported a man dumped piles of dog excrement in front of the family's Biden sign on several occasions late at night. The homeowner has video of the suspect, but the quality of the film makes it hard to identify the person.
"I'm also surprised that cameras are common here and their behavior is so brazen," Cvet said. "It seems he was motivated by ignorance and racism."
Cvet said the signs in the neighborhood have been up for a few months. His new box has plenty and he has been handing them out to neighbors.
---
All images and videos are courtesy of Mike Cvet