Nearly 7,000 PG&E customers in the Bay Area may be affected by a Public Safety Power Shutoff starting Wednesday if the utility decides one is necessary, company officials said Monday.
About 50,000 PG&E customers in 19 counties and two tribal communities statewide would be affected by the shutoff, which may come as early as Wednesday evening. Initial notifications went out late Monday afternoon to people who might have their power turned off.
The utility may shut off the power because high winds and dry conditions, which are in the forecast, could damage PG&E equipment that then may spark a catastrophic wildfire.
Six counties in the Bay Area would be affected including Alameda, Contra Costa, Napa, Santa Clara, Solano and Sonoma.
NOTE that Piedmont is not included in the area of Alameda County that would be affected by a possible PSPS.
PG&E officials said that the high fire-risk conditions are expected to continue through Friday morning. Once the high-risk conditions subside, PG&E crews will try to restore power to all customers within 12 daylight hours.
---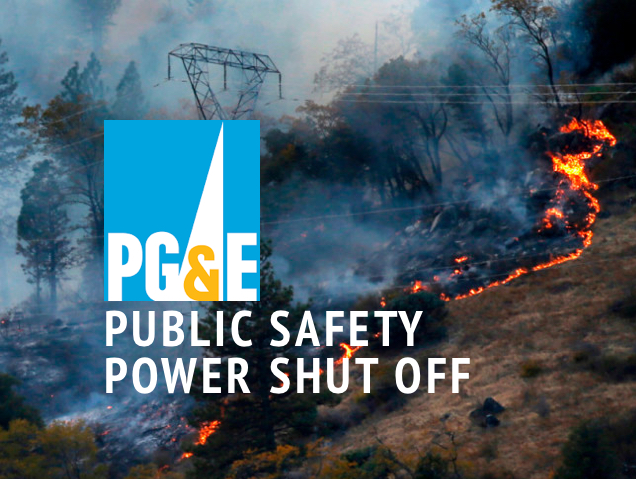 Preparing for a potential shut-off (PSPS event)
To ready for a potential shut-off, the City recommends residents take the following steps:
Make sure PG&E has your current contact information. Update your contact information with PG&E online at pge.com/mywildfirealerts or call (866) 743-6589.
Check and update your emergency kit (HERE) and supplies (include hard copies of critical information and life-saving prescriptions).
Identify a place you can go to cool off, if necessary
Have a back-up charging system for cell phones and keep devices fully charged at all times.
Learn how to manually open your garage door.
Keep cash on hand (credit/debit stations, and ATMs may be without power).
Learn more about Public Safety Power Shutoffs in your area (HERE) and work with your neighbors to make sure everyone is ready.
Stay informed during disasters and sign up for alerts HERE.
Additionally, PG&E suggests that customers can better prepare for PSPS by:

Plan for medical needs like medications that require refrigeration or devices that need power.
Identify backup charging methods for phones and keep hard copies of emergency numbers.
Keep in mind family members who are elderly, younger children and pets. Information and tips including a safety plan checklist are available at pge.com/wildfiresafety.
To find out if you will be impacted, enter your address in the PSPS service impact map. PG&E will be updating information regarding the service impact areas here.