PRD is excited to announce another round of fun after-school programming! We are providing a preview of the classes that will be open for registration beginning Wednesday, September 9th at 8:00 am for residents and Saturday, September 12th at 10:00 am for non-residents.
This round of classes and programs run from September 21 through November 20. Below, you will find a preview of the 3-week camp options and a calendar of our Pick & Play/BYOP classes.

PRD welcomes people of all abilities to enjoy and participate in our programs and classes. If you have any questions or need assistance with selecting a program, please contact Erin Rivera.
Look for new Fall Session 2 outdoor programming in our eNews on Tuesday, September 8th! Registration for this new Fall Session 2 will begin on Wednesday, September 9 at 8:00 am.
Camp Smart Start Session 2 begins Tuesday, September 8
Need help with Distance Learning? Want your child to get outside during the day to play with friends? Join us for Session 2 of Camp Smart Start. Spaces are still available for Session 2, with partial and extended day programming Monday through Friday depending on your needs. During the day, Smart Start Staff assist campers with their distance learning, ensuring they login to classes and submit assignments complete and on-time. Between classes we're outdoors playing games with friends, staying active, and having fun! Click here to Register Online
If you have questions about Camp Smart Start please contact Jackson Stearns. 

Session 2
Tuesday, September 8 – Friday, September 25 (3-week session)
— Option 1: Partial Day: 8:15 am–3:00 pm
— Option 2: Extended Day: 8:15 am–5:15 pm

Smart Start Session 3
Camp Smart Start continues with Session 3, now extended to a 4-week session. Session 3 dates aligns with our new Play Pod program, therefore Smart Start will only be available 8:15–3:00 pm.
Registrations for Smart Start session 3 will be on a first come, first served basis. 
Click HERE to Register Online (Beginning September 14th)
Monday, September 28th–Friday, October 23rd (4-week session)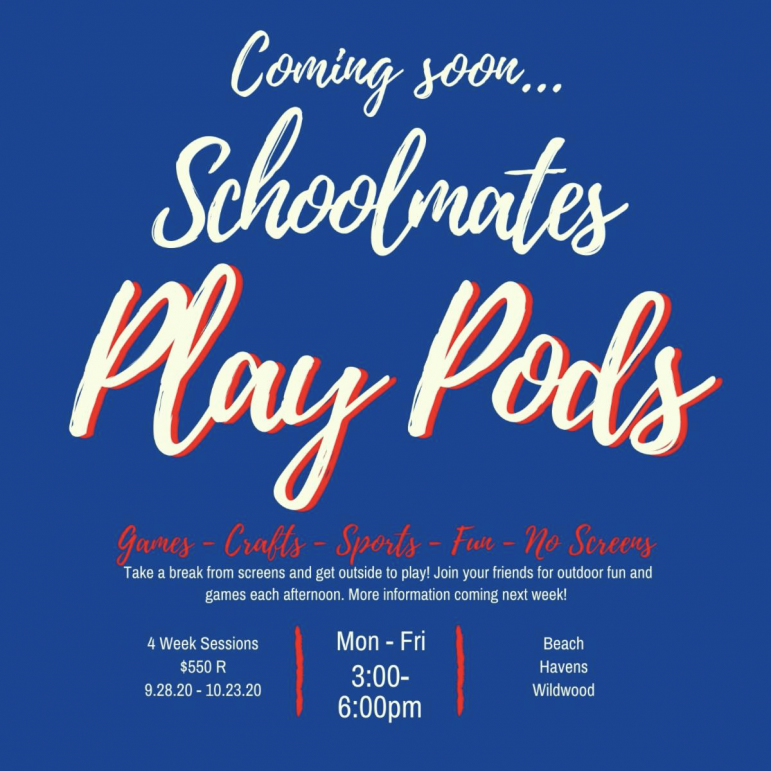 It's time to put away screens, get outside, and play! 
That's why Schoolmates and PRD are introducing Play Pods, a new afternoon outdoor recreation program focused on fun, socialization and screen-free playtime. Each afternoon trained Schoolmates and Recreation Staff lead and supervise their Play Pod while leading COVID-safe games, sports, crafts, and more. 

Offered in 4-week sessions, Monday-Friday 3:00–6:00 pm, beginning September 28th. Play Pods are a great way to keep kids active, get them the social play they need, and get parents a few extra hours for themselves. More information, including how to register, will be announced on Tuesday, September 8th in this eNews.