The image was arresting: The Washington Mystics taking the court for their scheduled WNBA game, all wearing white T-shirts with red bullet holes drawn on the backs. Everybody knew the shirts were referring to Jacob Blake, a Black man in Kenosha, Wisconsin, who had been shot in the back seven times by a police officer a few days prior.
Earlier on August 26, the Milwaukee Bucks declined to take the floor for their scheduled NBA playoff game. Milwaukee is located about 40 miles from Kenosha.
Quickly, the wildcat strike by the Bucks was legitimized when the NBA canceled all three playoff games scheduled for the day. The WNBA canceled its schedule as well. Three Major League Baseball games were canceled that night. Major League Soccer games were scratched, too.
It was an unprecedented labor action. Sports, which have been gingerly returning out of the pandemic, were shut down again.
The WNBA has been leading the way. The women have been far more active than their male counterpoints, even going so far as challenging one of the team owners, U.S. Senator Kelly Loeffler (R-Ga). Loeffler was appointed to her seat and is facing a special election to fill out her term. Georgia governor Brian Kemp had appointed her over conservative congressman and Donald Trump ally Doug Collins. Many conservatives had questioned who Loeffler was and whether she was a "true" conservative.
According to a story on Espn.com, Atlanta Dream players had always liked Loeffler, and never heard her impose any kind of conservative views on a franchise used to promoting social justice causes. But suddenly, this summer, that changed. As the league promoted Black Lives Matter (painting the slogan on its courts, same as the NBA has), Loeffler found the need to send a letter to WNBA Commissioner Cathy Engelbert, objecting to the league embracing Black Lives Matter. Echoing conservative talking points, the letter read, "This is not a political movement that the league should be embracing, and I emphatically oppose it." In media interviews, Loeffler doubled down, claiming Black Lives Matter "promotes violence and anti-Semitism" and is "destroying the nuclear family." She went on FoxNews and claimed she was being "canceled."
Black people, of course, might suggest that they have been canceled for most of the 400 years they have been on this continent.
The players fought back, with two decisions standing out. They refused to name Loeffler in any of their actions. And all 144 WNBA players endorsed one of Loeffler's opponents in the election, the Rev. Raphael Warnock. They didn't announce their endorsement with a press conference. Instead, they all wore black T-shirts with "Vote Warnock" in white over their uniforms during warmups for the games of August 4-5.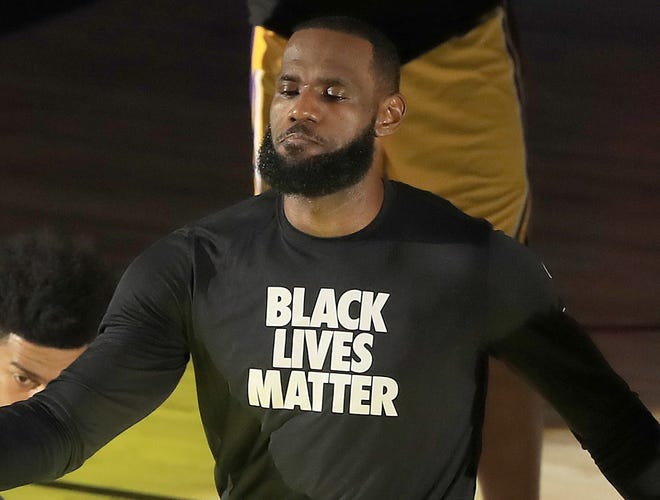 NBA players have also been pushing the social justice issues, in part because the league's top player is LeBron James. Michael Jordan famously said, "Republicans buys shoes, too." But James has been much more outspoken on issues throughout his 17-year career. Not that activism didn't exist when Jordan prowled the courts, but it's a lot easier when the face of the league is leading the way.
James and his Laker teammates reportedly wanted to end the playoffs when players met on August 26 after the Bucks started the ball moving. So did the Los Angeles Clippers. Two days later, an agreement was reached to re-start the playoffs on August 29, with the NBA committing to open up the arenas its teams own or control to serve as voting sites in November, and the formation of a social justice coalition with players, coaches and team governors.
Many players had been demanding that states – especially Wisconsin – pass new laws to try to prevent police brutality. It remains to be seen if that pressure creates results.
Not all were completely on board. Dell Loy Hansen, owner of Real Salt Lake of MSL, a Republican donor, said his players not playing was a backstabbing and a personal disrespect. The postponement of the August 26 Dodgers-Giants game was announced very late. It turned out the Dodgers had decided quickly to strike, while some Giants players weren't on board for various reasons. The game was made up as part of a double-header the next day.
The New York Mets, being the Mets, canceled their game with Miami on August 27, but a camera and a live mic caught New York general manager Brodie Van Wagenen talking about MLB Commissioner Rob Manfred wanting the teams to leave the field in a symbolic act and then come back and play the game an hour later. Van Wagenen later apologized, claiming he had misunderstood the source of the idea. Owners Fred and Jeff Wilpon each issued statements ripping their GM, with Jeff Wilpon's statement misspelling the name of the general manager.
All of this led into August 28, an extremely important date in context. It is the 65th anniversary of the lynching of 14-year old Emmett Till in Mississippi. It is the 57th anniversary of Martin Luther King's "I Have a Dream" speech. And it is the date MLB had chosen to honor Jackie Robinson – Jackie Robinson day is normally April 15, when he debuted with the Dodgers in 1947. It was rescheduled due to the pandemic.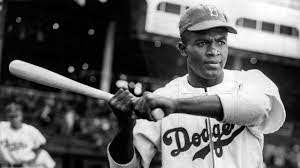 Robinson is of course the ultimate rejoinder to those who say, "Shut up and play." At the time, Yankees' president Larry McPhail had complained about how advocates for Blacks were bringing politics to baseball, saying "It is unfortunate that groups of political and social-minded drum-beaters are conducting pressure campaigns in an attempt to force major league clubs to sign Negro players now employed by Negro league clubs."
Robinson was told by Dodgers owner Branch Rickey to shut up for his first two years in the Majors. He had to endure all of the racist slurs without responding. He spent the rest of his life – cut short by diabetes too soon at age 53 – speaking up. Reactionaries said the same kind of things you hear today: you made money, you haven't suffered. As if that's an excuse to accept racism.
Robinson told an audience in St. Augustine, Florida, in 1964, "I say to you, whether you like it or not, whether you think we ought to participate, that there is not one Negro, not one that I know in this country, that has it made until the most underprivileged Negro in St. Augustine, Florida, has it made."