Remember attending parties? Festivals? Concerts? That zing of energy on arrival that said 'this is going to be good'? It's been awhile since we've experienced that hush between the lights going down and the curtain going up; the collective expectations of audience and performers combining in a tangible feeling of excitement.

So last week when I stepped into the controlled frenzy unfolding during the preparations and hanging of the 'GAP: Crossing Borders U.S.A.' show, I was happy to recognize the signals that this would be a show that would make an impact.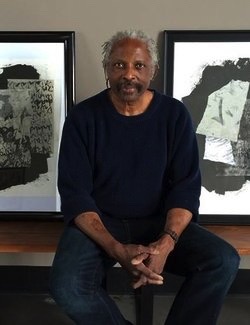 Curator Carl Heyward was being pulled in a thousand directions at once with opening international shipping crates, gallery assistants working to make labels and his cell phone ringing insistently. But he was able to take a few moments to speak with me about the show. The show is a special event being presented by the Jennifer Perlmutter Gallery in Lafayette as part of the gallery's intention to be a platform for arts organizations and local artists including underrepresented groups. Gallery owner Jennifer Perlmutter believes that 'GAP and Carl Heyward represent the most diverse group of artists in the Bay Area'.

The show is in the tradition of famous course changing shows like the Armory Show of 1913, which introduced experimental European 'Modern Art' styles to the American public and the Ninth Street Show of 1951 that brought the thoroughly American 'Abstract Expressionism' movement to the world's attention.
Sculpture by Na Omi Judy Shintani made with wood from Tule Lake Segregation Camp where the artist's father was held for four years in the 1940s (photo by Katie Korotzer)

Na Omi Judy Shintani's deconstructed kimono reflects the loosening connection of the artist to her ancestry and culture (photo by Katie Korotzer)

A group of paintings in the 'Crossing Borders' show (Photo by Katie Korotzer)
Heyward, American artist and curator based in Benicia is a founder of the Global Art Project, a worldwide network of artists committed to freedom of expression and the democratization of art. In 'GAP: Crossing Borders U.S.A.' Heyward has assembled the work of over 30 international artists who share their thoughts about race, injustice and the human relationship to borders of all kinds. Including a variety of mediums including installation, sculpture, photography and painting, the show packs a punch.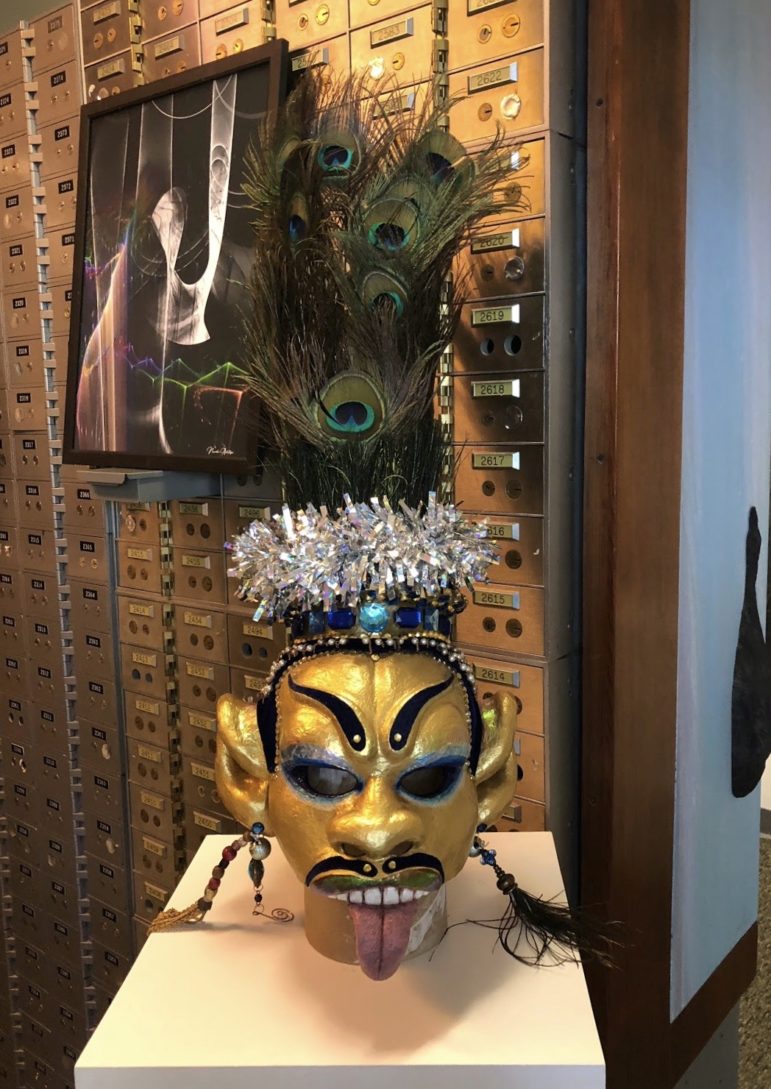 Heyward describes his curatorial point of view for the show as posing the question "What barriers are you willing to cross?" with a particular reflection on the role of migration as interpreted by art.

The artists address how barriers shape and control us — and play with the idea of the 'other' and adaptation. The work in the show is advanced and metaphorical; yet with an emotional range accessible to the viewer. A real strength of the show, and a reflection of Heyward's curatorial talent, is that within the poignant subject matter, there is room for beauty, whimsy and mystery. Crown Sculpture (above) by Kemit Amenophis of Oakland is one such an example.

Yet 'Crossing Borders' presents a warning by artists for those who would ignore the implications of political and social barriers. The work of Ana Gabino of Mexico (below left) with its combinations of traditionally feminine mediums of embroidery and crochet highlights the cruelty experienced by many women as they attempt border crossings. Likewise Na Omi Judy Shintani's ( of the U.S.A.) ghostly depiction of sleeping children separated from family members (below right) is especially heartbreaking.

Three dimensional work by Ana Gabino of Mexico City (hoto by Katie Korotzer)

Partial view of 'Dream Refuge' Installation by Na Omi Judy Shintani. Photo by Carl Heyward
'GAP: Crossing Borders U.S.A.' at Jennifer Perlmutter Gallery/JPG@The Bank in Lafayette can be seen in person for a socially distanced visit through Oct. 3, or by 3-D Virtual Tours through the gallery's website. Appointments are available for private viewing. In addition, Heyward will be hosting weekly Instagram interviews with GAP members about the current political climate in a show called 'Take a Breath'

Whether virtually or in person, viewers should not miss the opportunity to experience this collection of insightful and extremely timely work by local and international artists.

'GAP: Crossing Borders U.S.A'
Curated by Carl Heyward
Now through October 3, 2020
Jennifer Perlmutter Gallery/JPG@The Bank
3525 Mt. Diablo Blvd, Lafayette, CA 94549
www.jenniferperlmuttergallery.com