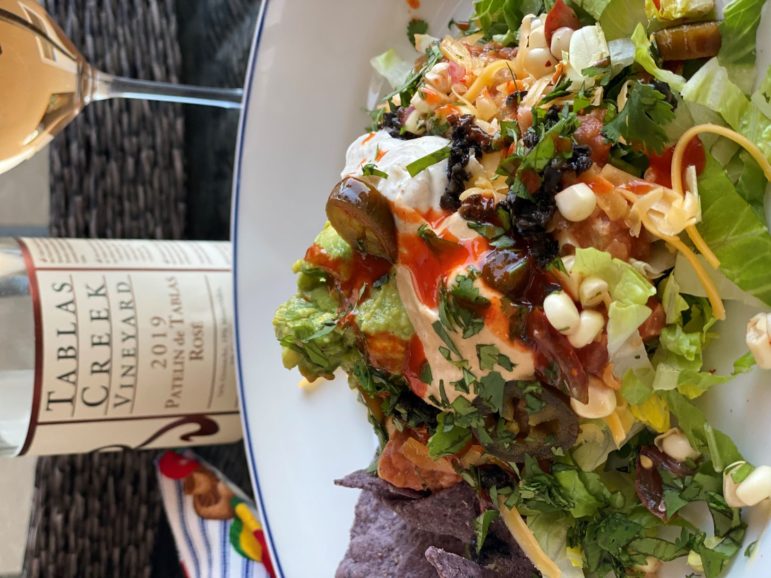 Escape to Mexico in your backyard with this long time family favorite. It is an easy entrée to serve for bigger groups. It is also a simple way to accommodate those picky eaters or those with dietary restrictions. If you want to make vegetarian just omit the meat and add an extra can of beans to thicken up the enchilada sauce. Mix up a margarita and enjoy your own at home fiesta!
INGREDIENTS:
2-3 lbs of ground turkey or chicken
1 35 oz can of red enchilada sauce
1 15 oz can of diced chilies
1 35 oz refried beans
Bag of tortilla chips
Shredded pepper jack or regular Monterey jack cheese
1 head of shredded iceberg or romaine lettuce
3-4 tomatoes diced
Sliced black olives
Diced bunch of green onions
2 ears of corn on the cob
Pickled jalapenos (optional)
Guacamole
1 cup sour cream
1 Tbsp cumin
Juice of 1 lime
Salsa- green or red
DIRECTIONS:
Brown the meat and then add the enchilada sauce, diced chilis and refried beans. Stir until combined and warmed through.
Put a tray of tortilla chips in a warm oven for about 10 mins.
Take a cup of sour cream and mix in juice of the lime with a tablespoon of cumin and salt to taste.
Cut the fresh corn off the cob.
When all toppings are ready, start layering your tostada by crunching up a handful of warm chips. Layer the meat and cheese next. Then layer the cold toppings starting off with the lettuce and ending with guacamole, salsa and sour cream mixture.