On July 15, Damian Lamonte Ollie Lillard Sr. celebrated his 30th birthday. A couple of weeks later, the NBA restarted its regular season. Lillard has long been recognized by many as a slightly under-rated NBA superstar, tucked away in the Pacific northwest with the Portland Trail Blazers. Sure, he had played in four all-star games in his seven previous seasons. But when people talked about the best scoring point guards in the league, names like Stephen Curry, Russell Westbrook, Chris Paul, Kyle Lowry and Kyrie Irving would be mentioned first.
Maybe not anymore. Portland was 29-37 when the season was suspended in March, ninth in the Western Conference, 3 1/2 games behind the Memphis Grizzlies, and one game ahead of New Orleans and Sacramento. The Blazers went 3-2 in their first five of eight "play-in" games, and were still in ninth after the games of August 8, 1 1/2 behind Memphis and just 1/2 game ahead of surging Phoenix.
Then, Lillard went off. He scored 51 in a 124-121 win over Philadelphia, and a career-high 61 two days later in a 134-131 win over Dallas. In the regular season finale against Brooklyn, Lillard scored 42 in a 134-133 victory. That's 154 points in three must-win games, giving Portland the eighth seed in the Western Conference playoffs.
That was huge, because under special rules this season, the eighth seed had to play the ninth seed (Memphis) in a two-game play-in series. As the No. 8, the Blazers only had to win one game, while the Grizzlies would have to win two. Lillard "only" scored 31 in a 126-122 win, advancing Portland to the official opening round of the playoffs against the Los Angeles Lakers. That best-of-seven series opened on August 18, with Lillard leading the Blazers to a 100-93 upset, scoring 34 points and notching five assists along the way
Lillard was named the Most Valuable Player of the Bubble, an award that hopefully will only be given once. He averaged 37.6 points in the eight games, with 9.6 assists and 4.3 rebounds. Oh, and he also released three tracks as Dame D.O.L.L.A. (Live from the Bubble on Soundcloud) on August 14.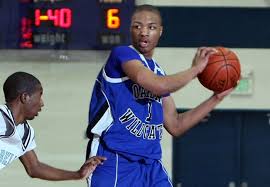 Pretty good for a lightly-recruited guard out of the East Bay. Lillard began his high school career at Arroyo, when he was just 5-feet-5. He transferred to St. Joseph Notre Dame as a sophomore, but didn't see a whole lot of playing time. He moved on to Oakland High School, where he was twice named first team all-Oakland Athletic League, averaging 22.4 points and 5.2 assists per game as a senior.
By then, he was 6-feet, 165 pounds, still small by modern standards. He took a scholarship at Weber State in Ogden, Utah.
Lillard was named Big Sky Conference Freshman of the Year his first season, then conference Player of the Year as a sophomore. He suffered a foot injury the next year after just 10 games, but returned as a senior to win conference Player of the Year again and finish second in the nation in scoring with 24.5 points per game. He entered the 2012 NBA draft and was picked sixth overall by Portland.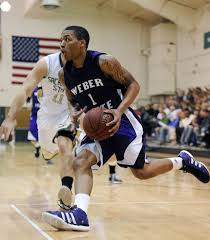 Now listed at 6-2, 195, Lillard won the NBA Rookie of the Year award and has now made five all-star teams (he missed this year's game with a groin injury). He finished this year averaging 30.0 points per game and 8.0 assists. His career averages are 24.2 and 6.5. He averaged 26.9 points during last year's playoffs, when the Blazers made the Western Conference finals before losing to the Warriors in a four-game sweep.
In this bizarre and tragic year, Curry and the Warriors failed to make the playoffs after an injury-filled season. Paul is nearing the end of his career. Irving missed most of the season with injuries. Westbrook enters the playoffs hobbled by a quad injury that will keep him out for a few games. Lowry and the Toronto Raptors are the defending champions and a favorite to go deep in the playoffs again. And now Lillard has a chance to firmly establish himself at the top of the NBA.