Just over one year in from establishment, the local chapter of the nationally-recognized 'boys team charity' (btc) organization made a conscious decision to continue doing important philanthropic projects in its Piedmont and Oakland communities — despite the ongoing roadblocks of Covid-19 and fire season.
The extra time provided by shelter-in-place orders, lack of sports and distance learning, allowed the btc Oaks League boys and their parents to source out and safely execute giving campaigns specifically targeted at the new needs and challenges at hand. For example, teammates were able to deliver distance learning backpacks filled with school supplies and assignments to Achieve Academy 2nd & 3rd graders in Fruitvale.
Additionally, given the global food crisis has only been compounded by the current Covid-19 pandemic, the btc Oaks League boys masked up to sort and assemble grocery packs for those affected in the local community.
Lastly, the group dove head-first into virtual volunteerism opportunities with Operation Gratitude and It Takes a Village, which involved refurbishing hundreds of N95 masks, as well as making paracord bracelets and thank you cards for deployed troops and first responders. Especially in times like these, we cannot thank our military and first responder heroes enough!
If interested in joining the cause, the btc Oaks League has spots in graduation years 2026-2021… but HURRY! The current membership drive for Piedmont & Oakland residents ends on Saturday, September 12th.
boys team charity is a volunteer service organization dedicated to developing an altruistic spirit in young men through active participation of parents and sons in philanthropic projects in their communities.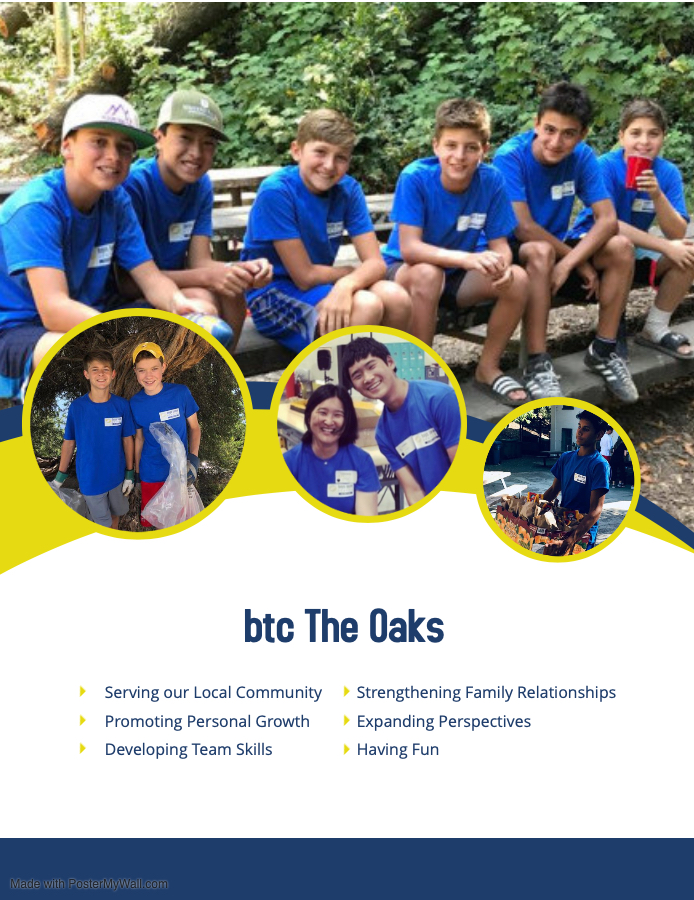 You can find more information atbtctheoaks.chapterweb.net/c_default.aspx