Understanding the world from a different perspective has been a lifelong habit for photographer Brian Auerbach; he can remember watching the 1950's television programs of his childhood with the aim of deconstructing the power of the medium.
Auerbach, retired Communications and Technology Manager at UCSF Women's Health, is the featured artist in 'Obiliterants and Other Brush Strokes' at Gallerie Renee Marie in Benicia through October 31, 2020.
In a series of images debuting in the show, Auerbach, a resident of Oakland, uses his camera to reveal the hidden beauty in the deteriorating urban landscape. His lifelong fascination with texture began in the still cobblestoned Philadelphia streets of his youth, and he has never stopped adding to his visual vocabulary, consistently inspired by the layered transformation that occurs in old cities through rust, weather and graffiti.
A self proclaimed 'analog person' who plays acoustic bass guitar, Auerbach attains his photographic images directly from his camera, typically able to see the outcome when taking the photo and making use of the colors available at the moment.
His technology skills, however, have been honed since his college days at Georgia State University and later after completing his degree at Antioch College West, when he collaborated with artist Carl Heyward on a Xerox Copy art book called "Source of Invention", then worked in listener sponsored radio, and co-wrote and produced video programs.
Auerbach's images combine a sensitive observation of color, marks, shadowing and texture with elegant presentation on rag paper or aluminum. Emotional responses are achieved through repetition and layering of image on image and through variation of size.
Above: Auerbach's photos from the 'Obliterant' show. Photo Credit: Carl Heyward
Auerbach describes the motivation behind his work as the need to discover the "thing behind the thing" – a drive to uncover "what is not in the picture" – characteristics that are certainly relevant to the needs of today's world. Citing Japanese photographer Daido Moriyama as a significant influence on his work because of Moriyama's use of shadow and light to show the deterioration and transformation of post war Japan, Auerbach admires the Japanese practice of honoring the natural aging process as it relates to material objects.
But Auberbach's deepest admiration goes to his wife, Deborah Cooper, an architect and principal with Architectural Resources Group of San Francisco, a firm known for historic preservation. In a career that so far has included major projects such as Cavallo Point at Fort Baker, Conservatory of Flowers in Golden Gate Park and the Contemporary Jewish Museum of San Francisco, Cooper found the time to take ceramics classes at Piedmont Adult School and to begin a ceramic art practice.
Ceramic and porcelain pieces by Deborah Cooper. Photo Credit/ Katie Korotzer
In this show, Cooper presents a selection of finely crafted and decorated porcelain pieces (above) inspired by her studies of the Japanese Nerikomi technique.
Both Auerbach and Cooper are influenced by the spiritual depth inherent in the products produced by highly skilled Japanese craftspeople.
The Artists of 'Other Brush Strokes'
Rounding out a show reflecting both the unwanted and the necessary transformations experienced during the time of the pandemic, Carl Heyward (below), who curated 'Obliterants and Other Brush Strokes', invited a number of Benicia and Oakland based artists to contribute work linking the ideas of covering, layering and finding beauty in unexpected places.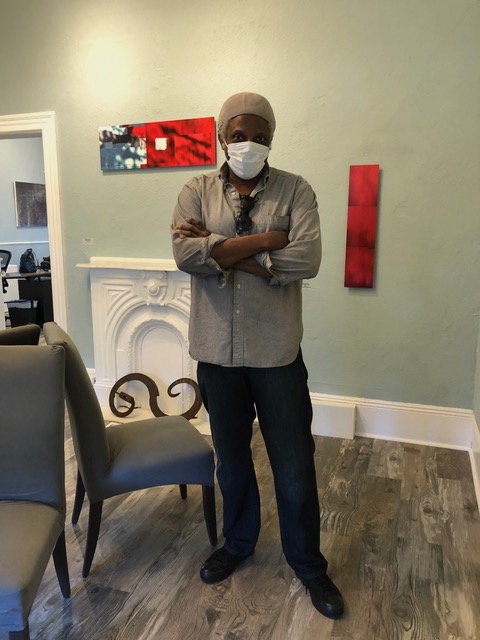 Carol Dalton, a mixed media artist based in Benicia presents two soulful Pandemic works; Mark Eanes, of Benicia presents his highly refined and imaginatively nostalgic mixed media collages; Andrea D. Guerra of Oakland speaks of today's shattered institutions through a powerful abstract painting in ink and acrylic; Carl Heyward of Benicia makes a subtle comment on the historical record through two memorable collage paintings; Marianne Kolb an Oakland painter known for her oddly affecting figurative work presents 'Witness' and 'Innocent Beginnings', paintings that capture the expressions of haunting remorse and bewilderment; Thalo Morse, sculptor and assemblage artist based in Benicia shows three pieces using battered and discarded metals to convey a surprisingly hopeful vision for the future; Mary Oros a sculptor based in Benicia presents 'Sideways Slide' an impeccable sculpture inspiring renewal; Akiko Suzuki, a mixed media and fabric artist shows 'Untitled' combining organic shapes floating in an unsettled universe.
Witness' Mixed Media Painting by Marianne Kolb. Photo Credit: Katie Korotzer

'Faust 2017' Mixed Media Painting by Mark Eanes: Photo Credit: Carl Heyward

'Spikes in Light' Mixed Media Painting by Carol Dalton. Photo Credit: Carl Heyward

'Sideways Slide' by Sculptor Mary Oros with 'Shards' Painting by Andrea D. Guerra. Credit: Katie Korotzer

'Tribal War' Mixed Media painting by Carl Heyward. Photo Credit Katie Korotzer
Viewers can make an appointment for a safe, socially distanced private viewing of 'Obliterants and Other Brush Strokes' by contacting Curator Carl Heyward at ​artspeak2020@yahoo.com​, and can learn more about the photography of Brian Auerbach at www.auerbachbphotos.com.