This is the time of year when sports fans normally begin to think of just three things: football, football and football as NFL teams have returned to training camp for the upcoming season. Of course, there's nothing normal about 2020, as COVID-19 might end this year's campaign before it even starts. But that doesn't mean Bay Area pigskin fanatics have to completely go without the nation's favorite sport.
If games this fall indeed are canceled, Raiders fans from all over the world can stay in touch with the game by reading "Al Davis: Behind the Raiders Shield" — a book penned by longtime Raiders execs Jon Kingdon and Bruce Kebric, along with sportswriter Steve Corkran.
You don't have to be a Raiders fan (or, in my case, an ex-Raiders fan who can't forgive the team's second Oakland betrayal) to enjoy the book's countless colorful stories about the franchise's maverick, bellicose owner.

Davis — a Hall of Fame football lifer who served as Raiders coach, managing general partner, owner, and de facto general manager, as well as American Football League commissioner for a short time — was a combative, litigious, and often successful sports executive who would do just about anything to win.
Kingdon and Kebric (along with Corkran) spin yarn after yarn that capture the exhilarating madness and, yes, boiling frustration that accompanied their decades serving in the unpredictable Silver and Black kingdom over which Davis presided.
Local News Matters recently talked with Kingdon over a number of phone calls and emails. Below is a Q&A based on those conversations, in which Kingdon discussed his entertaining book and his long NFL career working for Davis and one of pro sports' wildest franchises. The Q&A has been edited for space and clarity.
You worked with Al Davis and the Raiders for 33 years. Amid all the chaos of that time, what was the one constant?
Kingdon: He had tremendous self-confidence and a tremendous belief in himself and his philosophy.
What's a better descriptor of Al Davis for you: friend or boss?
Kingdon: As things evolved, he became more and more comfortable with me, sharing his feelings about some things that were not related to football. The fact that we both were Jewish and spent some time growing up in Brooklyn allowed him to share things that I could empathize with since there was an overlap in our backgrounds. Al had a wall around him to keep away much of the outside world. "Teammate" is the word I would use. He had an us-against-them attitude. It was the Raiders against the world. He'd back you as long as you stayed consistent with his philosophy.
Is it fair to say the book reflects your mixed emotions about Al Davis?
Kingdon: It may be mixed, but it's certainly honest (laughs). There were extended periods of great success and then some up-and-down seasons. When the team was successful, there was consistency with the team — starting with head coaches Jon Rauch, John Madden and then Tom Flores. After that, there was a lot of instability with the head coaches going from Mike Shanahan to Art Shell (who suffered after assistant coach Terry Robiskie left the team). From there, it was Mike White to Joe Bugel. Overall, it became a very dysfunctional environment. It was then that Al hired Jon Gruden (before the 1998 season), and Jon helped Al turn the franchise around. At first, Jon said that he couldn't attract coaches and free agents, but as the team became more successful, we once again began to be the place that coaches and players wanted to come to
You wrote that Al Davis didn't like it when his players and coaches received media attention?
Kingdon: Al actually said that he was going to fire Jon after his third season if we had not won our last game of the season against the Kansas City Chiefs, which kept the Chiefs out of the playoffs. With Jon and Rich Gannon together, the team became successful and Jon was on billboards for the radio station and the team all around Oakland. That became a problem for Al. If you look at the three people whom Al had issues with — Ken Stabler, Marcus Allen and Jon Gruden, they all were at one point the face of the organization. The only guy who became the face of the organization that Al didn't have a problem with was maybe (Hall of Fame wide receiver) Tim Brown, although he very clearly was the best player we had at the time.
So many employees came and went from the Raiders, what was your secret to lasting all those years with Al?
Kingdon: Anticipation and learning what was important to Al, in what he was looking for in a player. Once you understood what he was looking for, it was not as hard to keep up with him. When I began working there, he asked me to do something that I was unfamiliar with and I told him that I was having trouble getting it done. He then said to me: "Don't tell me it can't be done, just do it." When you take that attitude to heart, it amazing how you can get things done.
So why not keep Gruden?
Kingdon: If it wasn't the worst decision Al ever made, it certainly ranks in the top two. It made no sense and I can't explain why Al did it. After the 2001 season, Al asked me, "Would you take draft picks for Jon?" I said no. Then he said, "What if you were going to lose him in a year?" That was his rationalization for the deal. I should have said, "Let's flash back to where we were when you hired Jon. We were at the bottom. You bring him in, and now he's turned it around." So, Al traded Gruden to Tampa and the lesson learned for me was: When you get the right coach, keep him.
That Tuck Rule game sent the Patriots on a championship course and set the Raiders back years, didn't it?
Kingdon: Losing this game led to Al trading Gruden away. If we won the game, I truly believe that we would have beaten Pittsburgh and gone on to the Super Bowl against the St. Louis Rams. I believe that New England defeated the Rams because they had two very good safeties in Lawyer Milloy and Tebucky Jones who took away much of the Rams passing offense. We did not have those type of safeties on our roster and it would have been very difficult for us to contain Kurt Warner. Still, even if we had not won the Super Bowl, I believe that Al would have felt obligated to resign a coach who took his team to the Super Bowl, win or lose. So, with the loss to New England, it gave Al a rationale in his mind to trade Jon.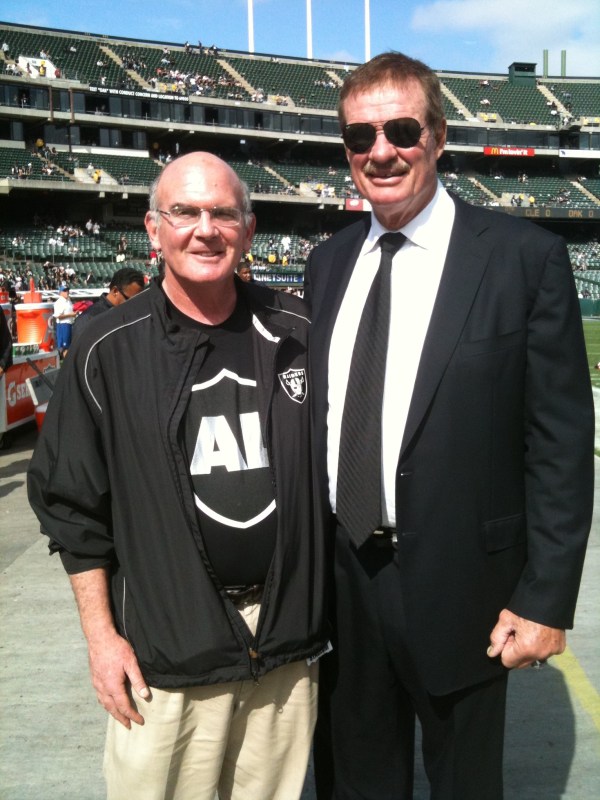 Is there an example of Al Davis yelling at you?
Kingdon: (Future Hall of Fame linebacker) Ray Lewis was coming out of college (for the 1996 draft) and Angelo Coia — a very good scout of ours — really liked Lewis. But since Ray was shorter than the prototype of linebackers that Al liked, he wanted our linebacker coach Fred Whittingham to go to his workout at the University of Miami. That day, Al had a meeting with the coaches and he asked where Fred was and was told that he was at Ray Lewis' workout. He then asked Mike White, our head coach that year, if he knew that Fred was at the workout and Mike said, untruthfully, that he did not. When Al got back to his office, he called me in and asked why we had sent Fred to the workout. I gave him our reasons and he made it clear that he was upset because we already had (linebacker) Greg Biekert and that flying to Miami was really expensive. That was the first time that I had heard him complain about costs with our department. As I was walking out of his office, he then said that Mike White had said he did not know that Fred was going to be out of town. I said, "He said that?" and Al said, "Yes." That was too much for me and I snapped at him and said, "Well, he's a f—ing liar." Al then smiled and said, "Okay." And that was it.
When Bruce Kebric heard about this, the next time he talked to Al, he defended me and said that it was a group decision and shouldn't have jumped all over me. Al shrugged and said, "As soon as I said it, I forgot it." From that point on, when Al got on me for something that I thought was right, I just let it roll off my back.
Al Davis was criticized for valuing player speed too much. Did he overvalue it?
Kingdon: The speed thing was a requirement at all positions that was consistent throughout Al's career. He hit it big with (star receiver) Cliff Branch. At first, Cliff's hands were terrible, but (then-assistant coach) Tom Flores worked incredibly hard with him and he developed into a great receiver who should be in the NFL Hall of Fame. There was a constant effort by Al to find the next Cliff Branch and we came close with Jacoby Ford and James Jett.
Another example was Darrius Heyward-Bey, who came under a great deal of pressure when we selected him with the 7th pick in the first round of the 2009 draft. Our scouting department had him slotted as a late first round pick and encouraged Al to trade down because we felt he would not be taken that early, but his mind was made up to take the fastest player in the draft. With the press and ESPN being very critical of Heyward-Bey being taken so high, he was placed under a microscope and it could not have been easy for him to handle. He only caught nine passes as a rookie and had several drops as he pressed harder and harder. Compounding the pressure was the fact that the San Francisco 49ers had drafted Michael Crabtree that same year and he had an excellent rookie season. To Heyward-Bey's credit, he worked very hard in the offseasons and in his third year, caught 64 passes and averaged 15.2 yards a reception and ended up playing 10 years in the league.
What was Al Davis' approach to finding and drafting players?
Kingdon: Al always enjoyed finding players that were not that well known to the public. He and the other teams in the American Football League did a great job in drafting players from the historically black colleges. The Raiders had great success selecting players like Raymond Chester (Morgan State), George Atkinson (Morris Brown), Art Shell (Maryland-Eastern Shore) and trading for Willie Brown (Grambling). Still, there were mistakes, as well. When the Raiders drafted quarterback Eldridge Dickey (Tennessee State), that turned out to be a bust, though the Raiders found more than a little success with the quarterback they drafted in the second round, Kenny Stabler. As the league evolved, with the salary cap and the entrance into the league with new billionaire owners, you could no longer bury your mistakes. Selecting JaMarcus Russell with the first pick of the draft and his ultimate failure put a great burden on the Raiders salary cap for a couple of years.
What led to Davis' successes and glaring failures in picking players?
Kingdon: Al liked to play hunches and, when it worked, it was great. In 1981, Al took a shot on a defensive lineman out of Villanova that stood out in the Blue-Gray game. That lineman was named Howie Long. He also ended up drafting a defensive lineman out of Texas Southern named Charles Philyaw. He was selected much higher than everyone thought he should have been drafted and, in that case, Al was wrong.
Al did see the big picture when he was drafting. When the Chiefs had Buck Buchanan, who was a great defensive tackle, Al knew he had to find someone who would be able to hold his own against such a player and that year he selected Gene Upshaw. Years later, when the Chiefs had the great Tony Gonzalez at tight end, Al wanted to draft someone that would be able to handle Gonzalez throughout his career. The Raiders selected Derrick Gibson who had the size but not the overall skills to be a top player, and that time it did not work out, though the concept was valid. What made the pick all the worse was that our scouting department had wanted to draft tight end Todd Heap, who went on to a stellar career with the Baltimore Ravens.
Likewise, Davis' hiring of Lane Kiffin as head coach was his attempt at finding the next Jon Gruden.
Kingdon: That was a fiasco. First, Al offered the job to then-USC assistant coach Steve Sarkisian, who had been an assistant with the Raiders under Norv Turner and who seemed like he was going to take the job. But then he rejected it. Al had met with Sarkisian and Lane Kiffin with the idea that Kiffin was going to be Sarkisian's offensive coordinator. In the end, Kiffin became Al's fallback choice, which did not work out well at all.
Why were Al Davis' first 22 years so successful, followed by 26 years that were unsuccessful?
Kingdon: Actually, (in the second half of Davis' career) there was some early success with Art Shell and great success with Jon Gruden and the first year with Bill Callahan. One of the problems was that the system changed in the NFL. In the old days, Al was more generous with his players than other owners. He would give a few thousand dollars more, which would mean a lot to a player in the 1960s and 1970s. But that changed with the onset of the salary cap. A few thousand dollars won't matter to a guy making millions in a season. Also, the NFL became a league of billionaire owners. Al had money but nowhere near the amount of the new owners. Attracting NFL players became like college recruiting, you needed top-notch facilities. I knew things were changing when one time in the early 2000s, Al didn't have the money to pay a first-round player's signing bonus. So he would guarantee that amount into the player's overall contract because he had to wait until the TV money arrived from the league; he couldn't just write the check.
Did Al ever mention to you that he should or might change his ways?
Kingdon: No. He was more than a little stubborn that way. Before he brought back Art Shell as head coach for the second time, Al asked me what I thought about that. I told him it would be a mistake and I went on for about 15 minutes explaining why I felt that way. Al then said: "Well, you brought up a lot of good points, but I may have to hire him anyway." So, he hired him. I really believe that was his way of taking one more shot of hiring a coach who would do exactly what he wanted. He wanted to show everyone that his offensive philosophies of holding the ball and stretching the defense still worked. Al remained confident, he didn't lose it even when things weren't going well. Looking back, it doesn't look good, but his confidence was infectious.
The 2011 season, Al Davis' last, featured the team's turnaround with head coach Hue Jackson?
Kingdon: Hue did a good job though he did make some rookie mistakes that first year. But, overall, he did a very respectable job. Hue was better when Al was around. I really believe we would have made the playoffs if (starting quarterback) Jason Campbell had not gotten hurt during the season.
What was Al's view of the L.A. move? When did he first realize that it was a mistake and that he should return to Oakland?
Kingdon: Al never got the deal done at the L.A. Coliseum and then he felt that he had the stadium deal in Inglewood (to stay in Los Angeles in the mid-1990s). When those deals fell through, he lost patience. Also, I heard that the limited partners (Raiders co-owners) were getting frustrated in L.A. and they wanted the team to come back to Oakland. Other cities outside of California were interested. Baltimore made him an unbelievable offer to move the Raiders to Maryland, and he turned it down because it would be too much of a change to go across the country. He had a loyalty to the West Coast and still had a great deal of affection for Oakland, just like he had great affection for the American Football League. It's where he started. In Oakland, he had his favorite restaurants, like Vince's, which used to be on Hegenberger Road. He was there all the time and was always treated well there. When he was picked up at the Oakland Airport, his driver could park in the drop-off zone and security would let him stay there because they recognized the car.
In your book, oddly, Al Davis was not a control freak about certain decisions, including the decision to bench Barrett Robbins in the Super Bowl?
Kingdon: The Robbins situation caught everyone off guard. I have heard that there were differing opinions about dressing Barrett for the game. He had done a great job of concealing his bipolar condition throughout his career. I understand people with that issue self-medicate with alcohol. I read Tim Brown's book, which said (head coach Bill) Callahan's late game-plan changes really upset Barrett, to where he took off the night before the game.
And Davis let Gruden draft Charles Woodson in 1998?
Kingdon: When it came personnel decisions, Al would accede to the scouts if the room was unanimous on a player that he did not particularly want; like Kirk Morrison, who was a fine player without top speed. Other times, he found a couple of coaches to back him on drafting (USC quarterback) Todd Marinovich when the scouting department was strongly recommending Brett Favre. Al wanted to trade back to get two extra first round picks in the 1998 draft when we had the 4th pick in the draft. Al wanted to use the two extra picks to draft Tra Thomas and Tebucky Jones, but the room was unanimous to select Charles Woodson. Al ended up leaving the room and left it us to submit the pick without him.
Davis was known for being loyal, especially to guys like former Raiders head coach John Madden.
Kingdon: After Madden retired from coaching (in early 1979), he wasn't doing much until he did these Lite beer commercials and became a national figure again. Al told me once that they wanted him to do the Lite beer commercials, and he told them, "I don't do that kind of stuff, but you know who would be great? My old coach John Madden."
What is a story that didn't make it into the book?
Kingdon: Al was friends with Donald Sterling (then the owner of the Los Angeles Clippers). Al knew I followed basketball and he asked me what I thought about Dominique Wilkins (a superstar for the Atlanta Hawks) because the Clippers were talking about trading for him. I had seen him play recently and told him that he could still play, but that his contract was up at the end of the year and they would lose him. Al said that they would be able to sign him if they made the trade. The next day, the Clippers traded for him and Al called me and said, "That's your trade. I told Donald that my top scout said to make the trade." In the end, I was right because he played well for the Clippers and then left after his contract expired.
What fueled Al Davis?
Kingdon: I know he grew up with a great love of sports. Growing up in Brooklyn and watching the Dodgers really set the foundation of his mentality on two levels: he loved the speed of those Brooklyn Dodgers players and what Branch Rickey did with Jackie Robinson (by ending MLB's racial segregation). Al was conservative politically, but very liberal on social issues.
The reporters really enjoyed his press conferences. Reporters could ask him anything and he would answer all of their questions. It was kind of like "The Godfather" on his daughter's wedding day. Unfortunately, he was unable to concede that he was slowing down, though you had to admire his unceasing drive.
I've heard many stories of Davis helping old friends or people in need. True?
Kingdon: He was great that way. Even though he did not want that publicized. Once, an employee's son needed brain surgery and Al personally found the top brain surgeon to take care of him. He also took care of many of his former players who came upon hard times, financially. Although, again, he kept that quiet. Al had great loyalty to his players and he also took death very hard. When Gene Upshaw and George Blanda passed away, he flew in all of his former coaches and players for an evening where everyone could celebrate the lives of these two, who were not only great players, but great people as well.
What was he like in his final months, during the 2011 season?
Kingdon: He fought his physical infirmities every day and would never admit to himself that he could no longer be as effective as he had once been. Whatever you saw about his physical health publicly toward the end of his life, it was a lot worse behind the scenes. But he still remained lucid. His last words to me was on a Saturday when we were getting ready to go to the airport to fly to Houston for a game. Though he was unable to travel at that time, he still said that he might fly in the next day for the game. I told him that would be great and how everyone would be glad to see him at the game. He said, "Thank you." And those were the last words he ever said to me. He passed away that evening.