As restaurants around the country struggle to stay afloat, food truck operators are finding they have the perfect recipe to succeed amid the coronavirus pandemic.
"The idea of contactless purchase and delivery is standard now," said Ryan Sebastian, principal of Moveable, which organizes food trucks and other pop-ups in the Bay Area. "We're seeing a return to more traditional practices in the food truck business."
Sebastian, whose company works with more than 120 food producers from Gilroy to San Francisco, said food trucks are adopting a community-based model now that large events are no longer an option. "One truck shows up near your house, and people just show up and eat," Sebastian said.
More than 150 people arrived Tuesday afternoon outside of Vista Center of the Blind on Bascom Avenue in San Jose to eat at Vegan Veganos, a Mexican-themed food truck owned by Emmanuel Villa and Dalena Bui. It was the second time Bui and Villa used their cashier-less system, which allowed customers to input orders without interacting with a food truck worker. The team ran out of food within three hours.
Villa said he and Bui started the business little more than two years ago with a small trailer, recently upgrading to a full-sized truck. He said they already were moving toward a cashier-less system prior to the pandemic, but the county's new health and safety rules made it even more essential. "It worked in hand with us because a lot of places are trying to have no contact with people," Villa said.
"[Business has] actually been better than when [coronavirus] wasn't around."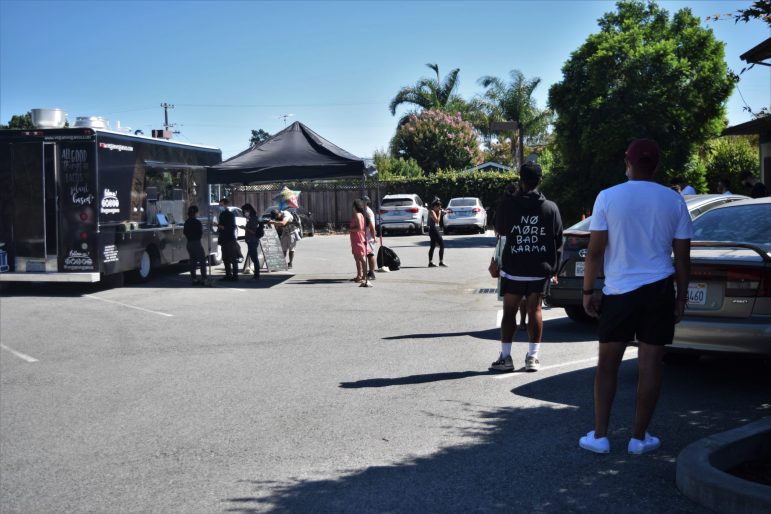 Robbie Brown said he waited about an hour for his food but it was worth it to try the restaurant's nachos. He did not expect so many people, but felt that the gathering was safe. "It's the consumer's responsibility, right?" Brown said. "It's always best to wear a mask." Andrea Morales, who came from Castro Valley to enjoy the restaurant's re-opening, said she's been a longtime supporter and expected the line. "It's gonna get longer," Morales said. "Every single dish I've eaten from them is delicious."
Alexis Shipman said the gathering showed it was possible to safely serve food to a large number of people during the pandemic.
"Every time I see them, I try and stop," Shipman said. "Everyone's six feet apart, everyone's getting their food and leaving. I think we're doing pretty good."
Sebastian said the future of restaurants is small, mobile operations like Vegan Veganos who can serve to-go food quickly and efficiently, while mid-tier family-owned restaurant chains will likely fade away. "We think that most of those restaurants will be wiped out and will not be around, but people will still want to eat," Sebastian said. "Microcarts, microrestaurants will explode."
Bui agreed the food truck is a restaurant model well-adapted to the virus. "The food truck scene is the new hype now," Bui said. "It's to-go, it's outdoors, so it's all you can do in the (coronavirus) circumstances."
---
This story was originally published by BCN partner San Jose Spotlight.