After delaying a decision following a sometimes contentious 10-hour public hearing on Aug. 10, the Lafayette City Council on Monday night is expected to either approve or reject the controversial Lafayette Terraces project, a 315-unit apartment project that for almost a decade has helped drive the regional debate about how housing is planned and developed.
The Terraces of Lafayette project would sit on a 22-acre parcel on Deer Hill Road just west of Pleasant Hill Road and north of state Highway 24, near Acalanes High School. Plans are for seven three-story buildings and seven two-story structures.
The apartment project has been contentious throughout much of the past decade.
Opponents say the large development is inconsistent with the city's semi-rural character, would foul traffic near a key commute route, would be in an area vulnerable to vegetation fires and would violate the city's general plan.

Project supporters say this dense residential development, about a mile and a half from the Lafayette BART station, represents the sort of transit-friendly housing called for in regional planning efforts including Plan Bay Area 2050, a long-range plan for the nine-county San Francisco Bay Area.
The project was first proposed, as apartments, in March 2011. But after local opposition, the project's application was suspended in 2014 in favor of a substantially reworked plan for 44 single-family homes, a dog park, a playing field, a playground and tot lot.
A 2018 ballot measure asked Lafayette residents whether they wanted the 44-home version of the project to be approved. Measure L was defeated, and developer O'Brien Homes then resumed the original application for the 315-apartment version of the project.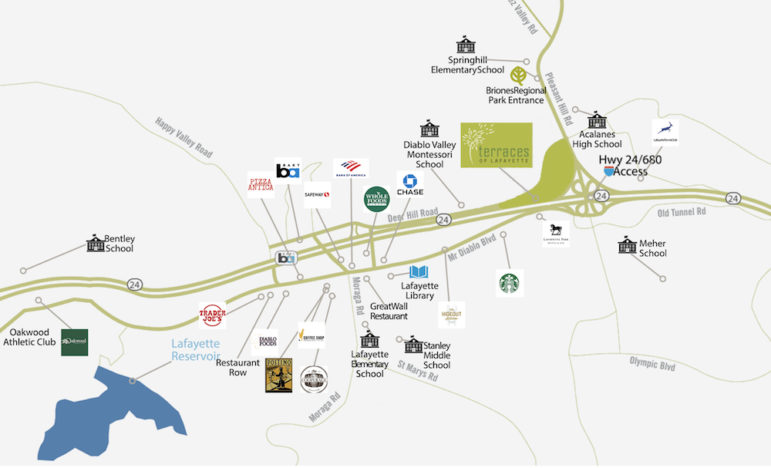 At least 20 percent of the project's units, 63 units, would be for very low, low- and moderate-income households.
O'Brien Land Co. officials have steadily maintained they would consider suing the city if the project is rejected. Before Monday's night's open hearing concerning the project approval, the council in closed session is scheduled to discuss such a lawsuit and its various ramifications.
City staff recommends the project be approved.
Monday night's Lafayette City Council meeting begins at 4 p.m., with the Terraces public hearing set to begin at 5 p.m. To watch this telemeeting via Zoom, go to www.lovelafayette.org/Home/Components/Calendar/Event/12237/16