Updates on the CZU, LNU and SCU Lightning Complex Fires: Evacuations continue as firefighting efforts are hampered by limited resources and an excess of flammable vegetation.
UPDATE: Fire Complex in Napa and Sonoma now at 131,000 acres, 30,500 structures threatened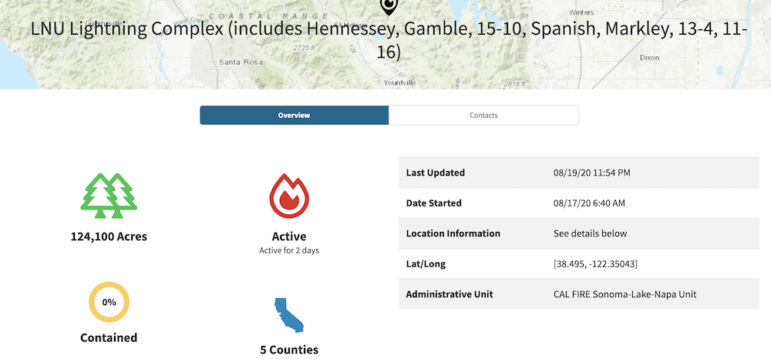 The LNU Lightning Complex fires have burned 131,000 acres, destroyed 105 structures and damaged 70 others in the North Bay as of Thursday morning, Cal Fire officials said. An estimated 30,500 structures remain threatened by the wildfires, which have prompted widespread evacuations in Sonoma, Napa and Solano counties, among other communities.
Cal Fire says the fires are at 0 percent containment.
The largest of the fires is the Hennessey Fire, which started near Hennessey Ridge Road and Napa County and has spread across 105,000 acres, according to Cal Fire. Another large blaze, the Walbridge Fire west of Healdsburg, is at 14,500 acres burned while the Meyers Fire north of Jenner is at 3,000 acres as of Thursday morning.
A PG&E employee died after being found unresponsive in his vehicle in the Gates Canyon area of Solano County, according to Cal Fire. The worker, who PG&E said was based out of Vacaville, had been in the area clearing infrastructure to make the area safe for emergency responders, Cal Fire officials said. His name has not yet been released.
The fires started, as have many others around the Bay Area, after a series of lightning strikes last weekend. Evacuation centers set up as a result of the LNU Lightning Complex fires include Crosswalk Community Church at 2590 First St., Napa, and the Sonoma County Fairgrounds at 1350 Bennett Valley Road, Santa Rosa. Dan McMenamin
---
As reported on Wednesday evening, the LNU Lightning Complex in Sonoma, Napa and Lake counties had tripled to cover 124,100 acres by evening, when state officials said all parts were still burning out of control.
As of Wednesday evening, the state fire agency said in a statement, four civilians had been injured, and the fires had destroyed 105 structures and damaged 70. Another 25,000 structures – homes, businesses, barns and more – were threatened in the largely rural area.
The largest blaze in the LNU Complex is Napa County's Hennessey Fire, which reached 100,000 acres Wednesday after extending overnight toward Solano County, reportedly burning dozens of homes. Those impacts could not be confirmed. The Hennessey Fire is made up of the merged Gamble, Green and Markley fires. Also in Napa County is the Spanish Fire near Spanish Flat, which stood at 4,100 acres as of 7 p.m. Stretching across parts of Napa and Lake counties, the complex also includes Morgan Fire, at 3,500 acres as of 7 p.m.
And in Sonoma County, the LNU Complex includes Walbridge Fire west of Healdsburg, at 14,000 acres; Meyers Fire north of Jenner, at 2,500 acres as of 7 p.m.; and a third, smaller blaze, along Skaggs Springs Road to the north.
Cal Fire's statement listed each blaze in the LNU Complex as "0 percent contained."
The Walbridge Fire, the largest of the three in Sonoma County, has forced the evacuation of thousands of residents. And assistant Santa Rosa Fire Marshall Paul Lowenthal said at an afternoon news conference that it was pushing southeast towards the Russian River community of Guerneville. Earlier in the day, it had entered the north end of the Austin Creek State Recreation Area adjacent to Armstrong Redwoods State Natural Reserve. Conditions including low humidity, wind, high heat and dry undergrowth and "incredibly dry fuels" such as grass and brush have been significant challenges, Lowenthal said.
"We expect to be in a fire fight for the next three to five days," Sonoma County Emergency Services Director Chris Godley Wednesday afternoon.
Godley said mandatory evacuation orders have been issued to about 7,700 people in Sonoma County, and about 8,000 residents are in zones where an evacuation warning has been issued. Evacuations orders could change that balance. About 6,600 Napa County residents had been ordered to evacuate from 2,200 homes, county spokeswoman Janet Upton said mid-afternoon. About 7 p.m., authorities issued another mandatory evacuation order related to the Hennessey Fire that included the communities of Angwin and Deer Park, near St. Helena, which together have about 5,000 residents. In Lake Country, the communities of Hidden Valley Lake and Jerusalem Valley were ordered to evacuate Wednesday afternoon. Details on the injuries and structure damage were unavailable. Jeremy Hay
---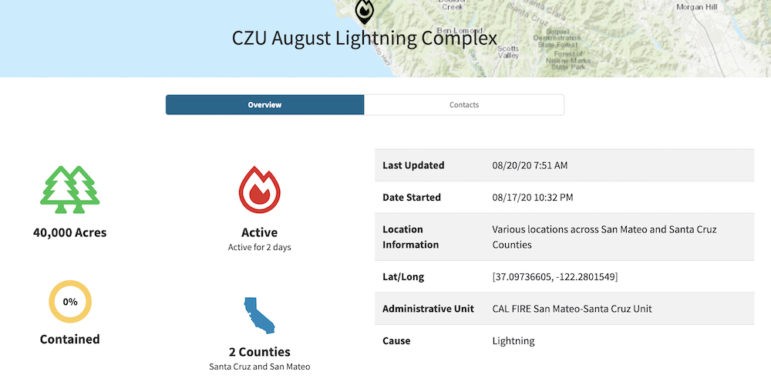 CZU Lightning Complex at 25,000 acres, 20 structures destroyed

The group of fires triggered by lightning this week in Santa Cruz and San Mateo counties that Cal Fire has dubbed CZU Lightning Incident had hit a combined 25,000 acres and destroyed 20 structures by late Wednesday. Cal Fire said two first responders have been injured in the battle with multiple fires in the two counties, 22,000 people have been ordered to leave their homes and nearly 8,600 more structures are threatened.
"Fire activity may dictate more evacuations and road closures in the days to come," Cal Fire said in a formal update issued at 10 p.m.
"Firefighting resources are limited due to the number of fires burning throughout Northern California. Limited visibility due to smoke is hampering aircraft operations."
Evacuation orders are in effect for large parts of the two counties' coastal hill areas, and warnings cover much of the rest. Many of the picturesque area's winding roads are closed. Almost 600 personnel using 44 engines, 21 water tenders, seven helicopters and 10 bulldozers have responded to this group of fires.
Cal Fire added some mandatory evacuations late Wednesday evening, and it warned that still more are possible. Residents of the Ben Lomond and Lompico areas must now leave. And evacuations may be ordered in areas north of the City of Santa Cruz including Scotts Valley and north to Bear Creek Road between Highway 9 and Highway 17. There are evacuation centers for San Mateo County residents at Half Moon Bay High School at 1 Lewis Foster Drive, Half Moon Bay, and for Santa Cruz County residents at Santa Cruz County Fairground, at 2601 E. Lake Ave. in Watsonville, and Santa Cruz Civic Auditorium, at 307 Church St. in Santa Cruz. CalFire

---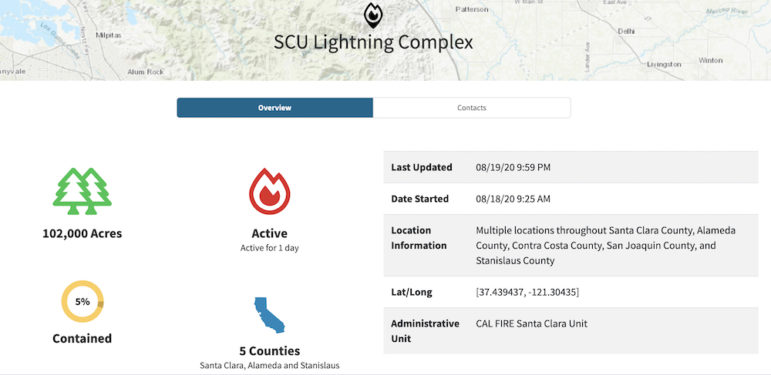 SCU Lightning Complex at over 100,000 acres
Cal Fire said Wednesday night that a collection of about 20 fires in the rugged terrain of the eastern Bay Area that have been dubbed the SCU Lightning Complex had scorched more than 100,000 acres in 18.5 hours. In rural eastern Alameda, Santa Clara and Contra Costa counties and western San Joaquin and Stanislaus counties, the 20 blazes started at 9:25 a.m. Tuesday and were about 5 percent contained by Wednesday night, Cal Fire said.
Two people had been injured, Cal Fire said, but firefighters were actively defending structures from the fires on Wednesday and none appeared to have been damaged. 
More than 1,030 personnel from 17 different agencies were cooperating to fight the collection of blazes.

Some of the area hasn't burned in recent memory and has lots of "fuels conducive to extreme fire growth," Cal Fire said.
The agency said "extreme fire behavior and accessibility issues" have hampered firefighting efforts. Overnight, crews planned to keep looking for safe access points and build direct and indirect fire line where possible.
New evacuation orders and warnings issued late Wednesday affect much of Santa Clara County east of San Jose city limits. In Alameda County, they cover the area southeast of Livermore, over Patterson Pass and east to the county line. And they include part of Stanislaus County. Evacuation centers have been set up in at Creekside Middle School, at 535 Peregrine Dr. in Patterson, and at Milpitas Library, at 160 N Main St. in Milpitas. CalFire
---