Join the Youth Anti-Racism Project for our first event, Beyoncé's Homecoming: In Conversation, a panel discussion about Beyoncé as a Black icon this Saturday 7/18 at 6 PM over Zoom.
The Youth Anti-Racism Project aims to mobilize the Piedmont community for liberation by using youth-led, POC-centered collaboration to unlearn prejudice and interrupt discriminatory habits.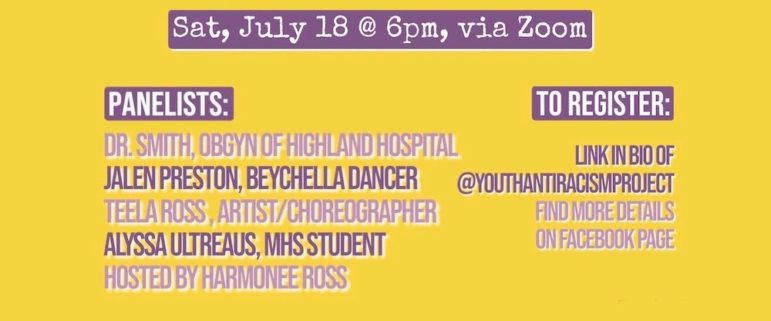 During this event, we will hear from OBGYN of Highland Hospital Dr. Kevin Smith, professional dancer and performer at Beyoncé's Coachella show Jalen Preston, artist and choreographer Teela Ross, Millennium High School student Alyssa Ultreaus, and our host Harmonee Ross. The panelists will discuss health risks for Black women during pregnancy and childbirth, the importance of Historically Black Colleges and Universities, and Beyoncé's importance to Black representation in popular media.

We encourage attendees to watch "Homecoming: a Film by Beyonce" (available on Netflix) prior to the event. We will be hosting a Netflix watch party on Friday 7/17 at 7 PM.
Please refer to our Facebook event and/or @youthantiracismproject on Instagram for more information. Feel free to email us at youthantiracismproject@gmail.com. We look forward to seeing you there!