Fire season in California seems to get longer and more destructive each year, and conditions this year are forecast to be especially severe in Northern California, said Piedmont Fire Chief Bret Black, who is trying to relay the urgency at a time when public attention is focused on the COVID-19 health emergency. In a wide-ranging interview, Black covered the big picture fire season as well as how the department is handling local circumstances.
Fire danger now in NorCal presages trouble for Bay Area later this year
Far Northern California, where Piedmont has already dispatched a four-member crew to assist state agency Cal Fire with the Gold Fire in Lassen County, has the most dangerous conditions at the moment. Cal Fire is trying to avert the unprecedented scope of wildfires that have spread out of control and destroyed record swaths of land. "They are jumping on things aggressively and sending aircraft on a much larger basis than I've seen before," Black said.

Similar conditions are expected in the greater Bay Area region in September and October, with above normal potential for a significant fire, according to the Geographic Area Coordinating Group, an alliance of state and federal fire directors and experts in related fields that analyzes conditions across the United States. Along with the expected heat, the GACG cites conditions that include a below-average rainy season, a weak snowpack runoff and low dead fuel moisture values.
"Fire season is just getting started," Black cautioned, noting that "September to October are predicted to be hotter than normal in Northern California."

During the relative lull before conditions peak, the department is actively inspecting properties for potential hazards. Overall, "We're seeing more and more compliance this year," Black said. "We've had to nudge a few people."
Fire department adapts, but outreach is more challenging these days
The current COVID-19 pandemic adds a new challenge even for a smaller department such as Piedmont. From following safety protocols at the fire station to finding socially distanced alternatives for reaching the public about the importance of readiness and prevention, the department is adapting in a not-so-normal time, Black said.
"It's a different world," he said. "The city in general has had to relearn messaging during the pandemic. We've definitely pivoted as much as possible."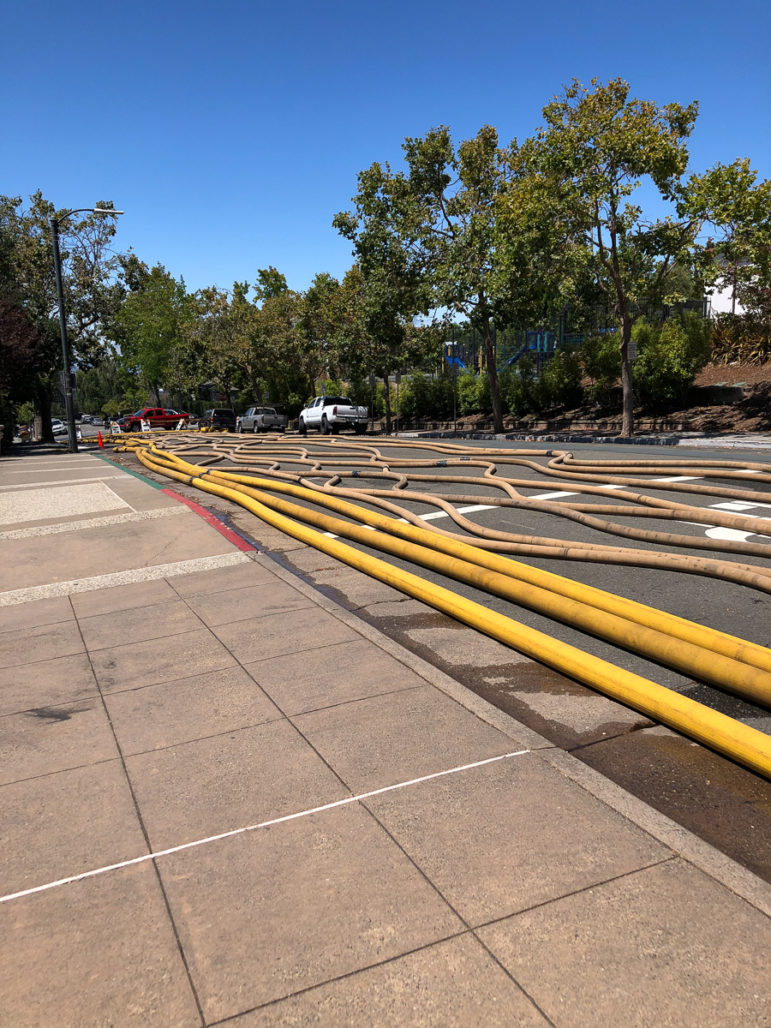 The arrival of fire season this year coincides with the cancellation of the Harvest Festival and other city events that are a major form of outreach for the department. "We do miss public contact," Black said. "It's how we engage with the public." Instead, "We've held a number of virtual neighborhood meetings for groups that want to talk about disaster preparedness," Black said.

The department is also updating its website regularly with new messaging and information and increasing its collaboration with local news outlets to reach the public. "Even recruiting firefighters has been an enormous challenge," Black said, with candidates for vacancies being virtually interviewed prior to any socially distanced and safe in-person interview.
"It's hard to quantify. We're definitely impacted by COVID," Black said, pointing out that a parking space normally used for station vehicles is now taken up with protective equipment and supplies kept ready for use.
Safety concerns drive changes at DBFL collection site
The effects of the pandemic shelter order are also being felt nearby at the city-owned building on Magnolia Avenue used to collect donations for Dress Best for Less. "We've been working with them to slowly open different parts of the business, all coming under the county COVID order," Black said. "We're collaborating to help put policies and procedures in order."

He described the building as a "small barn" intended for storage. "The building was not designed for the way it is being used. It was meant to be used as a collection center and hold an open house sale two times a year," Black said.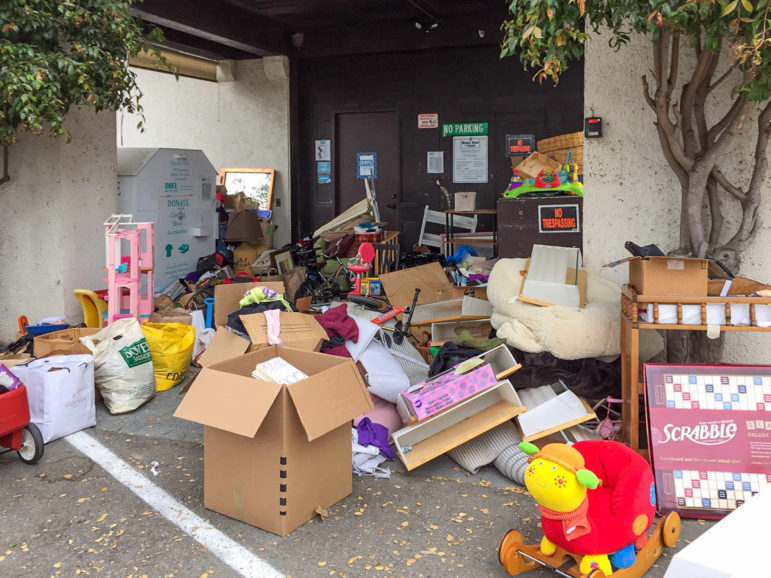 "Their contract does not allow retail. If it was a retail operation it would be practically impossible to have a retail experience there under the pandemic" and current social distancing rules.
PFD is COVID-19 free so far
Internally, the department has had no cases of novel coronavirus. Tests are done when there are symptoms or a known exposure. "We have tested people, but so far nobody has come back positive," Black said. "Some fire departments are struggling with cases and tests taking a long time." He noted that a firefighter/paramedic with the Los Angeles Fire Department died of the virus this week.

In bigger departments, "People traveling from station to station can come in contact with a bunch of people and it's very hard to trace, Black said.

"Since we're a small department with only one station, we can control how we keep the bubble in the workplace isolated," he said. "We try to look at it very much like a household," he said. "We live together for one-third of our lives. Every day we work together, dine together, we cook, we recreate."

Regular cleaning procedures are performed at the station and the staff was trained on protocols for infectious situations well before the pandemic.
Black says Piedmonters should adopt similar practices to stay safe as the public health crisis continues.
Piedmont crew remains on site in Lassen County
The crew on assignment at the Gold Fire in a remote area of Lassen County is likewise following safety protocols.
The four members there are stationed at a temporary helicopter base where they are getting "on-the-spot" training assisting with the helicopters and other aircraft being used to attack the fire, which had burned about 22,000 acres and was 75 percent contained as of Thursday morning.

At the Heli-base in Lassen County
The crew is sleeping outdoors and able to periodically go to the nearest town to eat and resupply. Through it all they are practicing COVID-19 safety measures. "That's something we were concerned about back in March. It's a big complicated incident and we've never done it in a pandemic," Black said. "They're not working shoulder-to-shoulder, so they are under the safest possible conditions under the circumstances."
In a Thursday email, Black noted that the Piedmont fire station was staffed and equipped at normal levels. "All of our expenses are reimbursed by Cal-OES. We will be rotating crew members on Saturday, August 1."
---
SEE RELATED