After weeks of marathon meetings, Tuesday's Board of Education session was a mere two hours long. The reopening plan for schools remains under negotiation, but the Board reviewed a revised 2020-21 instructional calendar, considered the possibility of offering more opportunities for concurrent enrollment with other institutions, received an update on STEAM building construction, heard about fundraising for a new engineering lab and approved two major contract agreements between the Association of Piedmont Teachers (APT) and PUSD, and between the California School Employees Association (CSEA).

Updated 2020-21 instructional calendar
The Board reviewed the updated 2020-21 instructional calendar, agreeing to put it on the consent calendar for approval at the next meeting on July 13.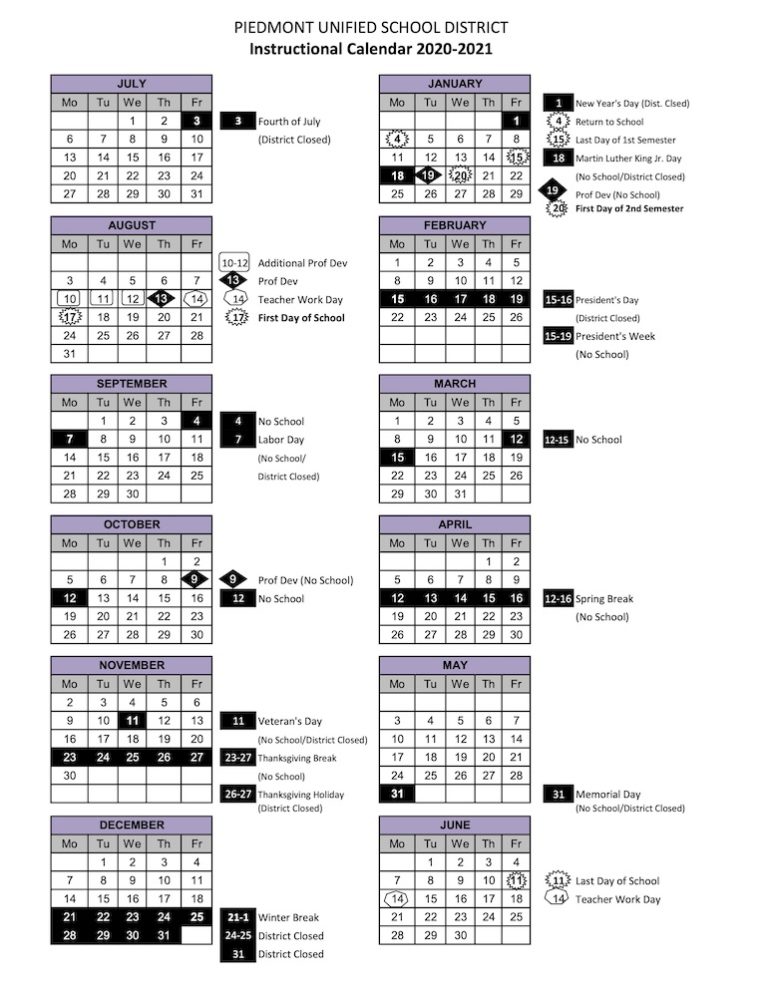 The calendar was a compromise between the district and APT. Sixty-nine percent of the teachers voted in approval of the calendar, Superintendent Randall Booker said. Board members made it clear they were not happy with the prospect of ending the fall term after the winter break vs. before, as has been recent practice, because it could push high school finals out past the break. However, they accepted the need to move forward with an imperfect calendar in order to plan for the next year.
The recommended calendar highlights are as follows:

● Full week to prepare: 4 professional learning and collaboration days and 1 workday
● First day for teachers Monday, August 10 and first day for students is Monday, August 17
● 4-day weekend for Labor Day
● Professional development days October 9 and January 19
● Full week off for Thanksgiving, February Break, and April Break
● Days off October 12, March 12 and 15 (a 4-day weekend)
● Fall semester ends January 15, Spring semester begins January 20
● Last day of school is Friday, June 11, workday Monday, June 14

Concurrent enrollment:
The Board discussed the possibility of editing the policy called "alternative credits toward graduation" to include concurrent enrollment or the option for students to take courses at a secondary institution outside of PHS or MHS.
Trustee Cory Smegal said that the Board had received a lot of correspondence from families related to this topic.
"The whole idea is just simply a way for us all to recognize that, although we want it to be a regular year, is not going to be a normal year," Smegal said. "As a result, I think it would be helpful for the Board to recognize that any flexibility we can give to high school families to meet the needs of their student [should be provided]."
The Board discussed providing opportunities for students to take classes that would count toward their high-school requirements through other high schools or online programs.
Booker said that concurrent enrollment has not been allowed in the past as it has been linked to reduced student enrollment and that he suggested that any amendment should only apply to COVID-19 times.
The board will be continuing to hold conversations about this topic at future meetings.

Private fundraising for a new engineering lab
The Piedmont Makers, a group dedicated to STEM education that started in 2014 and works closely with PUSD, is leading a fundraising campaign for a new "Fabrication Lab." It will be housed on the first floor of the STEAM building and is expected to open in January 2021.
Thus far they have raised $320,000 and hope to raise another $50,000 from the community (which will then be matched by an anonymous donor) to reach their goal of a $420,000 three-year operating budget. The donations are conditional, as outlined below: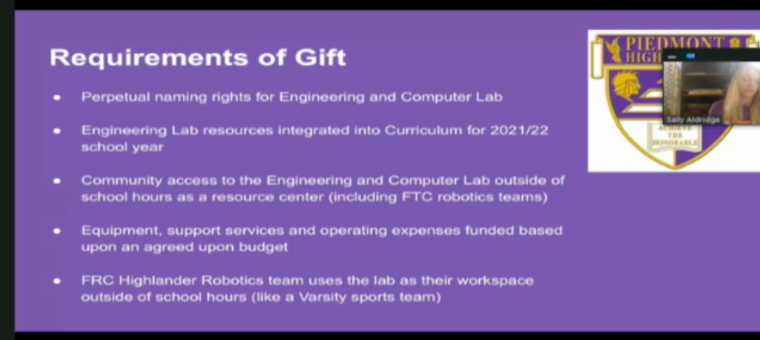 The proposed lab will include a laser cutter, 3D printer, and more. Makers researched what other Bay Area schools have in place when building their proposal.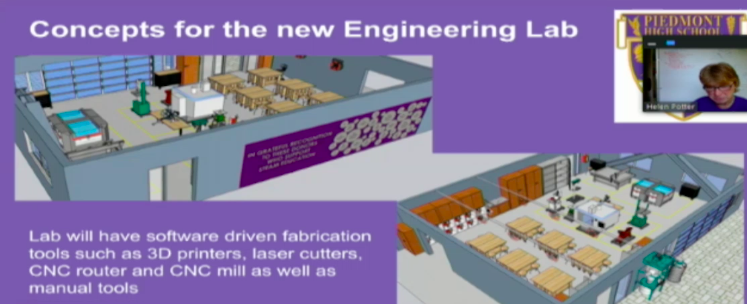 The lab will not only be available for teachers and students, it will function similarly to a lending library, said Sally Aldridge, VP of Piedmont Makers Fundraising.
"The STEAM building will be used by teachers and staff during the day and the the engineering lab will be open to community groups [outside of school hours]," PHS Principal Adam Littlefield said. "I'm interested in having those projects extend beyond the STEAM- science, technology, engineering, art, and math subject areas."
Teachers express disappointment: lab doesn't reflect curricular needs
Although the Board and PHS administrators applauded the Makers for this effort, two PHS science teachers who spoke during public comment noted their disappointment in not being included in any discussions so far related to how the lab would be used.
"It's really important to have teacher input," Marna Chamberlain said, wondering how opening the lab in a COVID-19 year would work, and noting she hopes it will be used for much more than robotics, citing a guitar-engineering proposal she had worked on for four years.
She said the engineering lab should be driven by class curriculum needs, not by the needs of one club.
"Since the start of the STEAM building, the school board and administration has sought input from teachers," John Savage said, but "in the eyes of the science department, our input has not been taken."
He said he was overwhelmingly disappointed that a "club could come in and announce how they want to use a room," when there were other materials more vital to their general science classes.
"The science department for years has been asking for probeware specifically," Savage said. "We have been told we can't get it." (Probeware are sensors that gather information on temperature, motion, gas pressure, light, etc.) The materials are not currently part of the money being raised for the new lab.
STEAM building construction remains on track, compliant with COVID-19 health regulations
Facilities Director Pete Palmer told the Board that the shrink wrap layer on the building will be removed this Saturday, revealing the exterior for the first time. It is also on track to open for the new school year with COVID-19 health regulations in mind, including constant airflow and directionality of the flow of people throughout the buildings.
"The EPA requirements for airflow are 15 cubic ft per occupant per minute and the steam building is going to exceed that," Palmer said.
The steam building is already designed to regulate temperature through air circulation. Automatic windows open and shut to create airflow.
Additionally, Palmer said that there are two main large staircases inside the building, one facing east and the other west. "You could easily have students and staff traverse without passing each other," Palmer said.
However, there were some COVID-19 related delays in some areas. "We will probably have a two to three-week delay before we can get the countertops and sinks in but we will have some temporary ones in place," Palmer said.
Palmer said some construction noise from the theater site is unavoidable once school starts, but they are trying to get through the noisiest parts of the construction first. "We are pushing very hard to get the rock anchors done," he said. "We are pushing to get the noisy part of that completed."
Palmer said he is excited to see the reactions to the new building and the renovations to the 20's and 30's buildings. "I think the teachers are going to be pleasantly surprised," he said.

Approval of contract agreements
The Board approved contract agreements between PUSD and APT, and PUSD and CSEA. Both the CSEA and APT collective bargaining agreement was expiring June 30.
The tentative agreement between PUSD and APT includes a 3.5 percent salary increase, a reserve to prevent future midyear drastic cuts, and three additional paid professional learning days. The agreement between PUSD and CSEA is virtually the same, containing a 3.5 percent salary increase except for the addition of the three professional days that are constructed a little differently.
"CSEA members are on a different calendar than the APT members," Booker said.
APT members are on a 180-day schedule, on the other hand, CSEA members are 10-month, 11-month, or 12-month employees, he said.
"So for many of our CSEA employees those additional professional days for them are not additional," he said. " They are already here."
So far the state funding has come through but the APT, like CSEA, has decided to refrain from dissolving the reserve until it is clear there will be no midyear cuts.
"There may be some midyear cuts as tax receipts come in; we just don't know," Booker said.
Booker said that the possibility of the collective bargaining agreement was made possible by the passing of Measure H, he said.
"I would like to thank the community for passing Measure H," Booker said. "What we're doing with Measure H dollars absolutely fits the criteria of recruitment and retention of our teachers."

More to come:
The next Board of Education meeting will be held on July 13, when school reopening plans are scheduled to be presented.