It's a weird time for Dylan Porter. The former Piedmont High School standout is spending the summer pitching for the San Francisco Seals, a summer ball team that travels the West Coast. Meantime, he's looking for the next stop on his suddenly peripatetic baseball career.
With the past season aborted and the next school year in question, what's a guy with two more years of eligibility to do?
Porter played two years at Santa Barbara City College, then transferred to Washington State a year ago. Unfortunately, tendinitis got in the way and Porter didn't make the 35-man roster as the Cougars started the season.
Every year, lots of baseball players look to transfer in the summer. This year, Porter said, it seems like even more are out there as the uncertainty of college sports in the 2020-21 school year makes it a crowded marketplace.
But Porter is still looking.
"I want to play at the highest level for sure," he said. "I want to play at D1 and Pac-12 for sure. There are a ton of people like me looking to transfer. It has been a little harder to get recruited. If not (D1 or Pac-12), a school that's a good fit for me, in a good area, with people that I think I like."
Porter, a right-handed pitcher, always played baseball growing up. His family moved to Piedmont when he was in sixth grade.
He was the ace of the 2016 PHS team that advanced to the NCS semi-finals after winning an epic extra inning game against #2 seed St. Mary's.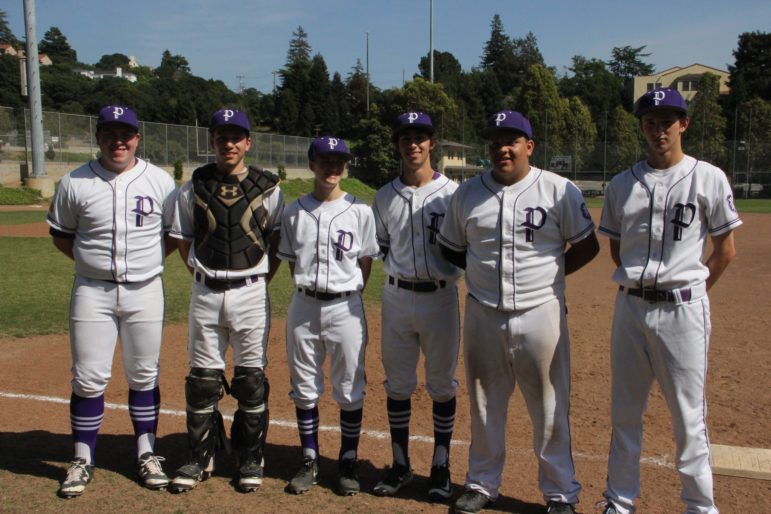 He had a terrific sophomore year in Santa Barbara, pitching 27 2/3 innings for the Vaqueros, posting up an ERA of 2.93 with 25 strikeouts.
The tendinitis slowed him down a bit, but he said he has worked back into shape. Spending the summer with the Seals gives him a chance to get the season in that was lost to COVID-19. He said he has his stuff back now.
"I generally sit 87-90 (miles per hour) and I've been up to 93," Porter said. "I use my fastball a lot. My main off speed is my curve. It has some side movement. Some people would refer to it as a slurve. I like to use it to work off my fastball. My third pitch is my changeup. That's mainly to keep batters off balance and give them a different look.
Porter said the experience with the Seals has been positive.
"This summer I've mainly been starting," he said. "We just played in Medford this weekend (July 11-12). We go to Santa Barbara this weekend (July 18-19). The Foresters play at my junior college. That's going to be exciting. I'm definitely looking forward to that."
Fall ball for many colleges may be a lost cause, but Porter said he's willing to wait until just before the spring semester if he needs to.
"It is getting late," he said. "Because of the circumstances, things are going to get pushed back a little bit. I know there's a lot of people that are still looking for a school. But I don't want to end up at a place I don't really want to be at because I was rushed."