It's been a frustrating few weeks for Oakland restaurants trying to navigate shifting rules around food service, but Alameda County's request for a variance was approved by the state on July 15, legalizing outdoor dining once again. Face coverings are required at all times and may only be removed "during the physical act of eating or drinking," according to the County's guidance.
Here's how some of local favorites — Crepevine, Daughter Thai Kitchen, Drake's Dealership, Fentons Creamery, and Grand Lake Kitchen — are dealing with this new normal. Servers and staff at each location were all wearing masks; and in at least one case. face shields, too.
Crepevine (5600 College Ave, Oakland)
Crepevine's patio is now open to brunch-goers, people looking to simply grab a lemonade and read a book, or anyone seeking a meal. They have one door designated for entering, another for exiting, and signage to guide customers throughout the restaurant.
The shift to outdoor dining brought back staff members and even increased business enough to have a wait-time on the weekend, but the College Ave. favorite is still struggling to break even. Crepevine's manager, Themar Saksouri, is focusing on the positive.
"Even if we are slow," said Saksouri, "just knowing that we're making someone happy by being open – it means the world to us."
Daughter Thai Kitchen (6118 Medau Pl, Oakland)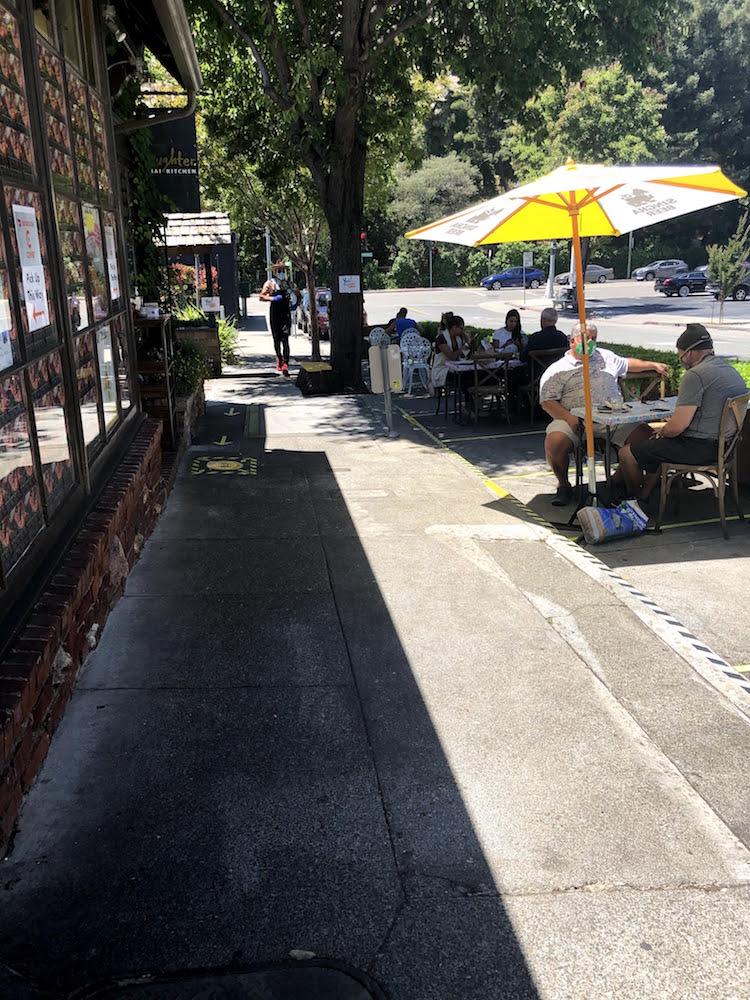 When customers arrive at the tables and sun umbrellas that now extend into the street outside of Daughter Thai Kitchen, they can't immediately sit down and sip on their Thai iced teas. First, they must wash their hands, answer a series of questions about COVID-19 symptoms, and have their temperature taken. (Customers with a temperature of over 100 degrees are turned away.)
"We are so strict on this because we need everyone to be safe and go through this together," said restaurant manager Ann W.
Customers order using bar codes taped to each table, and the servers who carry the food all wear face shields.
Drake's Dealership (2325 Broadway, Oakland)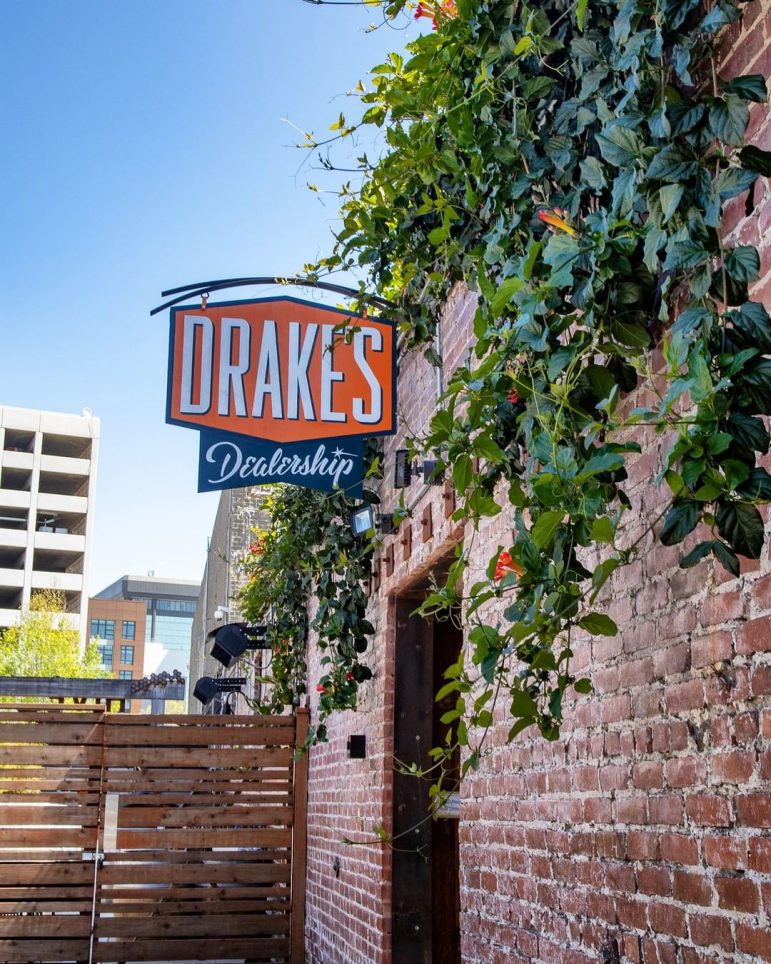 Drake's Dealership, the restaurant rated 'Best Outdoor Dining' by Oakland Magazine, has reopened its beautiful beer garden for customers.
"We're doing everything we can to protect the health of guests and employees, including daily staff health checks and rigorous sanitation practices," reads Drake's website.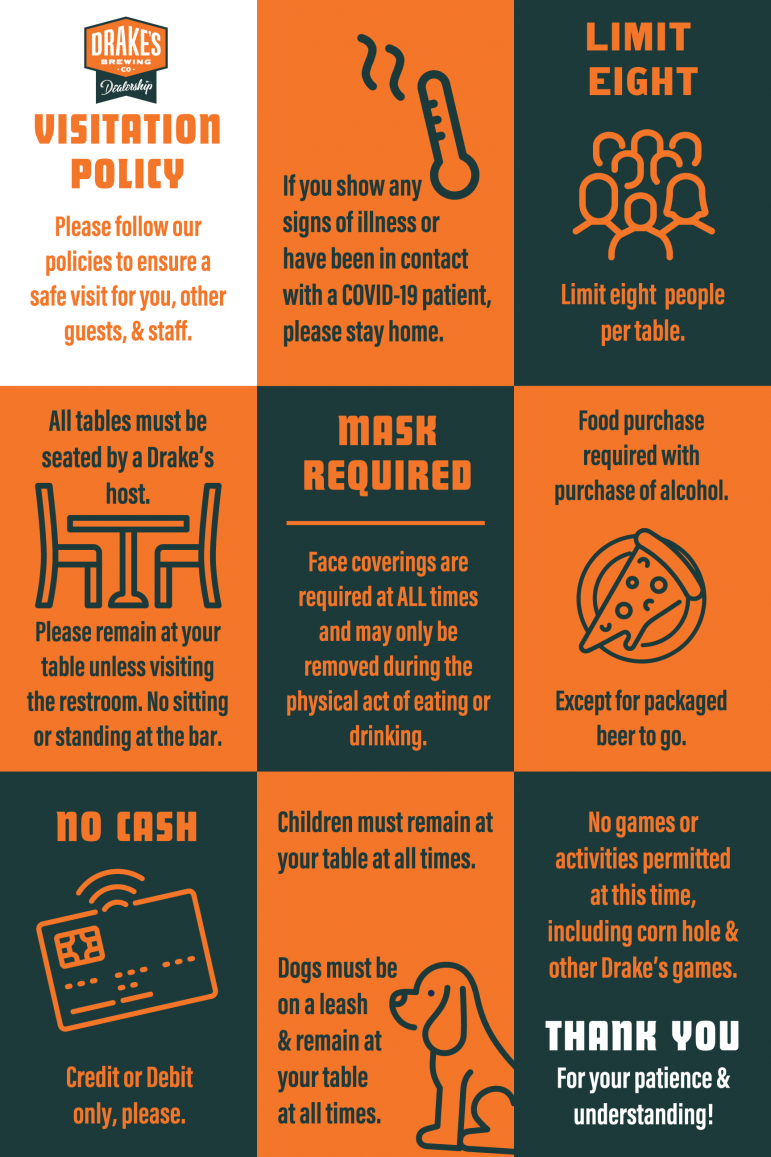 The large orange sign with Drake's visitation policies sits directly outside the entrance and is also presented on their website. Games, such as corn hole, and the standing bar are no longer open. Customers use an app called GoTab to order and must wear masks until they are seated. Drake's does not seat more than six guests to each table and asks that dogs and children stay at the table at all times.
Fentons Creamery (4226 Piedmont Ave, Oakland)
Outdoor tables, chairs, and sun umbrellas are situated on the patio next to the Fentons' parking lot. While Fentons has outdoor seating, they do not yet provide a traditional outdoor dining experience.
"We're not having servers available at the moment, but we do have tables separated six feet apart and we have people cleaning up at the tables afterwards," said a Fentons employee.
Fentons does not expect to have full outdoor dining anytime soon, but in the meantime, the line for ice cream, which now leads to the street-side door instead of the patio door, continues to wrap around the block.
Grand Lake Kitchen (576 Grand Ave., Oakland)
Just across the street from Lake Merrit, the patio of Grand Lake Kitchen (GLK) is filled again. However, now the tables extend down the block and are decorated with signs that say "sanitized" and barcodes for contactless ordering. A cleaning reminder rings every hour.
"It looks like the same restaurant in the same world that we lived and operated in before, but it's truly not," said May Wasem, owner of GLK.
With so many new protocols and some Oakland residents disrespecting the guidelines, the transition from takeout to outdoor dining has made business even harder for GLK. The restaurant is hoping that the Oakland community can unite even more when it comes to the new regulations around outdoor dining.
All photos (except Drake's from restaurant website) by Eliana Bloomfield