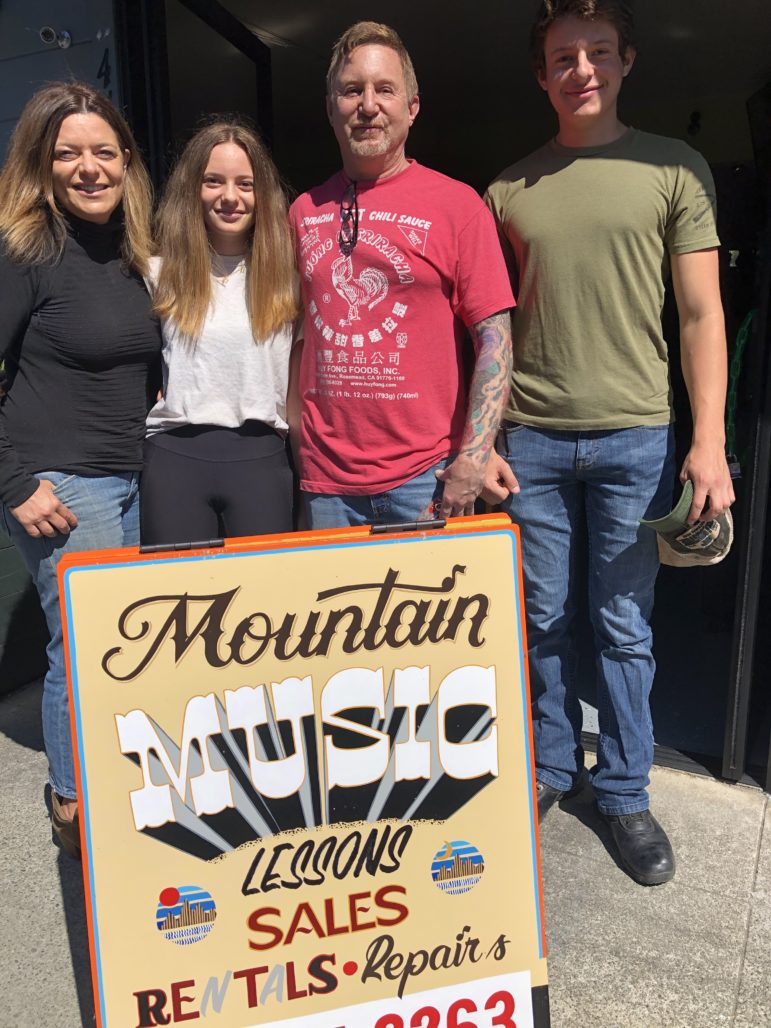 To say the least, 2020 has not been kind to shop owners. So it's easy to wish an extra dollop of good luck upon one of the Piedmont area's newest and coolest new shops — Mountain Music.
Tucked into a storefront on Piedmont Avenue between Pleasant Valley Way and Mountain View Cemetery, it hardly calls attention to itself. But step through its door and it becomes a feast for the eyes and ears. Hanging from the walls in neatly-lined rows are hundreds of beautiful stringed instruments — guitars, mandolins, ukuleles, and more. There is a huge kettle drum on the floor, and in a far corner is a thicket of snare drums, cymbals, congas, a high hat, and even a vintage reel-to-reel tape machine.
For anyone who loves to listen to music, play music, or who is ready to learn, Mountain Music hopes to fill a huge gap in the Piedmont area. It's a place where you can buy instruments, take lessons, bring your instruments for repairs, and if the state is able to reopen safely soon, will be a place for kids to hang out and jam.
Veterans of the East Bay music scene may be interested to know that Mountain Music is the third incarnation of Acme House of Music, the music shop opened up in 1969 by Julio Rose on MacArthur Boulevard in Oakland's Laurel district. Rose ran the shop until 2009 when he passed it on to Annette Loveless and her husband John Middle. In 2013 the couple moved it Piedmont Avenue.
One of their favorite employees was Adam Lipansky, a musician and luthier who made and repaired instruments. Two years ago when the couple decided to sell the shop, Adam and his wife Felicia Lipansky, a biotech program manager and Piedmont resident, bought it.
"We saw it as a place for kids to hang out, learn instruments, maybe do spoken word events," said Felicia Lipansky. "There's no place for kids in Piedmont to hang out."
The place needed work, so Adam — with a little help — renovated the interior, knocked down walls, added windows, built a stage, rehearsal room, and repainted. They even hired a local graffiti artist to paint the walls of the restroom.
Although the public health crisis has altered their original plans, the vision remains. Mountain Music at 4444 Piedmont Avenue is open now under social distancing restrictions. The store is already attracting cool kids. Just before the Exedra's visit, one of the members of Piedmont's most famous band — SWMRS – stopped in to drop off a tape deck, chat and admire the guitars.