Fans longing for the re-start of professional sports got a welcome dose starting on July 23rd, with the first games of the 2020 major league baseball season.
But the Covid pandemic has made it a strange experience, with no fans in the stands (they've been replaced by cardboard cutouts in many stadiums) and no high fives or spitting allowed (the latter a major improvement). Expanded rosters allow for the possibility that some players will get sick, and testing protocols have been established. Several players, including Giants' stalwart Buster Posey, have opted to skip the season for personal reasons. Posey and his wife recently adopted twins who were born prematurely.
MLB has plans to play a shortened 60-game season (compared with the typical 162 games), with expanded playoffs to follow in October. Eight teams in each league will advance to the post-season, instead of the five in recent seasons.
Other rule changes, designed more to speed up play and make games more exciting rather than to respond to health issues, include the use of the designated hitter (DH) in both leagues, instead of just the American league as in the past; requiring pitchers to face a minimum of three batters; and starting a runner at second in all extra innings.
Several big-name players changed teams after last season, including Garrett Cole, who went from the cheating Houston Astros (many now refer to the team as the Asterisks) to the New York Yankees, and Mookie Betts, who moved to the Los Angeles Dodgers from the Boston Red Sox, and recently signed one of the most lucrative long-term contracts in baseball history. The hometown A's seem poised for another playoff run with strong pitching and the Matts (Olson and Chapman) at 1st and 3rd, respectively. The other local team in San Francisco seems likely to struggle again this season, with the losses of pitching ace Madison Bumgarner to the rival Diamondbacks, and Posey to coronavirus concerns.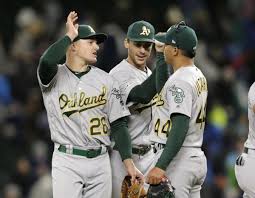 It could all fall apart very quickly, however. Several games scheduled for July 27 were canceled in Miami and Philadelphia after 13 Marlins' players and coaches tested positive. Four more Marlins tested positive on July 28, and the team's games have been suspended through August 2. This after the Miami team played its game on July 26 in spite of four players already testing positive at that point, raising serious questions about the teams' and the league's commitment to the health of the players and team staff.
Will MLB make it to a second week of play? What does this experience portend for the NBA, which plans to re-start on July 30, and the NFL? Should we just wait for a vaccine before bringing back any of these sports, especially the ones that don't allow for physical distancing? Only time will tell.