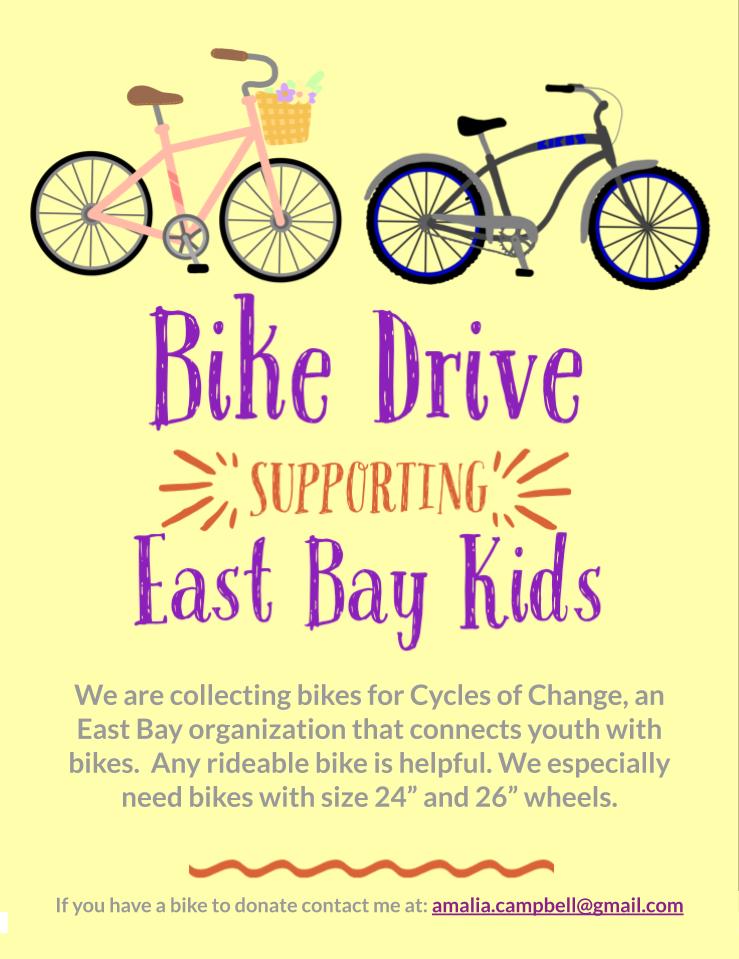 Oakland has recently instituted a program called "Slow Streets," designed to direct car traffic away from certain streets making the streets available to biking and walking.
This creates an amazing environment for kids to get outside and bike around, and why I am doing a bike drive in support of Cycles of Change. Cycles of Change is an Oakland organization that collects used bicycles and partners with schools to teach kids to bike. They also give bikes directly to kids through their shop, The Bikery. Cycles of Change mostly focuses on teaching middle schoolers and high schoolers how to bike along with some adult classes.
It is not just about having fun. During the upcoming school year, in the event classes are in-person, one of the big challenges is transportation. Many Oakland unified students take AC Transit which is currently only running on 25% capacity, and Cycles of Change provides an opportunity for more kids to bike to school.
If more kids have access to bikes it gives them more independence, promotes exercise and gets more people using the Slow Streets.
If you've been cleaning out your garage and getting rid of old bicycles, consider donating them to Cycles of Change. There are many kids out there who would love to ride your older bikes.
Just contact me and we can come and pick them up. Also please forward this message to friends!
The more bikes we collect, the more kids can learn how to bike.
An organizer at Cycles of Change says that they are very busy and in need bikes more than ever. The sizes most in demand are sizes 24" and 26" wheels — and any bike above 16" is very helpful.
The largest ones go to adult classes, the middle-sized bikes are used for bike clubs and classes for students and the smallest ones are given directly to people who come to the shop because their kids are interested in learning to ride. (Please note, it is also important that the bikes are rideable and not rusty.)
Thank you,
Amalia Campbell
8th Grader, Edna Brewer Middle School
amalia.campbell@gmail.com