It's not complicated: Wear a mask, stop the spread.



In a timely editorial published in the Journal of the American Medical Association (JAMA) Tuesday, July 14, CDC Director Robert Redfield and colleagues highlight recent studies that point to the effectiveness of widespread mask-wearing in controlling the spread of COVID-19.
"At this critical juncture when COVID-19 is resurging, broad adoption of cloth face coverings is a civic duty, a small sacrifice reliant on a highly effective low-tech solution that can help turn the tide favorably in national and global efforts against COVID-19," they write.
In a conversation with the JAMA editor-in-chief, Redfield said he believed that if the American public embraced mask-wearing, he believed that "over the next 4, 6, 8 weeks we could bring this epidemic under control."
What the local rules are
The Alameda County Public Health Department says:
Face coverings are required to be worn almost anytime you are outside your home, including when you are:
Waiting in line to go inside a business.
Inside a place of business, like a store or government building.
Riding or waiting for public transportation.
In a taxi or rideshare vehicle, even if you are the driver and are alone.
Seeking healthcare.
Outdoors and anticipating others may pass within 30 feet of you. This applies whether you are walking, running, biking, otherwise exercising, standing, or using a motorcycle, skateboard, moped or scooter.
Working at a job where there are routinely other people or your job requires that you visit someone else's house or living space.
Preparing food or other items for sale or distribution even if you are alone while doing it
This guidance reflects the most recent County update on June 29.
In Piedmont, this means yes, you too, should wear a mask when out and about in public. That includes Witter Field. If too many people violate this order, the school district has said in a memo to the school community that it will close the field again.
Why masks work
PUSD nurse Amy Jo Goldfarb directed us to a study from Florida Atlantic University that succinctly sums up exactly how face coverings of the regular variety work to stop the spread of aerosolized respiratory droplets:
"Results showed that loosely folded facemasks and bandana-style coverings stop aerosolized respiratory droplets to some degree. However, well-fitted homemade masks with multiple layers of quilting fabric, and off-the-shelf cone style masks, proved to be the most effective in reducing droplet dispersal. These masks were able to curtail the speed and range of the respiratory jets significantly, albeit with some leakage through the mask material and from small gaps along the edges.
Importantly, uncovered emulated coughs were able to travel noticeably farther than the currently recommended 6-foot distancing guideline. Without a mask, droplets traveled more than 8 feet; with a bandana, they traveled 3 feet, 7 inches; with a folded cotton handkerchief, they traveled 1 foot, 3 inches; with the stitched quilting cotton mask, they traveled 2.5 inches; and with the cone-style mask, droplets traveled about 8 inches."
Read more: Piedmont resident and noted UCSF epidemiologist George Rutherford weighs in on masks: "You should always wear masks and socially distance."
What Piedmonters are wearing
Homemade masks abound, and several local organizations have been turning out thousands for essential workers since the shutdown started.
More recently, families are also trying out a variety of styles and vendors to meet their needs (i.e., finding masks that fit child faces and that they will want to keep on). If you are still on the hunt for a style that works for you, check out some of these options: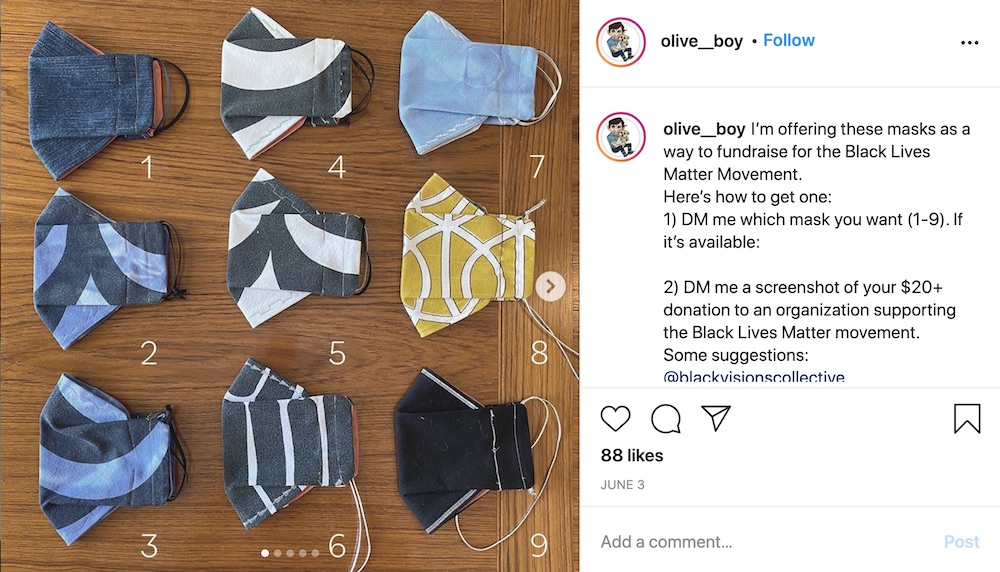 Olivier Suter-Ternynck, a graduate of the California College of the Arts and PHS (2016) has been making beautiful handmade masks for adults for the last several months. He was donating proceeds to organizations that support the Black Lives Matter movement. Check out his Instagram feed for styles.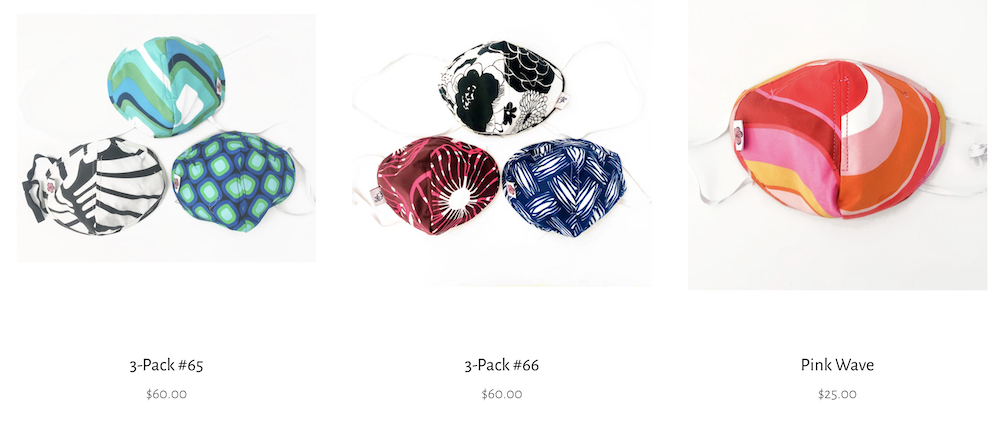 Dressmaker Lesley Evers was one of the first local businesses to start making masks back in April. They are triple-layered and have more of a round fit on the face with a wire fitting at the nose. Less adjustable than others, but they come in a variety of cheerful prints.
Other online options include:
Athleta has adult and child sizes. Their "Made to Move" masks for sports are popular.
Amy Kuschel makes favorite everyday masks and comes in adult and child sizes. Adjustable at nose with wire fitting, loops around ears, ties behind neck. (Goldfarb says: "For those of you with healthcare workers in your lives, they also offer this one by special request that goes over an N95 .")


Joah Love in adult and kid Sizes uses a soft t-shirt material without any metal at the nose and are adjustable at ear. Comfortable for working out.
Bailey Blue, an independent maker with adult and kid sizes, most like the Joah Love ones without the wire at the nose, but not adjustable)
Jaanuu a company that makes uniforms and scrubs for medical personnel, carries adult and child sizes, popular with kids.
Berkeley Bowl and more local grocery and drug stores are all starting to carry the disposable masks — keep a box in the car for the inevitable times you or a family member forgets one.

Finally: A group of PHS students — Sadie Tscheider, Audrey Edel, and Anthony Wong — are working on the Piedmont Mask Project in conjunction with members of the PUSD Board of Education, the Havens Parents Club, and others to encourage the proper use of masks in town. Follow them on Instagram for updates.