Graffiti near Crocker and Wildwood
Anti-police graffiti was found on several spots along the walkway between Crocker and Wildwood avenues. The graffiti was reported to Piedmont police on July 19.
A stop sign at the corner of Crocker and Wildwood was tagged with negative phrases about police. A nearby bench owned by the city used an expletive in attacking the wealthy ("F*ck the 1%"). Three walkways were tagged with anti-police messages as was a barrier.
"The estimated value of the damage was approximately $550," Piedmont Police Department Captain Chris Monahan said. "There is no known suspect at this time."
Large gathering flouts COVID-19 rules
At a July 15 city council meeting, an incident at Beach Play Field was discussed. Approximately 60 people were reportedly playing soccer. Social distancing and face mask requirements were not being observed. A park ambassador approached the group and the players ignored the ambassador's request and used vulgar language in challenging the ambassador.
An ambassador who was not involved in the incident said he was told by a group of players once that they were part of a single "pod," which is supposed to be a group of 10-12 people.
Captain Monahan said the police, "are doing daily checks at the park and the Rec Department is discussing several other options. They are violating the health order and not obeying the park ambassadors requests."
Grisly remains of fawn near Huntleigh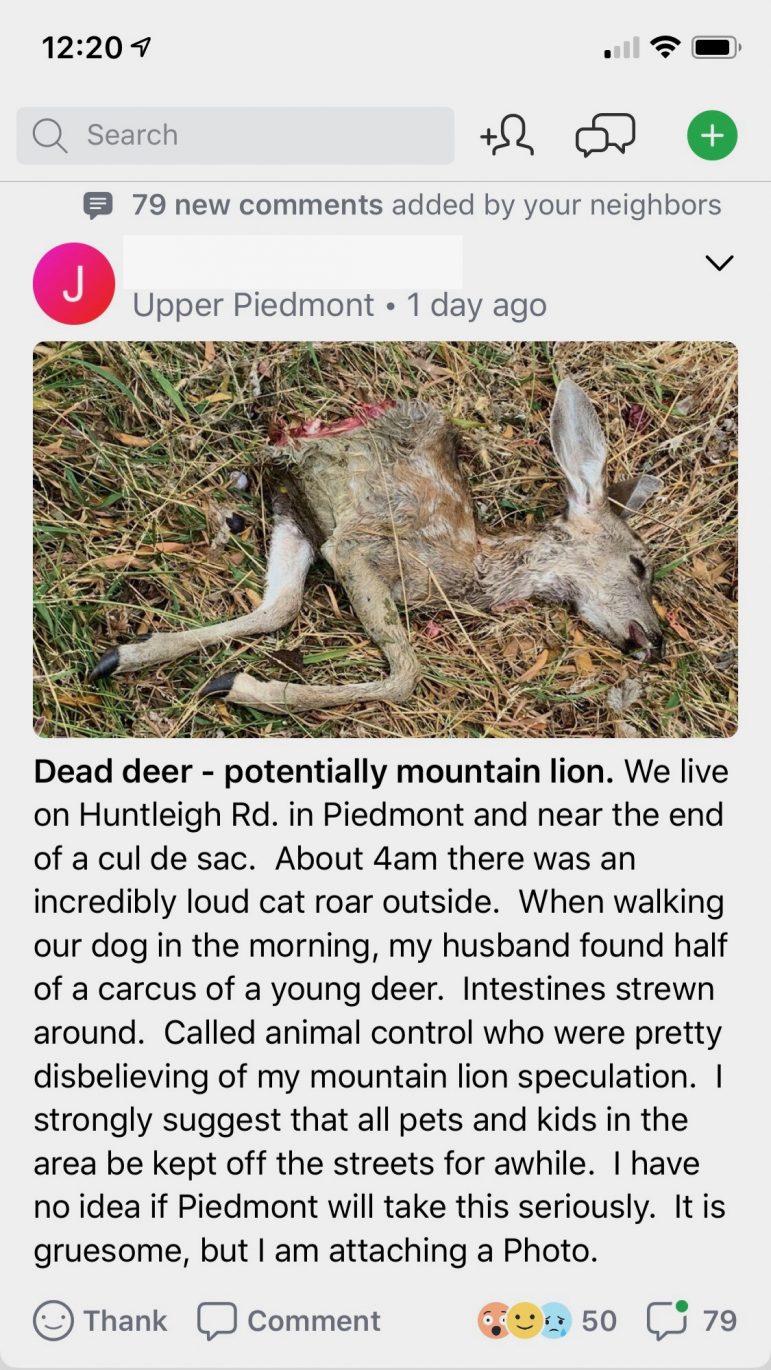 Finally, remains of a dead deer fawn were found near Huntleigh Road. The upper half of the body and the two rear legs were left. An Animal Control Officer said she didn't believe it was a mountain lion attack despite speculation from a resident (reporting in NextDoor, at right).
"There have been no sightings of mountain lions in the area," said the officer, who was not authorized to speak to the media on the subject.
The officer said mountain lions usually bury their prey so they can return later. They also "nip" at the hair and fur, and there was no evidence of that on the fawn's carcass. The officer called the scene, "a bit more coyote-ish."
The officer added that the killing, "didn't appear to be ritualistic."