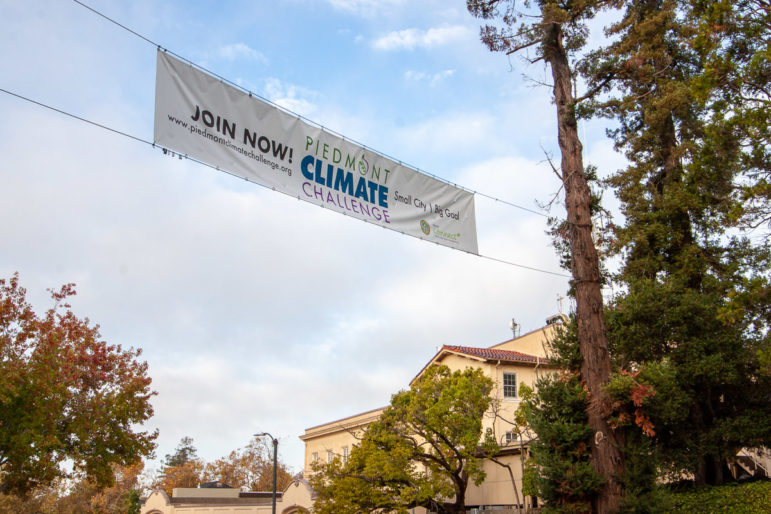 The City Council on Monday night approved a series of measures to bring energy savings and reduce natural gas use in Piedmont, adopting stringent new requirements to hasten replacement of gas powered heating systems and appliances with all-electric ones in new housing construction and major renovations.

These new "reach codes," council members and other city officials said Monday, will help Piedmont meet its Climate Action Plan 2.0, which calls for the city and its residents community to reduce its annual carbon dioxide emissions from about 38,000 metric tons in 2017 to 9,800 metric tons in 2050.
The new ordinance will also help the city conform to state building energy efficiency standards.

Natural gas appliances in buildings are among the biggest obstacles to meeting this emissions reduction goal, a city staff report states.

These efficiency measures are called "reach codes," by one definition, because they "reach" beyond the state minimum requirements for energy use in building design and construction in the interest of slowing climate change.

"I'm proud of the leadership Piedmont is showing with this ordinance," Councilman Tim Rood said, noting his city is one of the first in the region to address natural gas use in its homes and other buildings.

But the council's approval vote was a 3-2 split. Councilwoman Betsy Smegal Andersen, who along with Mayor Robert McBain voted "no," said she was concerned about the additional cost it would add to already expensive home renovations. She also asked why the reach codes hadn't been brought before the city's Planning Commission, to gather more opinions about them and expose the proposals to a wider audience, calling it a "missed opportunity."

Under the soon-to-be-updated local ordinance – which would go into effect after a second reading Aug. 3 – Piedmont homeowners doing building renovations costing $25,000 or more will have to include at least one of the following improvements in that project (and two of them if that renovation costs $100,000 or more):

*** A package of attic insulation, air sealing, and duct sealing;
*** Floor insulation;
*** A package of low-flow fixtures and water heater and/or water piping insulation;
*** A package of high-efficiency lighting and controls for internal and external lights;
*** Switching out a gas furnace for a heat pump (or other energy efficient electric heating system);
*** Switching out a gas water heater for a heat pump (or other energy efficient electric heating system).

Building owners making major renovations would also have to install solar panel systems if performing major roof work, and show a report from a Home Energy Score or Home Energy Audit has been completed in the last five years. The council also approved modification of Piedmont's electrical code to require upgrades to provide enough capacity to accommodate future electrification of all appliances in a given residence, including all major kitchen appliances and clothes dryers.

The requirements apply to "low-rise" residential buildings up to three stories tall, which applies to virtually all of Piedmont's residences.

Many of Piedmont's houses are old and large, and most of them, a city staff report says, rely on major appliances powered by natural gas.

The city worked last fall with Oakland-based East Bay Community Energy, which gets electricity for Alameda County customers from clean, renewable sources (including solar and wind) and its consultants, to create these reach codes. And last month, a survey of Piedmont's residents showed 66 percent of respondents supported the idea of stronger requirements for energy-efficient and climate-friendly home appliances (28 percent were against them). When asked about specific reach codes, between 55 and 68 percent supported each of the various measures.

Most council members expressed concern Monday night about the added cost of renovation projects the updated ordinance will require, as did one resident who called in to the Zoom meeting. Garrett Schwartz (as did McBain) asked why the $25,000 and $100,000 thresholds weren't simply arbitrary figures, and said renovations appropriate to his 100-year-old house would be hugely costly.

"I think you'd be convincing people not to make improvements on their houses," Schwartz told the council.

Councilwoman Jen Cavenaugh said the city should be precise but willing to adjust in its demands. "With a 100-year-old home, we've got to be flexible and not 'one-size-fits-all,'" she said.

Another Piedmont resident, Margaret Ovenden, said the more stringent building requirements are crucial in helping the city reduce emissions. "What's coming down the road in regard to climate change is horrific," said Ovenden, who said the City Council and city hall need to better teach Piedmont residents why these measures are necessary.

Cavenaugh agreed. "There are probably a lot of people we're not reaching," she said.

Justin Szasz, a CivicSpark Climate Fellow working with the City of Piedmont, told the council Monday that systems like solar panels and electric appliances usually have higher upfront costs than other comparable technology. But such conversions more than pay for themselves over time, Szasz said, in lower energy costs, which should help encourage the conversion.
Contact Sam Richards at sam.richards4344@gmail.com
---