For a lot of high school graduates, going to college is an opportunity to live away from home for the first time. Not so for Widdy Tevis.
The recent Piedmont High School graduate will be playing lacrosse across the country at Trinity College in Hartford, Conn. But she has seen her share of the world outside Piedmont, like when her family moved to France and she attended kindergarten and first grade.
"I was put into an all French school," Tevis said. "What I do remember is I didn't speak any French at first. I was like, 'Oh my god, who are these people and what are they saying?' And three months later, I was fluent. I just sat in that classroom and somehow put the pieces together after a couple of months."
Tevis said there was no family in the south of France.
"I think my parents wanted to give us a life experience," she said.
Tevis grew up in Atherton and Portola Valley as well as the south of France. She was already playing lacrosse by the time she came to Piedmont for her sophomore year, and she was one of the top players in the area as a junior, leading the Highlanders in assists when Piedmont won the North Coast Section Division 2 championship.
She said she was "all over the place" in terms of sports as a kid.
"I started with AYSO soccer," she said. "Basketball. Horseback riding for a long time. Tennis."
But when her older brother J.H. Tevis (now a defensive lineman at Cal) got into lacrosse, Widdy Tevis was intrigued.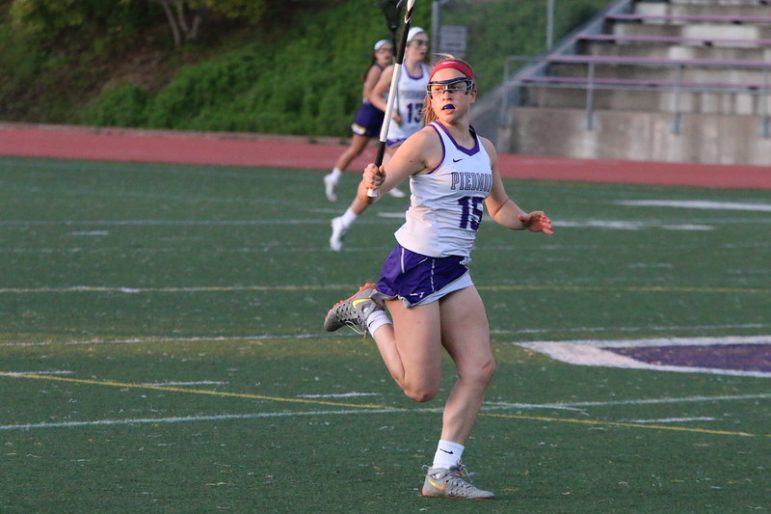 "I started playing for the same team as him: Firehawks down in the South Bay," she said. "Then one of the moms introduced me to my club team."
That's Tenacity, a high-level program that plays travel ball. How high-level? All 22 players will play in college.
As a freshman at the Menlo School, Tevis played tennis, basketball, and lacrosse. She cut it down to basketball and lacrosse as a sophomore, then concentrated on lacrosse from then on.
"I wish I had stuck with tennis to be honest, but that's OK," Tevis said. "It all worked out."
Indeed. Tevis said she loves lacrosse.
"I love how competitive it is, I love that it's a team sport," she said. "I think that I just really liked that it is fast-paced. And I'm a midfielder so I could always play both sides of the ball. I think that's why I liked basketball, too. You're not just on defense or just on attack. I never was that good at soccer but I liked it for the same reason."
Tevis said communicating with teammates is another plus in lacrosse.
"You can't win if you and your teammates aren't on the same page," she said.
Elie Cole and Widdy Tevis (21)

Zoe Torok, Maria del Rosario Chan, and Widdy Tevis (21)
Tevis considered a few colleges. Once she decided on the Division 3 level, the schools in the New England Small College Athletic Conference (of which Trinity is a member) were appealing. She cut her list down to Trinity, Amherst, and Colby.
"After getting to know the coaches a little bit more, I went with Trinity," she said. "And I am so excited."
Tevis said she wants to study Economics and also enter an urban and global studies program. A romance language might also be in her future, but since she is fluent in French, she'd like to study Spanish.
Travel abroad? Check.
"It's usually related to what language you're studying," she said. "It doesn't have to be. I would love to go to Spain. I would also love to go to Copenhagen or Australia. I have no idea, anywhere I could go I would definitely do it. I am curious to go to all parts of the world."