Galvanized by national outrage and local protests in the wake of George Floyd's murder by a white police officer, several Piedmont residents organized a family-friendly showing of support for the Justice for George and Black Lives Matter movements on Wednesday evening. Piedmont parents Sarah Karlinsky, Amy Griffith, and Fairuz Abdullah used Facebook to organize the event, which they initially expected to draw 20-40 people at the corner of Highland and Oakland Avenues. But as their message traveled quickly within the Piedmont community, and, coupled with an assist from the Piedmont Appreciating Diversity Committee (PADC), the gathering appeared to draw a couple hundred people at its peak. A group of high school and college students from Piedmont who were part of the event then led the group in an unplanned walk down to the lake. Piedmont police followed in patrol cars.
In a Facebook post after the event, Karlinsky thanked the community for showing up. "We were amazed to see so many people join us, especially so many kids and teens. It felt special and important to have such a strong showing to support change," she wrote. "We don't have any answers, but would love to have a dialogue about how to make Piedmont more inclusive and racially just. We'll also be following up with our elected officials to see if there are ways they can move some of these ideas forward."
Ko Narter, a PHS grad and student at NYU wasn't sure what to expect from the Piedmont protest and has mixed feelings about how it unfolded. "To me, the event sort of felt like the Instagram black-square trend personified, in that I was proud that so many people from Piedmont wanted to participate, but if this is all they do, it isn't enough."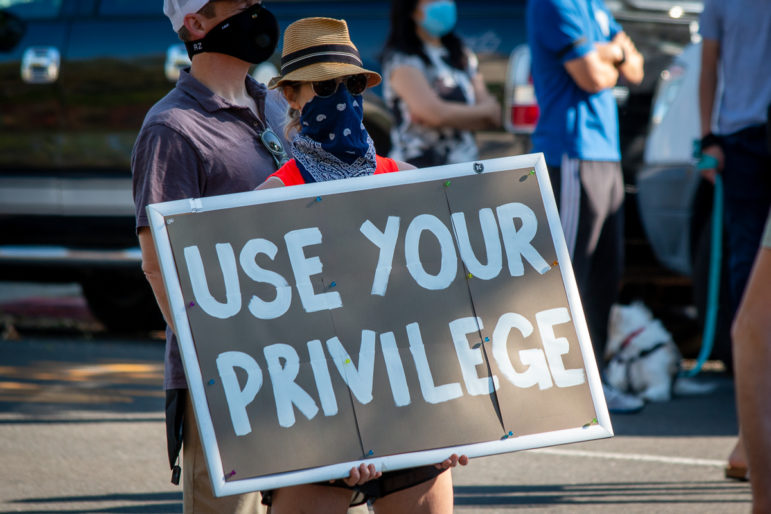 Another PHS grad and college student, Paige Ellis, told the Exedra that "I attended the protest because it is important to me to show up and represent the small percentage of brown and black voices in this town. I am glad that Piedmont as a community, specifically young people showed up for the protest. That being said, I think it was just the first step of a marathon. I hope Piedmont families continue to use our privilege and wealth to support the Black Lives Matter movement and speak out against systematic racial injustice. I also hope it sparks an uncomfortable but necessary conversation about race within Piedmont and how far we still have to go as a community."
A group of students who attend Bishop O'Dowd and Oakland Tech held their own small protest in central Piedmont the same day, telling the Exedra they thought it important to show up here "to make privileged people aware" of systemic injustice.
All photos by Exedra photographer Julie Reichle unless otherwise noted. Special thanks to resident Meghan Bennett for her photos of the march as it made its way to Grand Ave.
Two of the march organizers, Sarah Karlinsky and Amy Griffith

Police Chief Jeremy Bowers takes a knee in solidarity with the protesters (Photo: Scott Kail)

Chief Bowers walks alongside marchers

Two students hold a sign with the quote from American Author Zora Neale Hurston

Police blocked off Oakland and Highland Avenues so that the large number of demonstrators could congregate and march.

High school students and recent graduates showed up to march

The crowd begins walking down Highland Avenue

"Piedmont privilege is power. Speak out against racial injustice"

A high school student stands fist held high in the middle of Oakland and Highland intersection with the other demonstrators

"If you're not ANGRY you're not paying enough ATTENTION"

A family walks up Oakland Avenue holding hands and Black Lives Matter signs

A youngster and his dad hold up signs near Havens Elementary School

Two girls hold a sign together reading "Respect Existence or Expect Resistence"

Large crowds began gathering after 4pm in solidarity

All ages showed up in support

As a car drives by and honks in support, demonstrators hold their signs up

Board of Education member, Andrea Swenson, stands among others on Highland Ave

Rising Piedmont high school sophomores Sage M and Addy N

A father and his two young kids held up signs

I woman wearing a black t-shirt with a stark plea from George Floyd
Meghan Bennett captured these photos of the march at the bottom of Grand Ave.:
The group kneels at Oakland and Grand.

Siblings Caroline and Brendan Devine

Local teens led the march down to the lake

Protest moves down Grand Avenue followed by Piedmont Police escort
Local newscaster Veronica de la Cruz ran the story on KPIX.