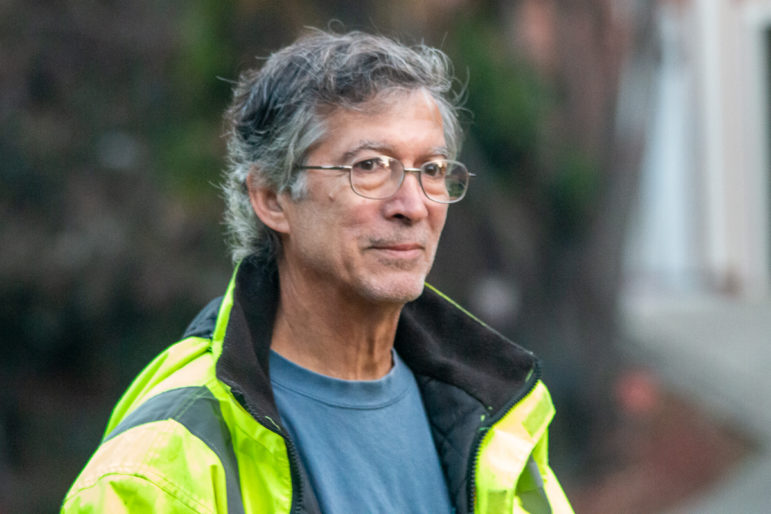 The journey from the hillside behind Coaches Playfield across Moraga Ave. began at the crack of dawn on Monday morning. Martin Mattarese, the goat keeper, and a team of helpers, including several dogs kept the goats moving along to Blair Park's greener pastures — into the area designated for them to continue their work of clearing the dry brush, aka eating.
Mattarese who is overseeing the operation with Piedmont Fire Chief Bret Black, had worked for Oakland Parks and Rec, but got into the goat tending business after the Oakland hills fire when he helped create fire abatement programs.
Mattarese will be speaking at 1 p.m. today at Blair Park where the goats arrived from across the street, where they had been "mowing" through vegetation at Corporation Yard.
At approximately 5:30am on Monday, the goats were herded down the hillside by Coaches Playfield onto the wooden pathway along Moraga Ave.

Piedmont Fire closed off a portion of Moraga Avenue so the herd of goats could safely cross to the Blair Park side of Moraga.

Fire Chief Bret Black coordinated with Martin Mattarese on the use of his goatherd to help with fire risk reduction in Moraga Canyon.

The goatherding dog stands guard; in addition to herding, he is vigilant about keeping the herd safe from harm.

The goats made their way up and down the hills of Blair Park eating grasses and tree foliage.

A goat with speckled black and white ears

The goats were seemingly happy with the bounty of leaves and grasses in Blair Park

A goat perches in a tree.

A goat chews a stalk of dried grass in Blair Park

A goat nimbly eats leaves from a tree that he/she has climbed.

The thorns on this blackberry bush do not seem to bother this trio of goats.
The goats work/eat at their own pace and they are supposed to be at Blair Park until Friday — unless they finish working/eating sooner.
Learn more about the program and the goats from Mattarese today at 1 p.m. at Blair park.
---
SEE RELATED