The California Department of Fish and Wildlife will be relocating Gerald the turkey from the Morcom Rose Garden to an undisclosed location.
Gerald has lived in the Rose Garden for about four years, according to one of the volunteer gardeners. However, earlier this year, he became aggressive, attacking some volunteers and visitors. Rather than euthanizing him, a decision to capture and relocate was made.
The Rose Garden has been closed to visitors since May to protect visitors from Gerald and also to protect three mother hens and their fledglings. It is assumed that Gerald is the father of the fledglings as he is the only male known to live in the Rose Garden.
Gerald has stirred up quite a bit of controversy. Some people have complained to Oakland Animal Services about Gerald's aggressiveness. Others have defended him. Plans to euthanize him led to a Change.org petition demanding that he be relocated instead, preferably to an animal sanctuary in Grass Valley.
As of June 25, Gerald was still in the Rose Garden. Ann Dunn, Director of Oakland Animal Services, said Fish and Wildlife had attempted to trap Gerald but had not been successful yet. She would not disclose where Gerald will be taken, but said it will be far enough that he is unlikely to return. An earlier statement by OAS said he would be relocated to the East Bay Hills.
Dunn said she started getting complaints about Gerald a few months ago. OAS doesn't deal with wildlife – that's under the auspices of the state.
"We said, 'That's not our jurisdiction, There's nothing we can do,'" Dunn said. "But the calls continued. This was true aggression and people were frightened by him. Then we started working with Fish and Wildlife. We were able to get approval to relocate the turkey."
Wild turkeys can be found all over the East Bay. A large number roost at the nearby St. Mary's Cemetery, according to a volunteer gardener named Mateo. Over the years, a handful have taken up residence at the Rose Garden.
At the Sarah Baldwin DMD office at Grand and Linda, turkeys periodically come by and hang out in front, according to Helen Lu, who works there. Occasionally a male will tap the window with his beak. Lu doesn't know if it was Gerald or if the turkeys are part of the flock at the cemetery or the Rose Garden. Lu said she hasn't seen any turkeys since the office reopened on June 1.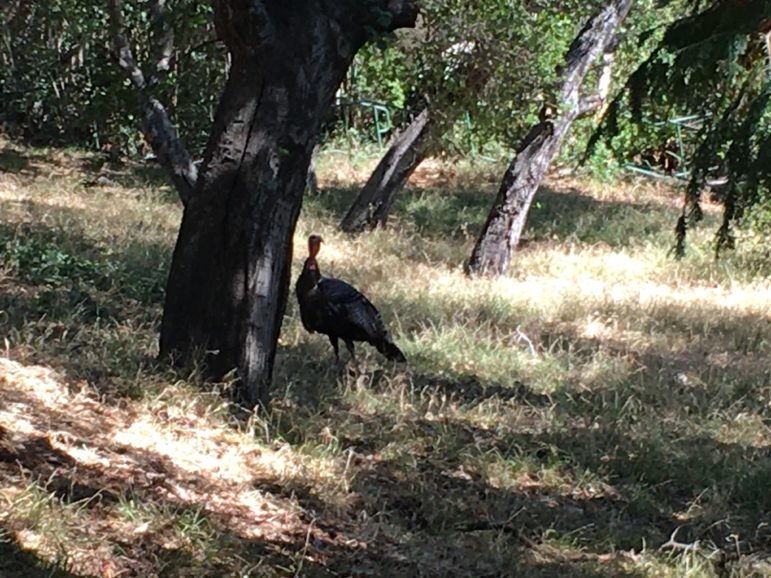 The Rose Garden is perfect for turkeys in many ways. The tall Redwood trees provide a place to roost and there is also the reflecting pool to take a bath. An Exedra reporter observed Gerald hanging out in the grass near the trees for over an hour in the late afternoon of June 24. Although 20 or so people were trespassing despite the closure — walking, jogging and hanging out in the park — Gerald appeared to pay them no mind. On two occasions, a person walking on a path came upon Gerald. Both times, the person turned around and walked back the other way without incident.
A nanny was hanging out with her charge in the Rose Garden on June 23. She said they have seen the turkeys and love them, especially when the hens come out with the fledglings.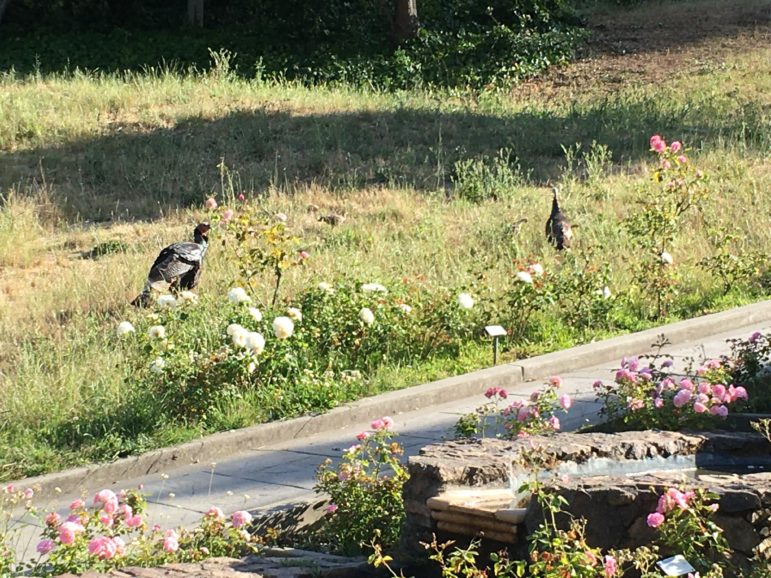 Others paint a quite different picture of Gerald. An email to the Exedra claimed that three teenage girls riding through the Rose Garden on bicycles were attacked by Gerald on June 22. Mateo, the gardener, said he was attacked once. He said Gerald flew at his victims in some attacks. Others have involved him chasing the victims on foot. When somebody runs, he keeps chasing.
The plan is to remove Gerald as soon as possible and then reopen the Rose Garden.
"They have a location which we feel good about," Dunn said. "It's a complicated undertaking. They've been out to the park and haven't gotten him yet. We're really trying to minimize the stress on the bird."
All photos by Damin Esper