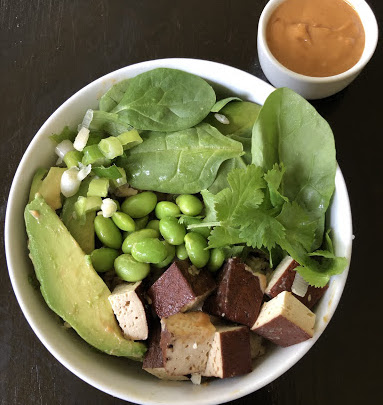 Home from college after living independently (thanks, coronavirus), I am trying to adhere to plant-based diet — in the midst of a family that likes their meat. I also want to help out in the kitchen on meals that work for all of us. In search of recipes that are flexible and easy to pull together, I found these Thai rice bowls satisfy all our dietary needs — and they are a great source of carbs, healthy fats, and protein.
INGREDIENTS:
2 cups white or brown Rice
½ cup baked tofu (or 2 cooked chicken breasts)
1 avocado
1 bag frozen edamame (or any fresh or frozen vegetable, defrosted).
Handful of chopped green onion
Handful of cilantro
2 tbsp Peanut sauce
For the peanut sauce (makes about 3/4 cup):
½ cup smooth peanut butter
2 tbsp soy sauce
2 tsp rice vinegar
1 tbsp brown sugar
1 tsp chilli sauce (I like sriracha)
1 tbsp lime juice
1 tbsp ginger paste
1-2 tbsp water
1 tsp garlic minced
DIRECTIONS
Divide rice into four bowls.
Add protein on top of rice (tofu or chicken). Can be warm or room temperature.
Add the vegetables. (Any fresh or frozen vegetable defrosted can be substituted for the avocado and/or edamame).
Make the peanut sauce by mixing all ingredients together. Drizzle 2 tbls. peanut sauce on top of each bowl. (If you're in a rush, you can substitute any store bought sauce — soy or teriyaki work well).
Enjoy!