Several Bay Area public gardens have opened this past week and, despite new precautions, visitors and managers are thrilled that the garden gates are open once again. After months sequestered at home, it's a delight to wander in—and welcome visitors to—someone else's garden.
"People are so happy to be here," says Gretchen Bartzen, Executive Director of the Ruth Bancroft Garden & Nursery in Walnut Creek. "And we're so happy to see them."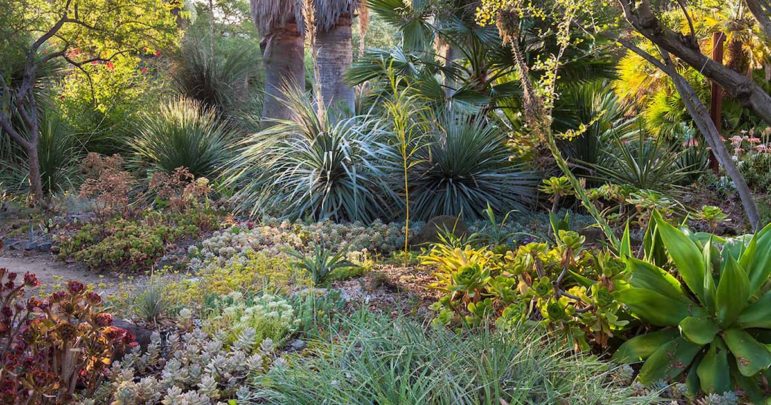 Bartzen touts founder Ruth Bancroft's initial vision for a "meandering display garden," as a particularly comforting place to visit. "It's designed to be like nature itself. The beds are artistically designed and layered with lots of little treasures—the garden is peaceful but you're sure to find surprises as you wander."
In order to reopen, the garden has implemented several changes. These include a dedicated entrance and exit so that visitors progress through the garden in one direction. Increased staffing helps enforce social distancing in the parking lot and garden. Expanded cleaning procedures and sanitizing stations promote good hygiene. Visitors must wear masks and are asked to reschedule their visit if they don't feel well.
(If your plans fall through—or even if they don't—consider attending one of the many Ruth Bancroft Garden webinars. And if you'd like to visit British gardens from the comfort of your own home, the recent Chelsea Garden Show, is on view here.)
The garden also has a thriving nursery with plants that have been waiting for a new home. Fortunately, nursery sales are double the normal amount since reopening, even if the number of visitors is typical for this time of year.
"There's just such pent-up demand for plants," says Bartzen. "Spring is the time of year we tend to plant anyway, but now we're all spending so much more time in our own gardens—we want to spruce them up."
Interested in a garden visit? Here's the status of public gardens in the Bay Area.
Where: 1552 Bancroft Road, Walnut Creek | 925-944-9352
Website: www.ruthbancroftgarden.org
When: Reopened May 16
How: Social Distance + Masks
Please Note:
If you are sick or under the weather, please return another day.
Limiting visitors – recommend come alone or with 1 other person at most, no groups allowed
No docent-led tours
Separate Entrance and Exit
Where: 86 Canada Rd., Woodside | 650-364-8300
Website: filoli.org
When: Everyday, 10 am – 5 pm
How: Social Distance + Masks
Please Note:
Must reserve tickets in advance—no tickets available at the door
Only the garden is open, house is currently closed
Limited seating and no drinking fountains
Daily capacity is capped
Wash or sanitize hands regularly
Not feeling well—will reschedule tickets no problem
Where: 21000 Big Basin Way, Saratoga | 408-741-4994
Website: www.hakone.com/main.html
When: 10 am -5 pm, 11 am – 5 pm weekends
How: Social Distance + Masks
Please Note: No Public Restrooms
Where: 1540 Marchbanks Drive, Walnut Creek | 925-947-1678
When: Outdoor public gardens open from sunrise to sunset
Website: gardenshf.org
How: Social Distance + Masks
Please Note:
No picnics, group gatherings, organized activities or events
Can order plants online in advance and schedule a contactless, drive-thru pick-up date
Currently open to members only
Where – Glen Ellen
Website: quarryhillbg.org/Quarryhill/
Still Closed:
Conservatory of Flowers
Gamble Garden in Palo Alto
San Francisco Botanical Garden (formerly Strybing)
Tilden Regional Park, Regional Parks Botanic Garden
U.C. Berkeley Botanical
U.C. Santa Cruz Arboretum