Tennis players in Piedmont can return to the courts as of 8 a.m. on May 15, the City announced this week.
Players are asked to make reservations by calling (510) 420-3070, Monday-Friday, from 8:30 a.m.-2:30 p.m.
Certain recreation facilities have been re-opening after the Alameda County Board of Health loosened some requirements of the emergency shelter-in-place order. However, most facilities still have restrictions, with gatherings restricted to members of the same household.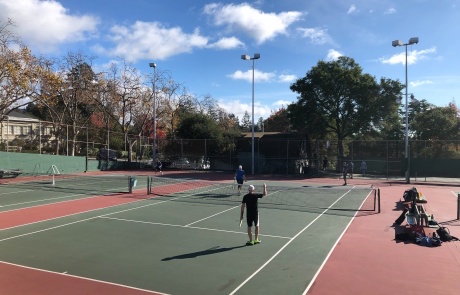 "We follow either the county or the state guidelines, whichever one is more strict," Piedmont Recreation Director Chelle Putzer said. "Tennis had been very confusing for everyone. It hadn't been listed by the state as open."
"At the beginning of this week, the county updated their frequently asked questions that tennis was allowed. We then updated our rules and regulations."
City courts will be open 8 a.m. – 8 p.m. No lights will be used. Doubles teammates must be from the same household; singles players may be from different households. No lessons, organized, or group play is permitted. Players need a current City of Piedmont tennis decal (receipts are acceptable if you haven't received your decal in the mail). You can reserve one court for up to two hours per day, and you must bring proof of your reservation with you.
Reservations must be made by phone. No same day reservations will be accepted, and reservations cannot be made via voicemail or email. Confirmed reservations will be posted at the courts. If a court doesn't have a reservation in a particular time slot, drop-in play is allowed.
The city asks players to practice social distancing. Face masks should be worn except while playing. All procedures are subject to change and will be updated on the city's website.
Piedmont ladies tennis players

Vista courts

Piedmont mens tennis players
In terms of enforcement, Putzer said that "we have people wandering around and checking in. If we see somebody who needs a friendly reminder, we ask them to please follow the guidelines. People are generally being really understanding."